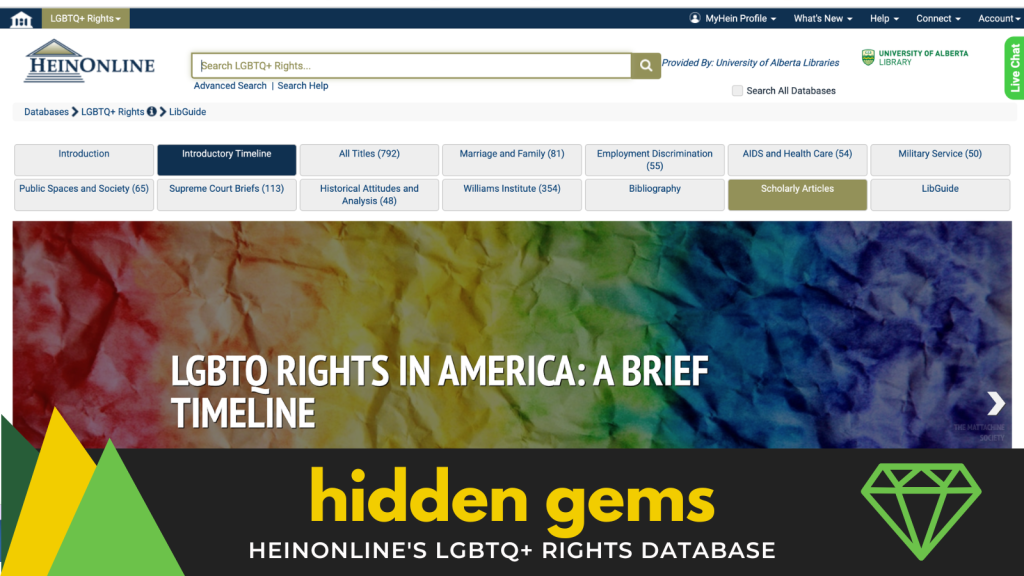 The University of Alberta Library offers access to numerous resources that are core for certain disciplines, but also really deserving of wider attention. Here is one of those gems…
HeinOnline recently provided a new addition to our current subscription. Our University of Alberta community now has access to their LGBTQ+ Rights database, which is perfect to feature during U of A's 2023 Pride Week, March 13-17.
HeinOnline has long been a go-to legal database for the University of Alberta Library. Heavily featured throughout our Law Study Guides, this resource allows you to search legal journal articles, government documents, foreign and international law materials, and more (Legal Research guide).
Part of their Social Justice Suite, HeinOnline's new LGBTQ+ Rights database charts the gay rights movement in the United States and includes sub collections covering topics such as marriage, employment discrimination, and AIDS and health care (U of A Library, Collections Services).


To navigate to the database once inside HeinOnline, look to the top left under 'All Databases', search the drop-down menu, and select LGBTQ+ Rights. You can peruse pre-set topics such as marriage and family, employment discrimination, and public spaces and society or explore their own keywords in the search bar at the top of the site.


For users looking for a Canadian LGBTQ+ equivalent on Westlaw or CanLII (our other go-to legal database platforms), unfortunately one does not exist. Our subject guides can provide you with a great starting point for additional LGBTQ+ research. Please feel free to check out our section on 2SLGBTQ+ resources or our full Equity, Diversity & Inclusion subject guide. Need advice? Please don't hesitate to Ask Us!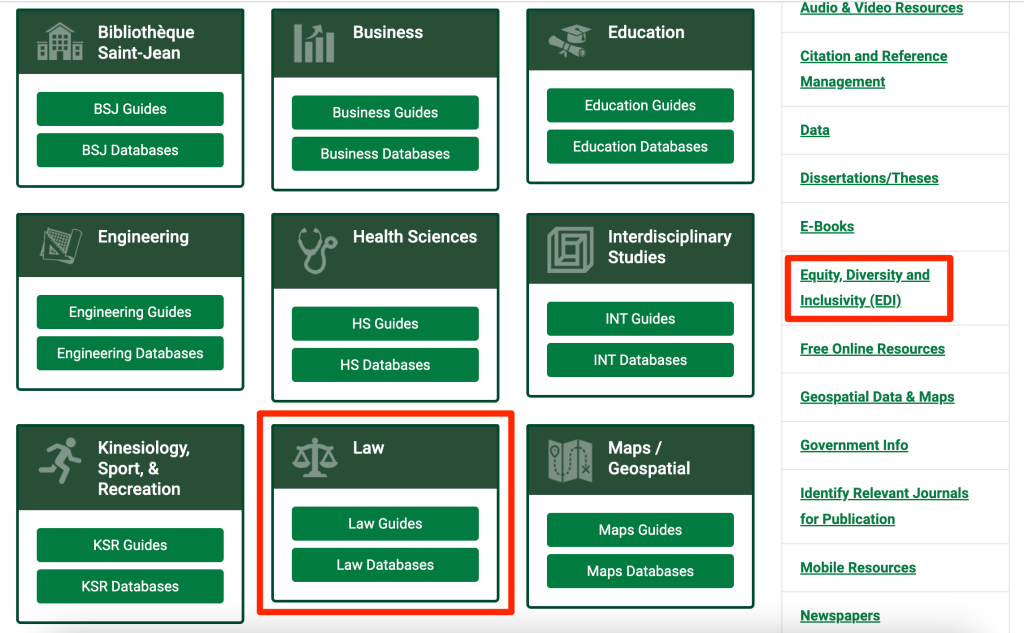 Thanks for joining us today! Love our blog posts? You'll also love us on social media! Check us out at @uofalibrary on Instagram, & Twitter!