In this unique exhibition, you will learn about the phenomena of structural colour and use microscopes to experience how it works in nature. This exhibit highlights how structural colour connects the latest research in science, art and design.
It runs from January 30 to March 27 at the Augustana Library.
Structural colouration is a phenomena in nature in which colour is obtained through microscopically structured surfaces of living organisms and their connection with the available light. It can be found in tens of thousands of different species. Bacteria, algae, fungi, plants, and animals all have species with structural colouration.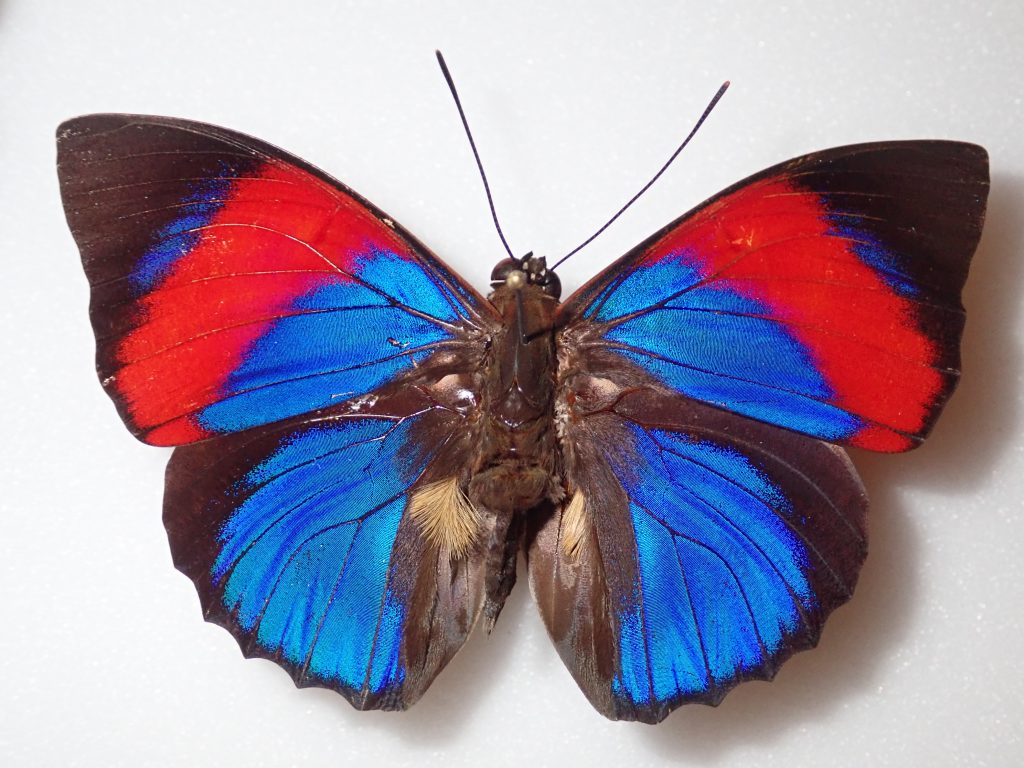 As research into using nature's models to solve human problems and designing better, more sustainable technologies is gaining more attention, structural colour phenomena are finding their place in our society.
Dr. Carlos Fiorentino, a researcher at UAlberta and co-creator of this exhibit explains, "Even though its implementation is still in the early stages, we can already see the ways structural colouration will be developing for technology." These opportunities include a wide range such as, screen display technologies, printing and coloring industries, signalling and communications, and photonic computing.
The Living Colours exhibition presents examples of structural colour in nature and highlights examples and ideas on how the knowledge of this phenomena could be organized in an online database system, called StC. After developing a basic understanding of structural colour and the science behind it, visitors will have a chance to see how structural colour appears in some species both with the naked eye and under the microscope.
In an exciting partnership between PhD student and researcher, Dr. Fiorentino and Dr. Tomislav Terzin from Augustana's Department of Science will present part of the robust Augustana Tropical Insects Research Studio entomology collection.
There will be two stereo microscope stations, "which will allow visitors to have a first hand experience with the complexity and beauty of structural colours on micro scale. While the beauty of human art fades when observed under the microscope, the beauty of the natural world is even more astonishing," says Professor Terzin.
At the exhibition, visitors will have a chance to see "eight drawers with stunning examples of structurally coloured insects, including blue Morpho butterflies, Chrysina 'golden' and 'silver' beetles, but also many other examples from around the world. Beside insects, there will be some examples of structural colours in sea shells, spiders and even minerals" adds Professor Terzin.
Examples of structural colour in these species are stunning, but the jewel of the exhibition surely is a unique day-flying moth called the Urania sloanus, an extinct species from Jamaica. Besides its beautiful structural colouration, this moth (Urania sloanus) has an amazing story behind how it got to Augustana. The last time it was spotted alive was in 1895. In 2012, Professor Terzin found an opportunity to purchase this rare and unique specimen for Augustana's collection. He shared this exciting discovery with his colleagues immediately, without intention to buy it. Faculty and staff responded spontaneously by creating a crowdfunding campaign and $6000 was donated in less than 24 hours and purchased for the collection.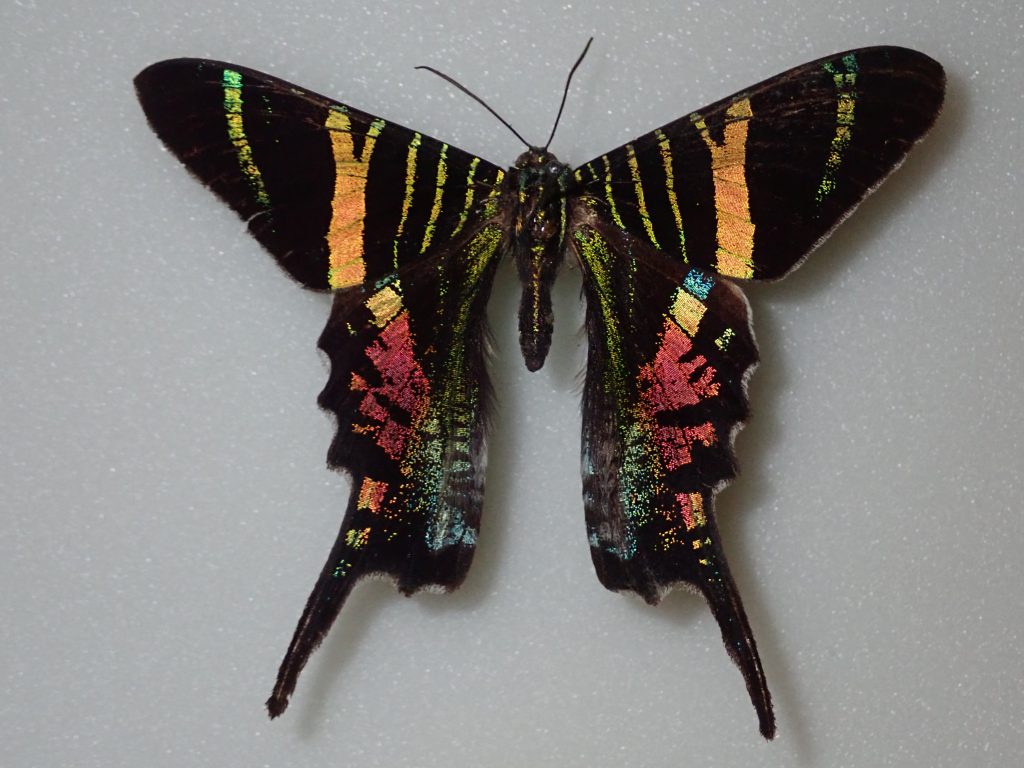 As you can see, this exhibit is an exciting combination of compelling ideas from researchers and Augustana campus special collections. Stop by and see it for yourself (under the microscopes!).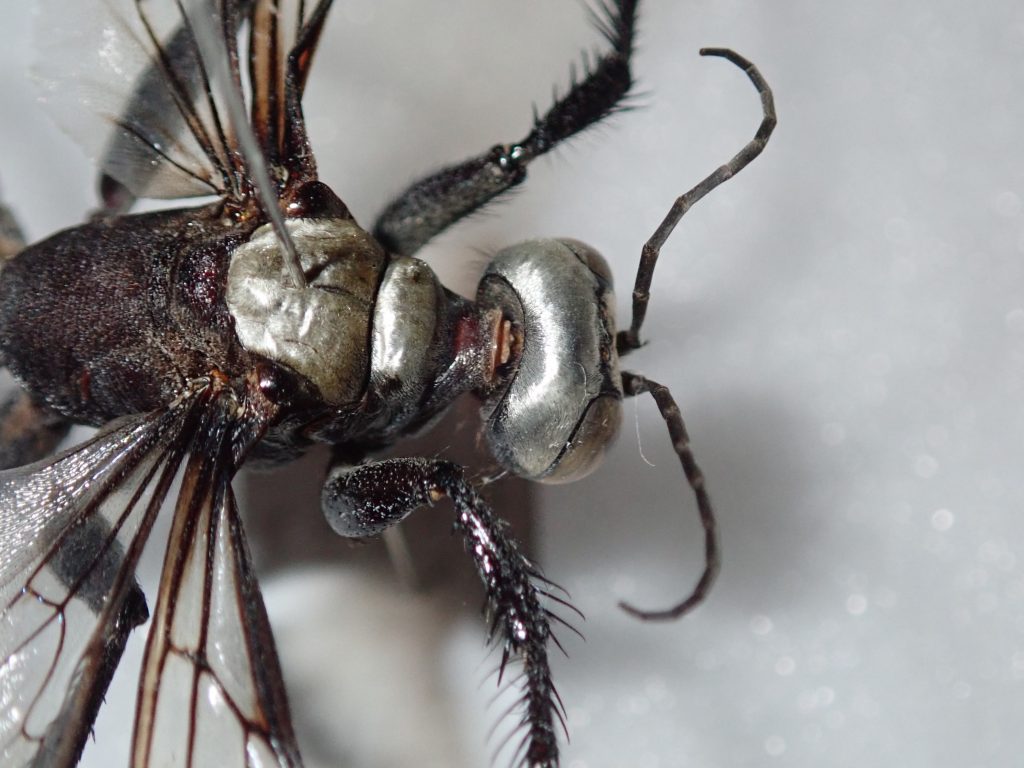 Dr. Carlos Fiorentino: As part of his PhD thesis, Dr. Fiorentino started the online tool called StrC, whose goal is to make the knowledge of structural colour easily available. One of the ideas is to accelerate its practical usage by bridging the communication gap between scientific language rooted in biology and physics and its understanding by those who would like to use, develop, and implement that knowledge in new ways, such as designers and engineers.
StrC Database: According to Dr. Fiorentino, "The StrC is currently at the prototype stage. Future stages of the project involve further development of the interface with all sections and widgets fully developed and functional. It also involves accessing important repositories of scientific information on structural colour, which will complete the current StrC database. The StrC will be used as a template to develop other similar rich-prospect browsing taxonomies, and explored as a research tool for several courses at the University of Alberta during 2020."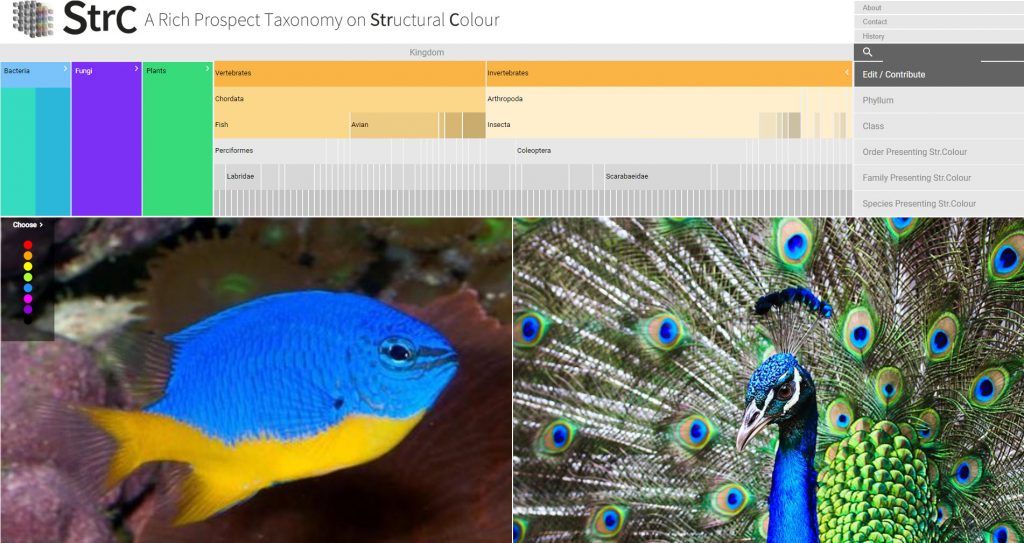 Dr. Tomislav Terzin: For more than 10 years, Dr. Terzin has been involved in research on invertebrate colour patterns. The interdisciplinary aspect of his research has involved three graduate students from the Human Ecology department of the University of Alberta such as colours of insect specimens were used as an inspirational source in textile design. The most recent collaboration is with Dr. Carlos Fiorentino with whom I co-author this exhibition. "Carlos has interest in studying structural colours and my research collection was extensively used in his PhD work." says Dr. Terzin.