Written by Michaela Morrow, Digitization Assistant
The library is happy to announce the launch of a new version of our longtime website, Peel's Prairie Provinces. This digital collection has been updated and migrated to the Internet Archive for better access, quality, and research.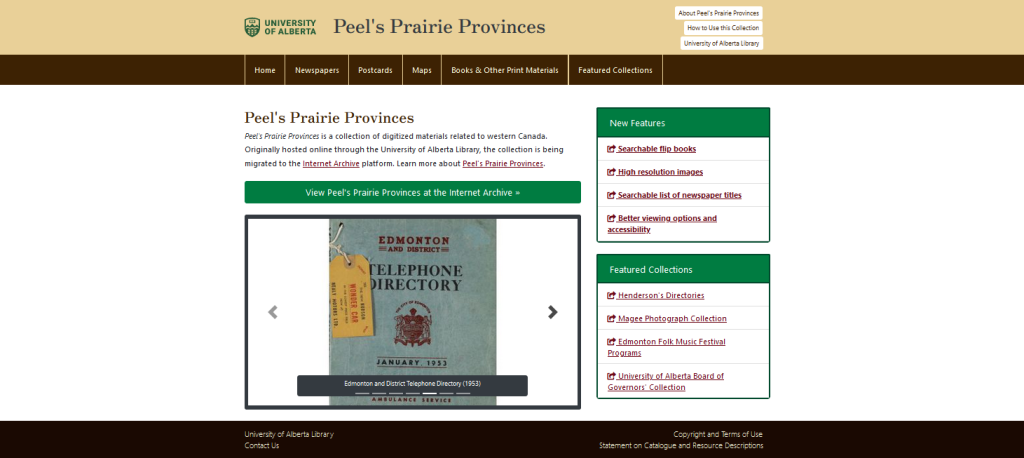 What is Peel's Prairie Provinces?
Peel's Prairie Provinces (or "Peel") is a digital collection of materials related to Western Canada. The collection includes rare and hard-to-find primary sources such as newspapers, postcards, journals, and maps. The goal of the collection is to provide a comprehensive, accessible research repository for the history of Western Canada, told through everything from official government documents to personal family papers. The University of Alberta has digitized materials from both our physical holdings and other Western Canadian institutions. The collection is mainly made up of English language sources, but other languages are present as well.
Highlights
The variety of media in Peel's Prairie Provinces provides plenty of exciting things to look at. We have hundreds of maps and postcards – and some recipes, too – providing valuable insight into the settler colonial history of Canada. We also have newspapers highlighting events and stories in towns, cities, and Indigenous communities. We have more recent material too. Our collection holds programs and advertisements for beloved events like the Edmonton Folk Music Festival and the Festival du Voyageur in St. Boniface. The representation of local and cultural events is one of Peel's greatest strengths!
What's New?
We recently moved the digital files hosted on our website to the Internet Archive. The Internet Archive offers expanded options for browsing, viewing, and disseminating the collection. It is now easier to search and filter through information like year, author, and title. The Internet Archive's interface also makes it easier to flip through books and zoom in on detailed maps and photos.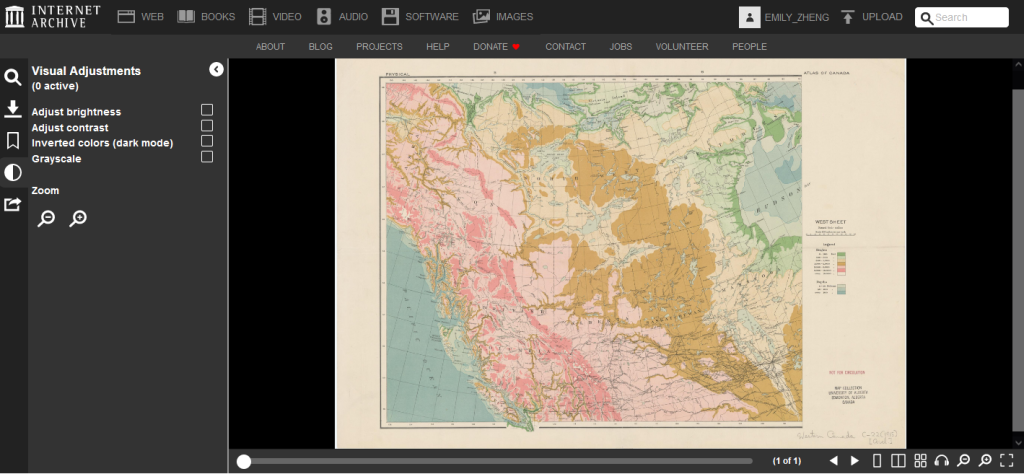 Downloading full-size files or data is much simpler. There are also a number of accessibility features now available: changing the color contrast of the files in the viewer, selecting read-aloud options for hard-to-read text, and downloading EPUB files for e-readers.
The Value of Digitization
It is often difficult to access historical materials and primary sources because the materials can be rare, fragile, and otherwise hard to reach in person. Peel is primarily made up of primary sources – putting the collection on a public website like the Internet Archive makes these rare materials available to a wider audience. Digitized collections are also great for addressing accessibility needs. Physical travel is no longer required and different file types and options can be used to increase readability. Some of the materials are also borrowed from different physical collections, so digitizing and mounting them online is a great way to connect and collect all the sources in one place for everyone to see.
Essentially, it is easier than ever to access our materials and learn more about the history of Canada's Prairie Provinces! If you have any questions about Peel or this migration, contact us at digitization@ualberta.ca.
Peel is not our only collection! We also host other digital collections on the Internet Archive.
This content is licensed under a CC BY-NC-SA 4.0 Creative Commons licence.