This post is written by Map Collection Staff, Larry Laliberte & Bonnie Gallinger.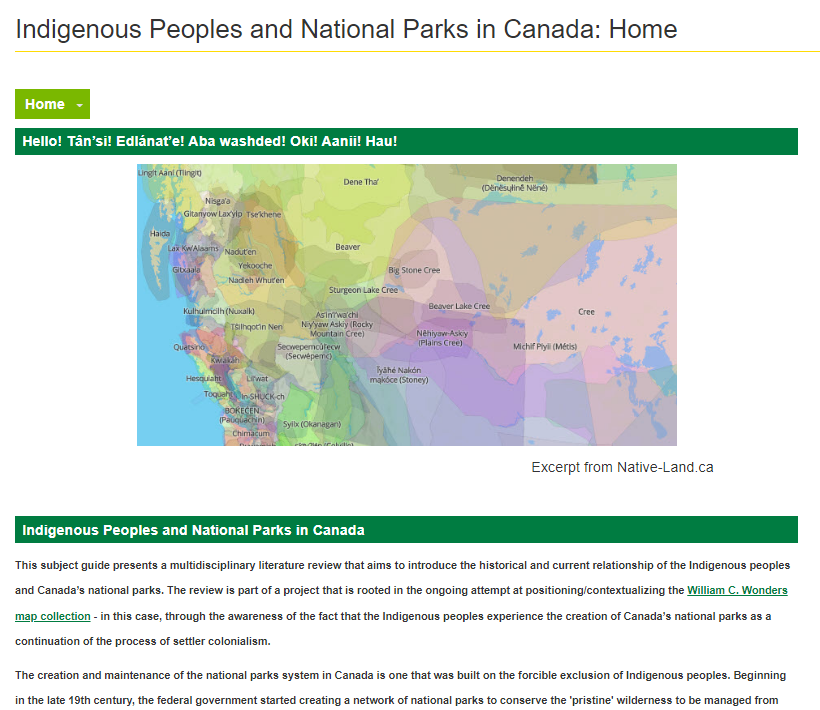 The Indigenous Peoples and Canada's National Parks guide is a multidisciplinary literature review that introduces the historical and current relationship of Indigenous people and Canada's National Parks. The creation of this guide is part of ongoing work in re-positioning the William C. Wonders (WCW) map collection.
As one might expect, within such a large academic library the WCW map collection is embedded among various overlapping reporting structures and teams, and as such, relies on many individuals in order to place digitized spatial materials online.
Beginning in 2021 numerous things fell into place that made possible the scanning and sharing of maps from the William C. Wonders map collection: both as one-offs for reference, and as part of larger ongoing projects. This work could not have begun without the efforts of Sharon Farnel and Danoosh Davoodi of our library's Cataloguing & Metadata Strategies team, who aligned the records from the WCW database to the corresponding Internet Archive (IA) fields. This provides for a streamlined way of attaching metadata to corresponding map scans. In terms of getting the map scans online, Sarah Severson of the Library Publishing Digital Production Services created, from scratch, the workflows (and error checking) for batch uploading scans, and the associated metadata to IA. Often omitted from larger scanning projects is the unseen physical work involved in returning maps to their cabinet drawers; the map collection has been very fortunate to have special projects staff Taylor Jeffrey do this work.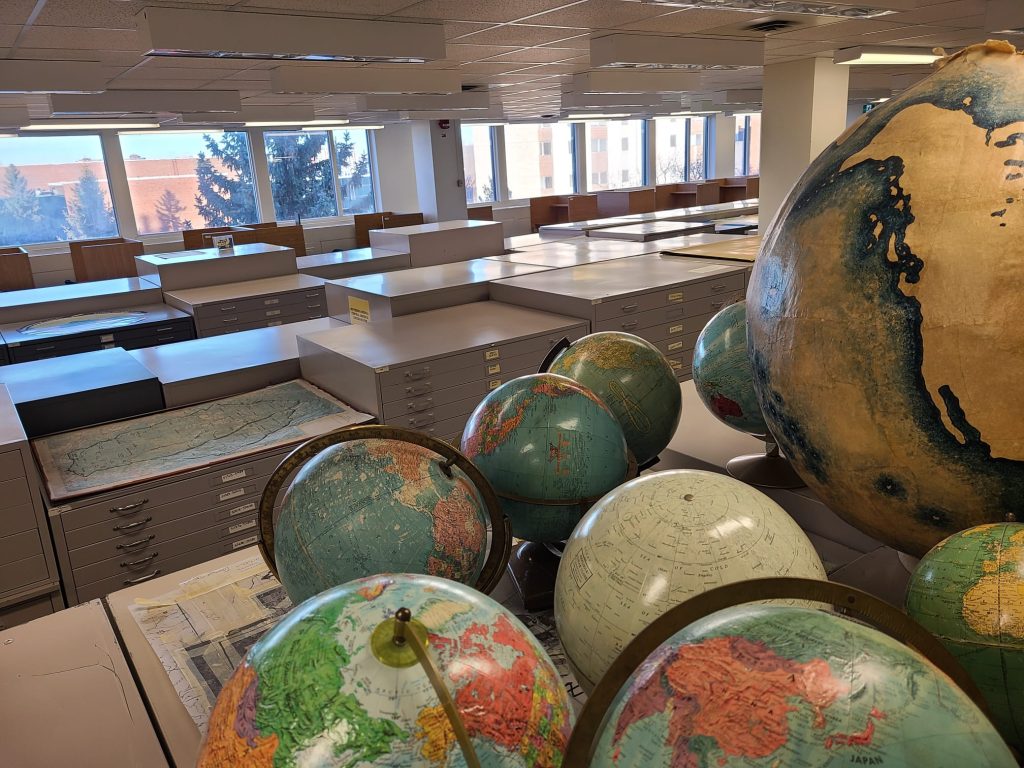 This organizational structure, and embedded workflows, made possible the migration to IA of the Peel's Prairie Provinces maps, which were in danger of being taken offline. It also allowed for past map scanning projects that were sitting on google drives to be moved to IA. This included Gale's Map and Travel Literature Collection, and the Horvath Collection of maps on Central/Eastern Europe and Hungary.
In October 2021, the map staff had a request to view over 30 National Park maps from across Canada that were to be used as inputs for research relating to the impacts of national parks on Indigenous communities. While planning for the scanning of these selected maps, staff were once again drawing upon online resources, books, articles, theses, news stories and fragments of primary source materials. It became apparent that the time was right to bring all of the material together in one publicly available place. This request coincided with the serendipitous acquisition of a large format map scanner, allowing for efficient digitization and sharing of maps from the physical collection. The in-house availability of a large format scanner enabled map staff to plan for the expansion of scanning from 30 national park maps to all 300 in the WCW collection.
In May 2022, map collection work was enhanced by the fortunate and timely addition of 100 hours through a MLIS Leadership Practicum that was carried out by Olesya Komarnytska. This meant, along with the help of MacEwan practicum student Alexandra Hendricks, that the entire corpus of Canadian National Park maps that have been added to and retained by the WCW map collection since the 1960s could now be scanned. While map scanning was being conducted, the creation of the Indigenous Peoples and Canada's National Parks literature review that introduces the historical and current relationship of the Indigenous people and Canada's National Parks was completed. This review would not have been possible without detailed work by Olesya and Bonnie Gallinger. Not only did they gather the resources on hand as a result of past reference inquiries, they also conducted additional deep research dives to find additional materials; organizing them geographically and thematically.
While the end result looks straightforward– a collection of national park map scans online and a related resource guide that provides context to these cartographies of dispossession– it is the outcome of a long lineage of previous reference inquiries (going back years), the acquisition of a large format map scanner, and most critically, the collaboration between map staff, several library teams, and a 100 hour MLIS practicum that provided the focused labour to not only scan, append metadata, and up-load the national park maps to IA but to also craft/create the literature review that counters rather then celebrates the national park maps.