Written by Logan Thienes, Digitization Assistant and first-year Digital Humanities student
The newly-digitized Our Voice collection is a complement to the digital Alberta Street News collection, which was scanned by the U of A Library in 2022 (you can read about that project here!). Both are Edmonton street newspapers, created to serve and be sold by unhoused, disabled, and unemployed people living in Edmonton.
Our Voice, originally titled Spare Change from 1994-1996, was a spinoff from a Vancouver street newspaper also called Spare Change. Edmonton's Our Voice first appears as a column in a March 1994 edition of Vancouver's Spare Change, with the inaugural edition of Edmonton's own Spare Change coming a month later in April 1994, and was renamed Our Voice two years later, in April 1996, keeping that name until the final issue in May 2005. The digital archive contains issues from Our Voice's entire lifespan, including its first appearance in the Vancouver paper.
Street life was the #1 concern for Our Voice. Recurring columns include stories from people living on the street, news on politics, and programs like free food events or music festivals.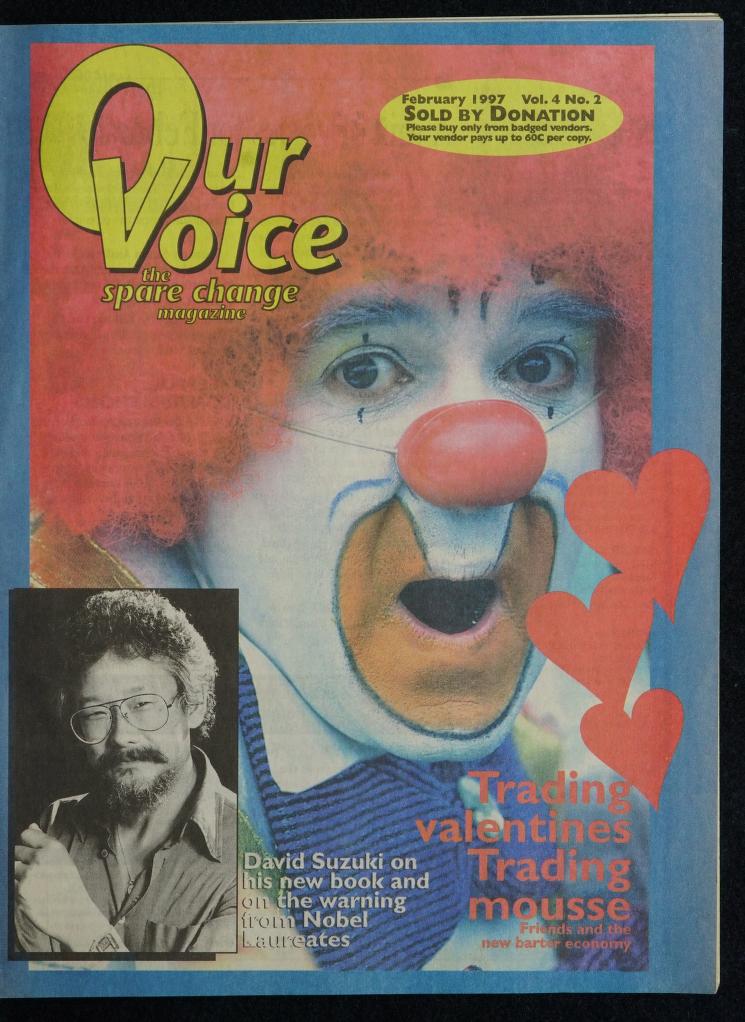 Vendors on the street sold Our Voice by donation. These vendors had a code of conduct for talking to passersby, and wore badges to show they were approved by the paper. Every issue included a "Vendor Profile" – a short profile of someone licensed by Our Voice to sell papers on the streets, describing their personal goals, struggles, and experiences selling the paper.
But that's not all! On top of those regular features, Our Voice also interviewed celebrities like Tragically Hip singer Gord Downie, director Michael Moore, and activist David Suzuki, among others. Content also included stories from across Canada and the world. Both serious topics and humour were included. The paper also featured art from people in the community and serial fiction stories.
Major figures interviewed include: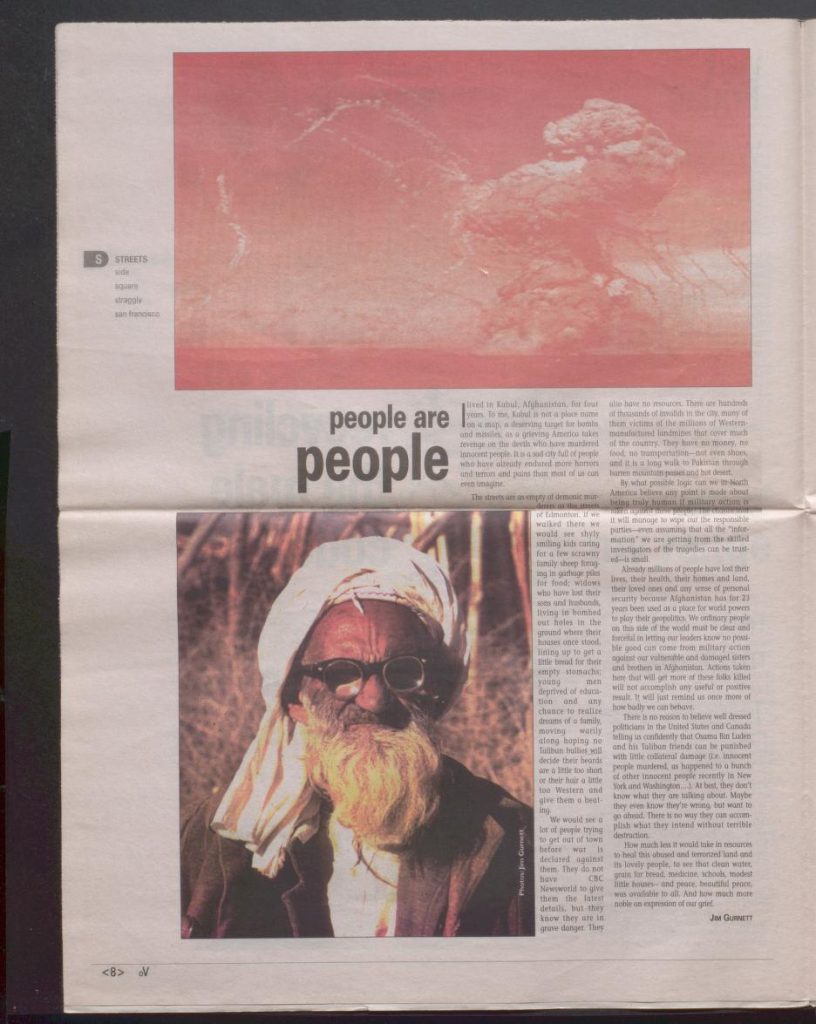 Our Voice's late 90s-early 2000s lifespan let it cover many world-changing topics. Issues include the September 11th attacks, the Iraq War, global warming, and more. This period also saw the Internet skyrocket in popularity, to both the fascination and detriment of small-scale newspapers. Many different (now-defunct) websites or web technologies are mentioned, making these papers a time capsule of the early Internet.
The most serious content in Our Voice covered the dangers of street life. Accounts of violence, including from police, appear regularly. Obituaries memorialize people, typically either vendors who worked selling Our Voice or workers involved with food banks or other support networks. Oftentimes, people died under mysterious circumstances or due to the general harshness of street life, and Our Voice would provide deep and compassionate obituaries for those individuals. Thanks to this, the paper serves as a record of events and people that might be ignored by more mainstream sources.

Digitized in-house at Cameron Library, and hosted through our partnership with Internet Archive, Edmonton's Spare Change and Our Voice are now available to view here, alongside the previously digitized Alberta Street News collections.
Love us on the blog? Then you'll love us on social media! Check us out at @uofalibrary on Instagram, & Twitter!
This content is licenced under a CC BY-NC-SA 4.0 Creative Commons licence.