U of A Library has completed a digitization project, which made the entire run of Alberta Street News' archives available to read online.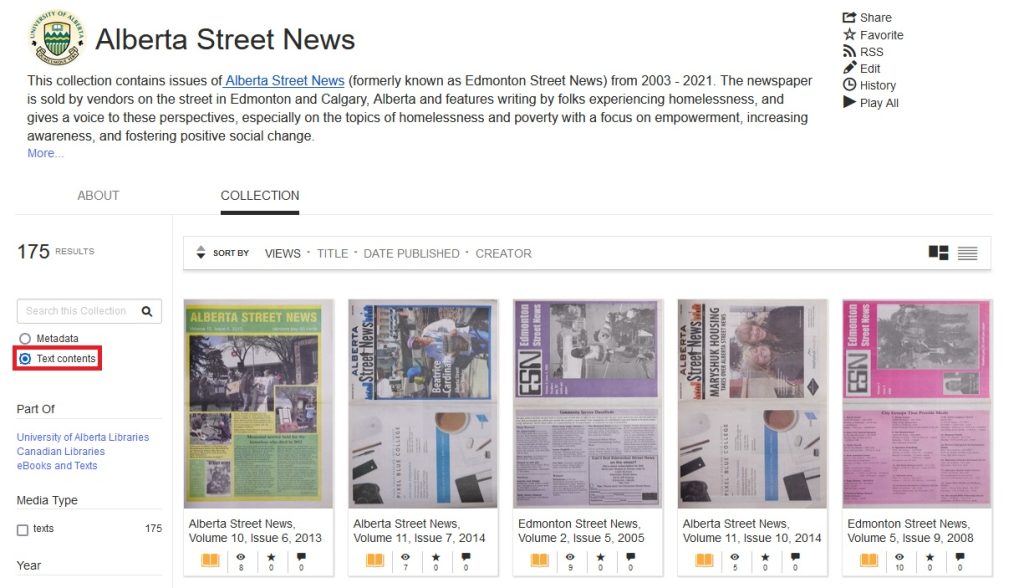 Known at its 2003 inception as Edmonton Street News, and later renamed Alberta Street News in 2011, the newspaper is sold by vendors on the streets of Edmonton and Calgary. It features writing by folks experiencing homelessness, and gives a voice to these perspectives, especially on topics related to homelessness and poverty, with a focus on empowerment, increasing awareness, and fostering positive social change.
This project came to the U of A Library after Eric Rice, board member of Edmonton Street News Society and volunteer writer, read about the digitization project for See Magazine and Vue Weekly. In the past, the Library digitization team has worked with community partners to identify materials that would benefit from being digitized, and this proposal was a good fit for our program. Since we could not locate any other library or archive that held this paper, digitization would simultaneously achieve 2 primary goals: help make the paper more accessible, and preserve the material long term.
The exciting thing about making more of our historical record digitally accessible is that it opens it up to so many more types of people and research. We can bring materials together from many different sources and people and read them from anywhere in the world. It also opens them up to deeper types of research.

Sarah Severson, Digital Projects Librarian & lead on this project
The dedicated team at Alberta Street News undertook a lot of preparation work, including providing a listing of issues on a spreadsheet and loaning us their print copies. After delivering the print papers to the Library digitization centre at the RCRF, our digitization partners at the Internet Archive scanned the 140+ issues on the Scribe Digitization machines.
Meanwhile, our team uploaded 31 of the more recently issues, which were already available electronically. With a little over 170 issues in total, this was a relatively small project that was completed within a few weeks. 
Internet Archive uses a non-destructive method to scan pages, which means that the print papers will be returned in their original conditions upon the completion of the project.
Once the items are loaded into the Internet Archive platform, the content is available to the platform's searching, browsing, viewing, and downloading features. All scanned pages go through an optical character recognition (OCR) program, which "read" the page and turn the photographic scans into machine-readable text — not perfect, but close enough! This opens up the potential for research methods that require large amount of textual data, such as textual analysis, or those studying wider spans of time.
Learn more about Alberta Street News by visiting their website. Read the entirety of the paper's run by visiting the digitized collection.
This project was also featured in Taproot Edmonton – please check out their article!