Dès le moment où la pandémie a obligé les bibliothèques à fermer dans toute la province, la bibliothèque de l' Université de l'Alberta a commencé à faire de son mieux pour aider les usagers à obtenir les documents dont ils avaient besoin et pour soutenir les efforts de recherche et d'apprentissage. L'utilisation de l'accès en ligne aux documents a atteint des sommets, mais la demande d'accès à nos collections physiques est restée constante. La bibliothèque a lancé sa collecte de livres-extérieur à la bibliothèque Rutherford en juin 2020, et juste avant le semestre d'automne, elle a ouvert un deuxième lieu à la bibliothèque Augustana.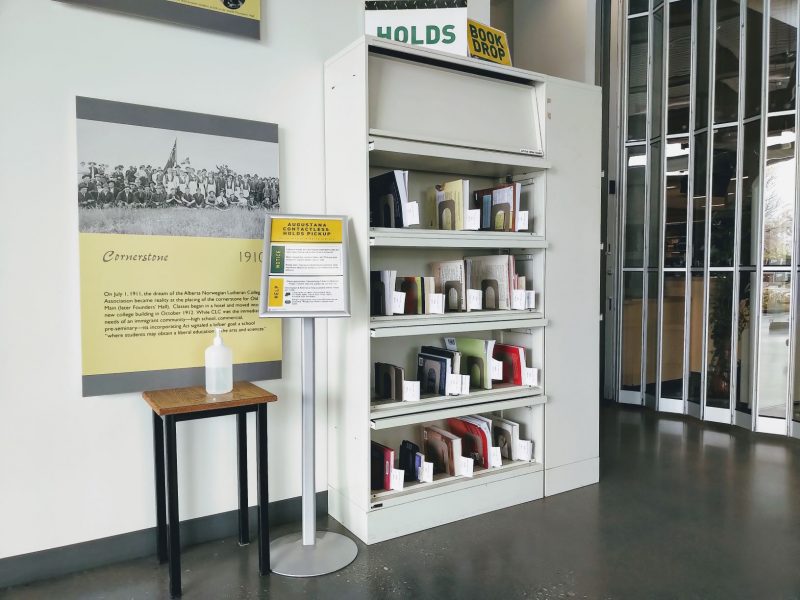 Située à environ 100 km au sud-est d'Edmonton, la bibliothèque Augustana abrite une importante collection d'arts libéraux. Tout au long du semestre d'automne, nos Spécialistes, services de l'information Cody Torkelson et Bojan Kumovic étaient sur place pour faire avancer les travaux.
"Au cours du trimestre d'automne, nous avons prêté 562 articles aux usagers d'Augustana via notre service de collecte de livres-extérieurs", explique Cody. "Nous avons envoyé 914 items d'Augustana pour répondre aux requêtes d'autres bibliothèques, et nous avons également remis en rayon plus de 2000 livres qui sont revenus à notre bibliothèque" ajoute-t-il.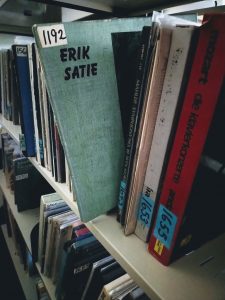 Cela a nécessité beaucoup d'organisation pour être en sécurité et suivre des mesures sanitaires strictes et fondées sur des preuves. Par exemple, tous les articles retournés à la bibliothèque devaient être manipulés de manière appropriée et mis en quarantaine pendant au moins 72 heures.
Les livres d'arts libéraux se savourent mieux lors des paisibles soirées d'hiver au coin du feu. Mieux encore, si vous trouvez par hasard un vieux tourne-disque, dépoussiérez-le et empruntez quelques-uns des vieux vinyles de la bibliothèque Augustana. Leurs bruits de surface sont parfaits pour l'occasion. Une fois que vous en aurez assez du "Absolute Recoil" : Towards a New Foundation of Dialectical Materialism" de Slavoj Zizek, essayez de changer d'ambiance et de lire "The Fuzzy and the Techie : Why the Liberal Arts Will Rule the Digital World". Ces connaissances pourraient s'avérer utiles un jour !
La bibliothèque de l'université de l'Alberta partage ses collections papier avec de nombreuses autres bibliothèques. Les documents vont et viennent entre les bibliothèques universitaires et certaines bibliothèques gouvernementales grâce à l'adhésion à NEOS, un consortium de partage entre institutions.
Au cœur de la communauté francophone d'Edmonton, la Bibliothèque Saint-Jean (BSJ) abrite une vaste collection en langue française. La BSJ est située à 4 km du Campus Nord et afin de garder cette collection accessible, une équipe de Spécialistes, services de l'information travaille en coulisses : Alèthe Kaboré, Linda Gisenya, Malaïka Ogandaga, Martine Iradukunda, Elisabet Ingibergsson et Mireille Smith.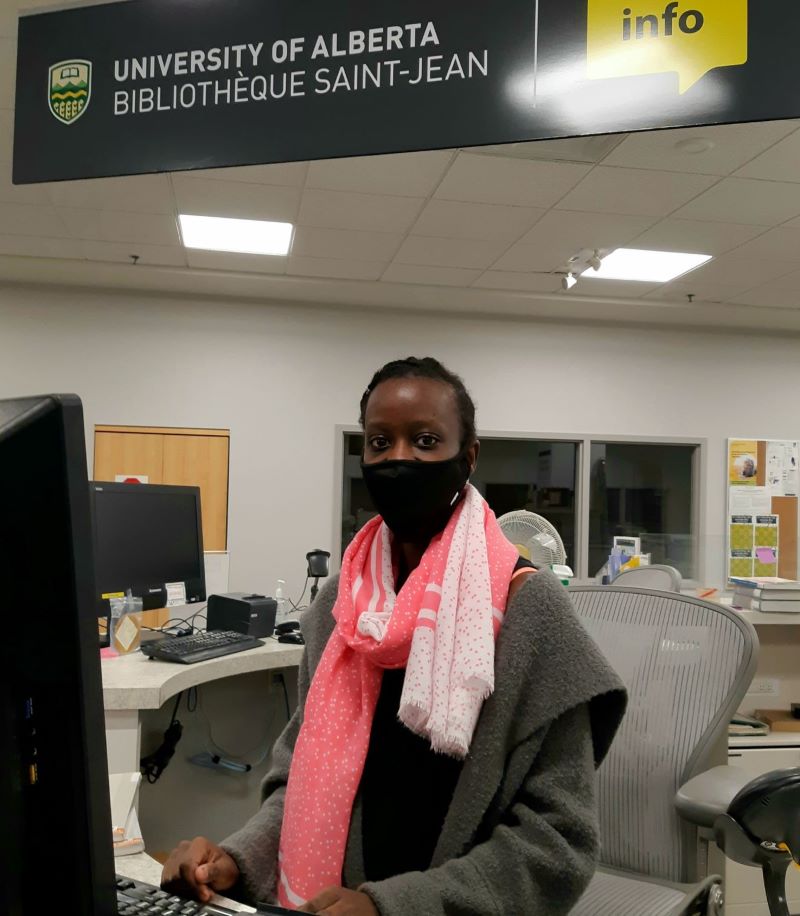 "Nos tâches comprennent le traitement des articles livrés quotidiennement par nos camions de transit. Ces articles sont ensuite déchargés et remis en rayon. Nous recherchons également les documents qui ont été demandés par nos clients. Une fois trouvés, ils sont mis "en transit" et envoyés à l'un de nos points de collecte de livres", explique Elisabet.
Les collections de programmes d'études de la BSJ comprennent des livres, des revues et des ressources pédagogiques en français qui sont très demandés par les étudiants et les enseignants de notre faculté d'éducation. Martine a remarqué qu'après la réouverture de la bibliothèque en janvier, il y a eu plus de cinquante demandes pour divers numéros de revues françaises pour enfants : Pomme d'Api and Astrapi.
Le personnel de la bibliothèque est heureux de pouvoir partager les collections papier avec les étudiants, les professeurs et les autres bibliothèques pendant la pandémie. Ensemble, nous sommes en mesure de faire ce travail en toute sécurité. Si vous n'avez pas encore essayé ce service, regardez d'abord nos vidéos pratiques ! Puis, allez-y, appuyez sur le bouton vert pour "placer en attente", et commencez le processus !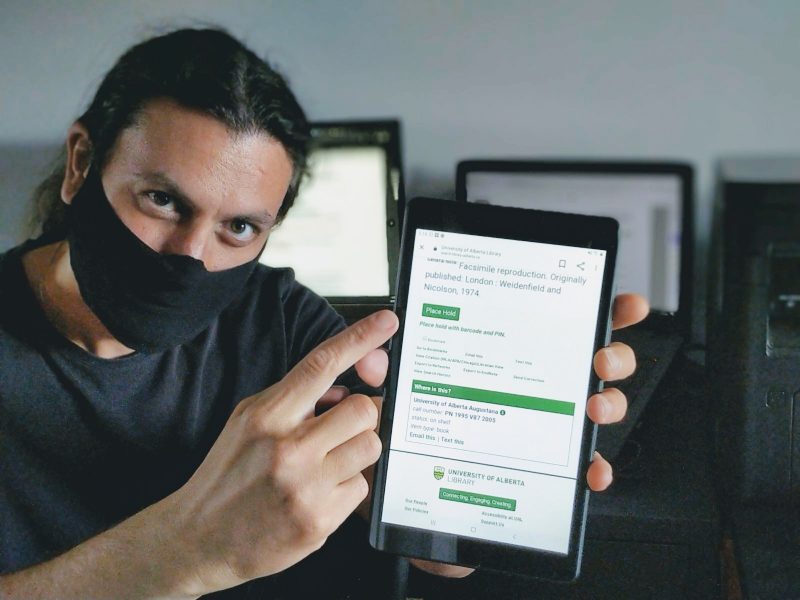 La version originale de ce texte peut se lire ici: AUGUSTANA/BSJCURBSIDE PICK-UP
Traduit par Elisabet I.