This is a new yearly series on the blog to focus on UAlberta Libraries staff who were nominated for a Service Excellence award. Over the next couple of weeks, we will share the nominees and winners of 2018. Nominees were put forward by fellow staff members and then winners were chosen by an internal committee of peers.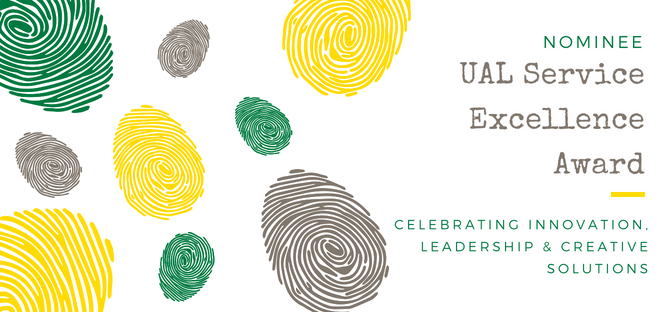 Monograph Acquisitions Team
UAL Service Excellence Team Award
Submitted by: Trish Chatterly
The monograph acquisitions team, comprised of Sarah Chomyc, Kaitlyn Hill, and Carol Rodgers under the motivating leadership of Kathy Urban, works tirelessly to fill book, video, and other orders submitted by UofA students, faculty, and staff. Whether it is purchasing an ebook from one of our primary vendors, or buying one of a host of other unique and sometimes obscure items (robots, board games, a polar bear skull!), the team members are committed to providing excellent customer service.
They ensure orders are placed quickly and efficiently. When items are needed in a rush for use in class, they find means of expediting delivery to ensure the curriculum resources arrive in time. They always present a professional and tactful point of view, and follow up with patrons to ensure all questions are answered. They identify and set up relationships with new vendors for the purchase of non-English material. They exhibit persistence, and ensure all avenues are exhausted in the hunt for items that are sometimes very difficult to locate. In just one example, team member Carol went to great lengths to identify sources for authentic items for the completion of First Nations kits for the Coutts Education Library.
Team members Kaitlyn and Sarah presented on their ordering work at the Staff Support Showcase last fall. In addition to purchasing materials for the libraries, however, they manage other responsibilities as well. They ensure print serials are checked into the catalogue in a timely manner, review donated materials to identify new items for the collection, and contribute to a wide range of collections project. As a cohesive team, they work well together to balance priorities to ensure that our users' needs are met.
One need only read the emails of thanks (eg. "Wow! You guys are amazing! I can't tell you how helpful this is and how grateful I am!! Please keep up the great work you are doing!" and "Wow! Our library is THE BEST! Thank you so much!") or the tweets from happy library users (pic.twitter.com/2f1wYrC3AH) to know that this team provides a significant service to the university community that is widely appreciated.
Team Members:
Sarah Chomyc, Kaitlyn Hill, Carol Rodgers, Kathy Urban