This is a new yearly series on the blog to focus on UAlberta Libraries staff who were nominated for a Service Excellence award. Over the next couple of weeks, we will share the nominees and winners of 2018. Nominees were put forward by fellow staff members and then winners were chosen by an internal committee of peers.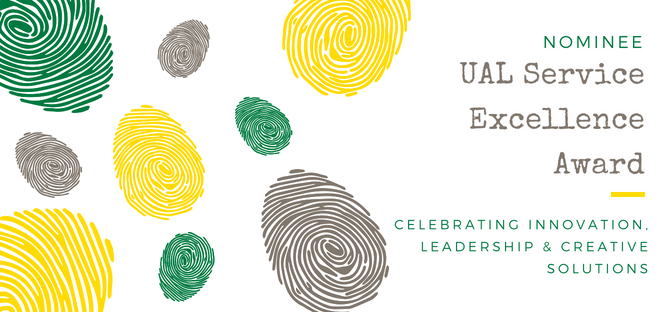 Peggy Morgan
Nominee for Individual Service Excellence Award 2018
Submitted by: Elaine Coupland, Natalya Brettle, Kenton Good
It is our honour to nominate Peggy Morgan for the 2018 UAL Service Excellence Award. Peggy, in her role as Application Specialist within the ITS ILS support team, provides exemplary service both on behalf of the University of Alberta Libraries and within the larger NEOS consortium. When tickets arrive in the helpdesk and are assigned to Peggy, she truly owns that problem, shepherding it from beginning to end, diving deep into the issue and often uncovering issues that might not have been apparent by solving the symptom rather than the root cause.
Peggy is always concerned with providing outstanding customer service, and her focus at all times is on tweaking the system to meet and deliver that service need. Peggy's special talent is bringing  together system knowledge, library policy and end user service needs. She pulls it all together like few others can.
Peggy always takes initiative in delivering top quality service through her courtesy, conscientiousness, timeliness, and respect for others, and her ability to actively anticipate and meet service expectations and needs. Peggy is an excellent teammate providing unwavering commitment and support to fellow ILS team members. Peggy is calm under pressure, patient, measured, and non-judgmental, and approaches every problem with her lovely sense of humour and wit.    She is consistently enthusiastic about her work!  Every time a head-scratching question arrives on Peggy's desk, she approaches it with delight and gusto.  She truly enjoys the 'thrill of the puzzle'.
In the current academic year Peggy has resolved a staggering number (500) of helpdesk tickets which is impressive in and of itself, but even more so considering the complex issues and questions that land in her inbox. Peggy is the solver of impossible problems and the one person we all go to when something in Symphony has gone a little sideways.
Peggy has also provided leadership with the larger BLUEcloud Analytics project this past year,  diving deep into the functionality and configuration of this new service and optimizing functionality to insure it will provide the information and data required to deliver high level service amongst the various NEOS Libraries. BLUEcloud Analytics will be a high impact game changer in our ability to make evidence-based decisions moving forward, and Peggy will have played a large part in the success of this project.
Peggy is a master at finding efficiencies within the Workflows environment. An example from the last year –  she figured out how to change the alternate circulation rule for recalled books so that the notices borrowers receive would always happen consistently and still ensure 2 full weeks of borrowing privileges. Little details like this make a big difference in the type of high level service we all strive to provide.