This is a new yearly series on the blog to focus on UAlberta Libraries staff who were nominated for a Service Excellence award. Over the next couple of weeks, we will share the nominees and winners of 2018. Nominees were put forward by fellow staff members and then winners were chosen by an internal committee of peers.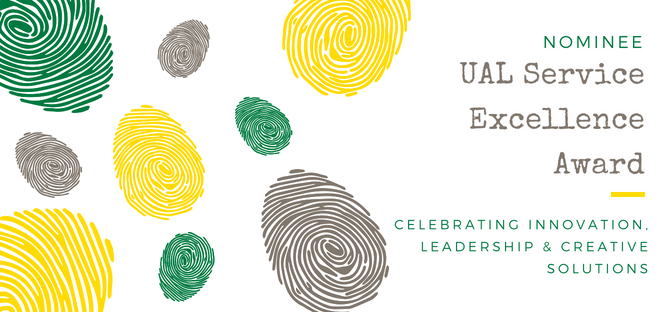 Jupiter Project Implementation Team
UAL Service Excellence Team Nominee
Submitted by: Peter Binkley
The Digital Initiatives Area Leads would like to nominate the Jupiter project implementation team for the exceptional service contributions they made to this complex, lengthy, and challenging project.
Service:
The Jupiter project (2017-2018) redeveloped ERA and created a new open source application, called Jupiter, that UAL will rely on for future digital projects. For the duration of this project, the Jupiter team has worked diligently and tenaciously to solve what often seemed to be unsolvable problems. Their work to advocate for and establish best practices for user testing, project management and application deployment, high standards of documentation and code quality, and processes to help with team collaboration and communication has reaped some tremendous rewards, not just for the users of ERA, but in improving how we do our work each and every day.
Initiative:
Early in the project, the implementation team bravely and articulately voiced concerns about our direction. They also recommended concrete changes we could make in our plans to address the risks and obstacles that they had identified. As a result, we dramatically rethought the way we were carrying out this project. Their insistence on using accessible design, well-written and documented code, good project management principles and team communication practices will reap benefits for our entire team well into the future. Additionally, end users will enjoy greatly improved online services as we continue to develop new applications applying these principles.
Innovation:
Through close collaboration with each other and extensive experimentation, research and creative problem-solving, the members of the Jupiter team have developed a number of exciting innovations which will benefit both internal and external UAL users in many ways. For example, the dev and sys admin groups worked together to create a new environment for testing and demonstrating work-in-progress that lets us more quickly test features with end users, and check that everything is working as expected. They also implemented automated processes that greatly reduce the amount of time people in ITS and DI have to spend manually testing and monitoring different parts of the code. Team members from the metadata group drove the creation of a migration process that makes innovative use of tools to make our metadata more consistent and easier to access for testing. They worked closely with other teams to establish shared documentation to help prevent issues we had experienced in past projects when shared data was inconsistent. These improvements have been widely adopted by other projects in DI and will be used and improved on into the future.
Leadership:
The entire team has been deeply committed to the principles of this project from its inception, and their leadership in finding better ways for us to do our work has inspired and invigorated our ongoing work. They have been advocates for better and more accessible design, sustainability in our practices, and are always seeking to improve in how we communicate, collaborate and do our day to day work.
Team Members:
Jeff Antoniuk, Matt Barnett, Piyapong Charoenwattana, Tricia Jenkins, Shane Murnaghan, Alex Strilets, Chris Want, Henry Zhang, Tai-chun Lee, Neil MacGregor, Beau Sapach, Danoosh Davoodi, Mariana Paredes-Olea, Zach Schoenberger, Natasha Nunn.