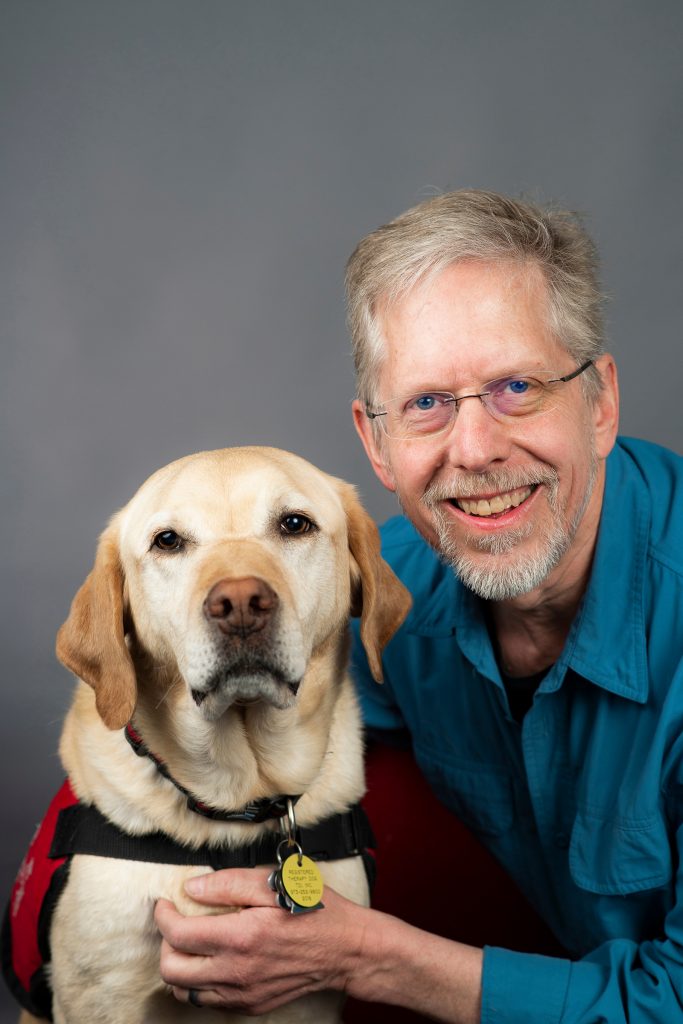 Hey Augustana folks! Hope you're doing well in these upside down times! Do you miss Augustana's friendly community? Hanging out in the busy Forum? The library? Its beautiful corners? Sunshine through the big windows? Do you miss the chit chat with the library staff while petting Hutch, the library dog? I know you do! All this and the fact that Hutch and his human Mark, two big-hearted staff members at our library, won two awards recently, are the reasons why we reached out to see how the "stay-at-home" rule works for them.
Mark Fulton and Hutch, the Library Dog, have been serving Augustana library patrons for almost a decade with Hutch becoming one of the superstars of the campus. The other, maybe less shiny, side of every superstar involves hard work and dedication, which Mark knows very well. In his spare time, Mark makes sure Hutch meets all therapy dog requirements, including getting exercise to stay healthy and shiny, so he can be at the library to handle all selfies with fans and all the other duties of… well… a superstar.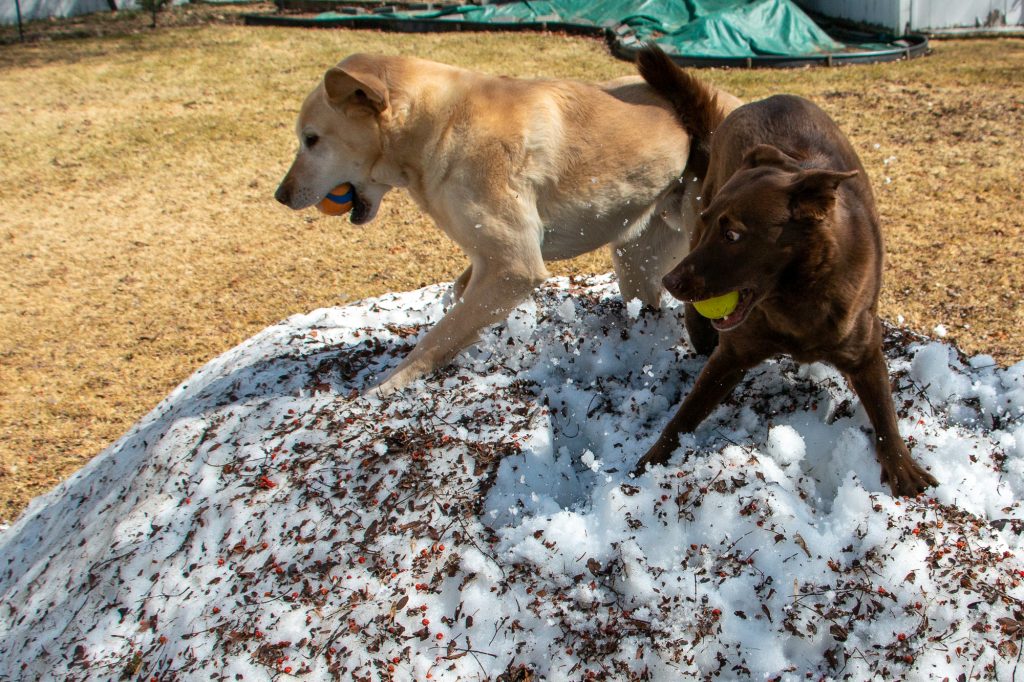 Since the library was forced to close its gates and move all work online, Mark and Hutch have been working from their home. "Although I'm sure that Hutch misses being on campus and seeing everyone there, he is still having a full life" says Mark, and adds "he has been practicing 'physical-distancing' (along with his humans), but he has been spending more time hanging out and playing with his 'sister' Coda, being silly, going on frequent walks, chewing, playing tug, getting treats and cuddling with Ingrid and me. Oh, and he still likes to sleep a lot, too!" As the weather warms up, Hutch knows it is time to say goodbye to students for the summer. This year was a little bit different, and he had to jump on his favourite toys a little bit earlier. "Hutch really likes to chew hard on Nylabone (and similar) toys." Mark reveals, "He likes to chew on balls, too. However, I think his favourite ones are TUG toys!"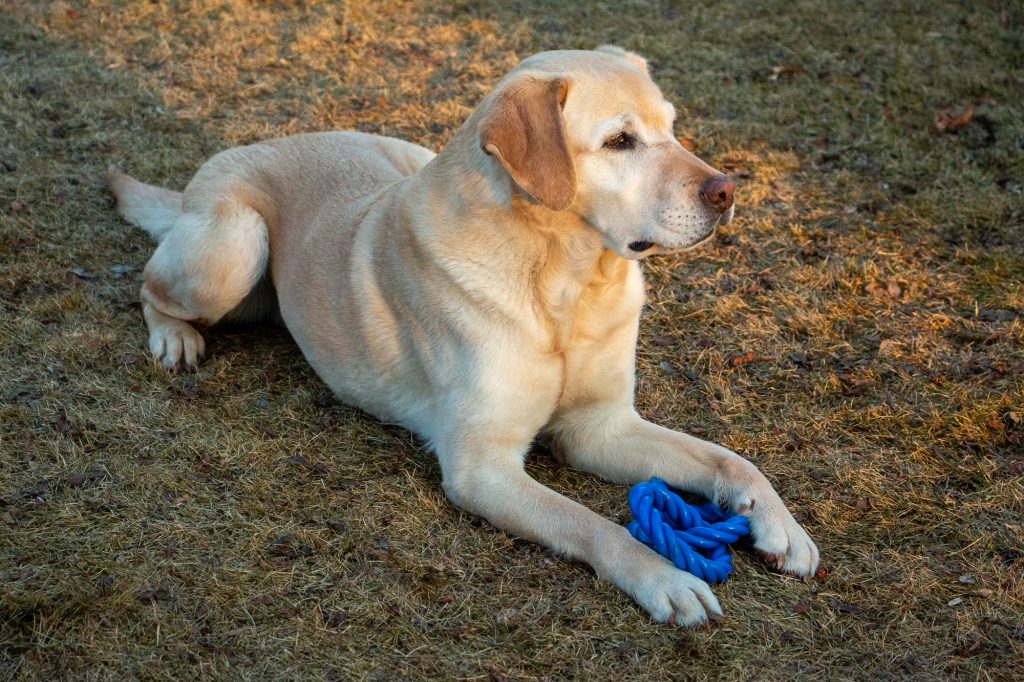 This year also brought two very important awards to Mark and Hutch: Augustana's Betty Ostenrud Award and recognition as two of the U of A's 2020 Wellness Champions. The Betty Ostenrud Award was created by the Augustana Students' Association to recognize a member of the campus' faculty or staff "who have given of themselves tirelessly to the benefit of students and the institution as a whole." Part of the Healthy University Strategic Plan, Wellness Champions are recognized annually by the Healthy Campus Unit and Human Resource Services as "those who make the U of A an amazing place to learn, work, and grow." To ask what these designations mean to Mark and Hutch, Mark answers: "Hutch, of course, probably doesn't understand anything about awards (unless it involves food!), but I know for sure that he enjoys what he does on campus. For me, these formal recognitions underscore the satisfaction I feel every time I observe students, staff, faculty and visitors enjoying Hutch's presence in the library and on campus. I see it all as a 'win-win-win' situation: Hutch enjoys it, I enjoy it and the Augustana community enjoys it! Hutch and I are very glad to be part of the Augustana community and are pleased that our presence has meant so much to so many. Thank you! Also, Hutch reminds everyone to be well, be smart and be SAFE!"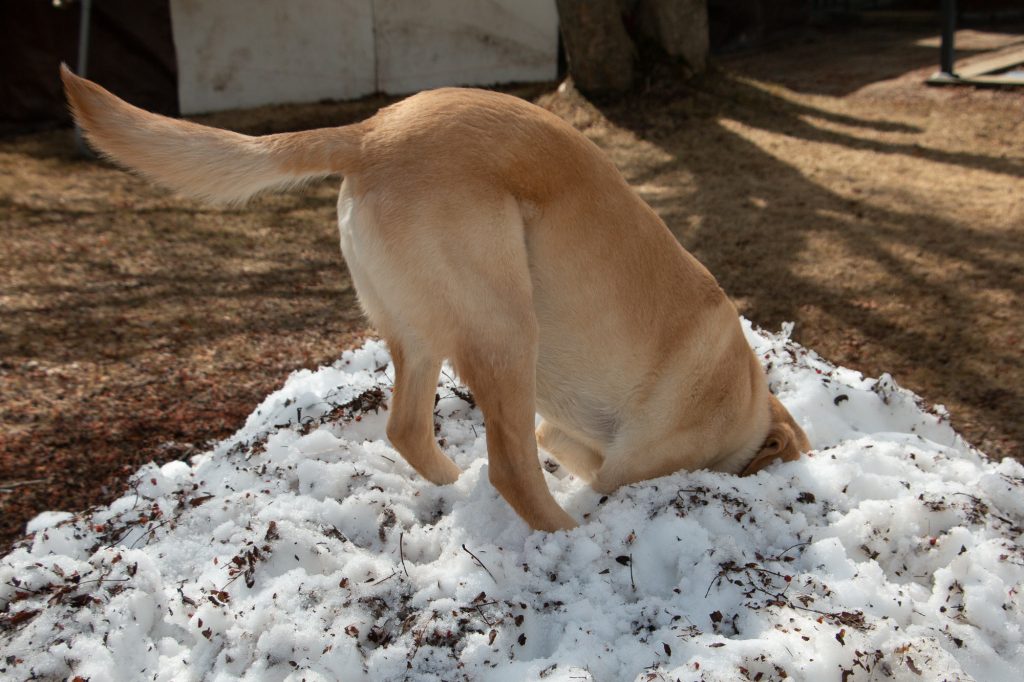 Do you still miss Augustana's friendly community, hanging out in the busy Forum, the library, its beautiful corners, sunshine through big windows and chit chat with library staff while petting Hutch? Well, hold on to those beautiful memories and hope that once the media announces "everything is back to normal", that "normal" still includes all of this.
Thank you for photos and the video, Mark!