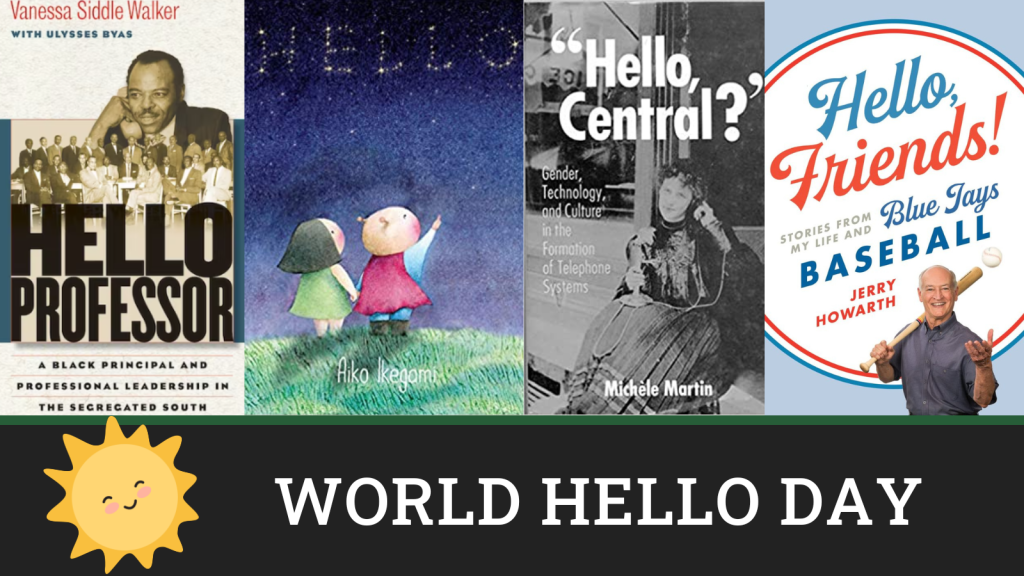 Welcome to World Hello Day 2022! Internationally observed on November, 21st, World Hello Day is recognized as a University of Alberta Day of Action in which we hope to extend the lines of communication and friendship across cultures, as well as build connections with one another.
In 2021, our U of A Library blog provided some background on World Hello Day, with tips on how to make the most out of our communications. In 2020, we remotely put our heads together to provide quotes and inspiration to mark the occasion.
This year, we delved into our library catalogue with a simple hello, in order to bring you a diverse offering of library materials that greet you as you search. A tremendous thank you to our Student Information Services Assistant, Olesya Komarnytska, for your wonderfully curated list of resources for this virtual gallery…a search too numerous to include all offerings in a single gallery!
Please hover over the caption on the thumbnail for the link to the catalogue item. All eBooks can be remotely accessed by current U of A students and staff. For external users, including U of A Alumni, if an item is only available in eBook format, no worries!
Pop by any of our U of A location with your photo ID to obtain a temporary network pass. Using this, you can access the item on-site through our computers. If these items are unavailable (already checked out or eBooks are not your thing) feel free to explore these titles, and more, through our catalogue or through our friends at Edmonton Public Library.
As always, if you are in need of help with any of your library searches… ASK US!
Thanks for the read! Love us on the blog? Chances are, you'll love us on social media! Follow us, @uofalibrary, on Instagram & Twitter!