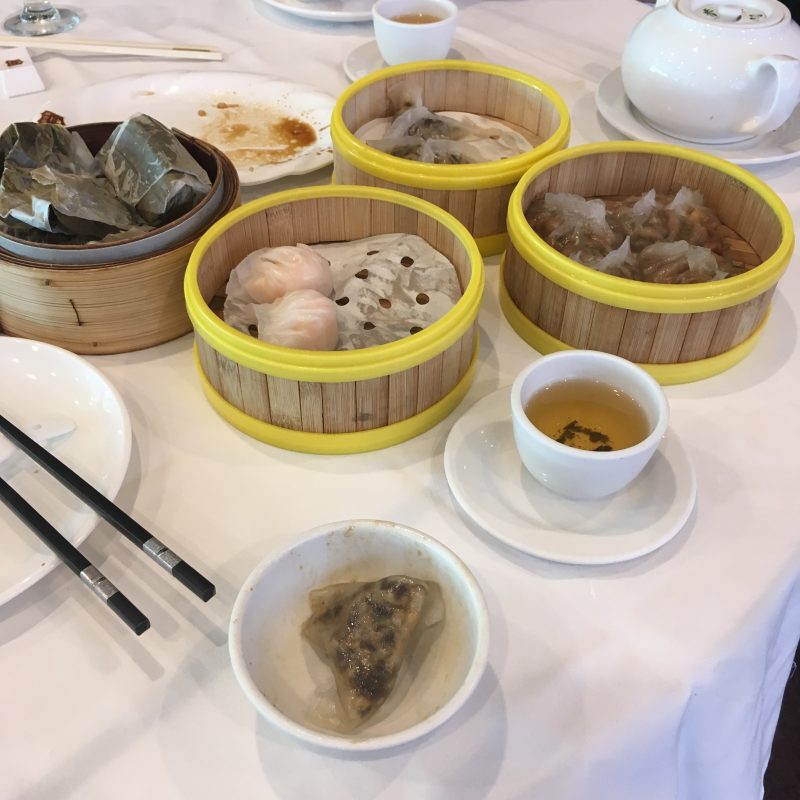 For a Chinese-Polish-Ukrainian kid growing up in rural Alberta, dumplings were the cornerstone of comfort food as far back as I can remember; no matter if they were potato/cottage cheese-filled (see our 2020 Virtual Heritage Days blog for my family's perogie recipe), or pork/shrimp/water chestnut-filled. In recognition of Asian Heritage Month, it was important for me to honour my Chinese ancestry with one of the few aspects of it that I am truly familiar with: dim sum.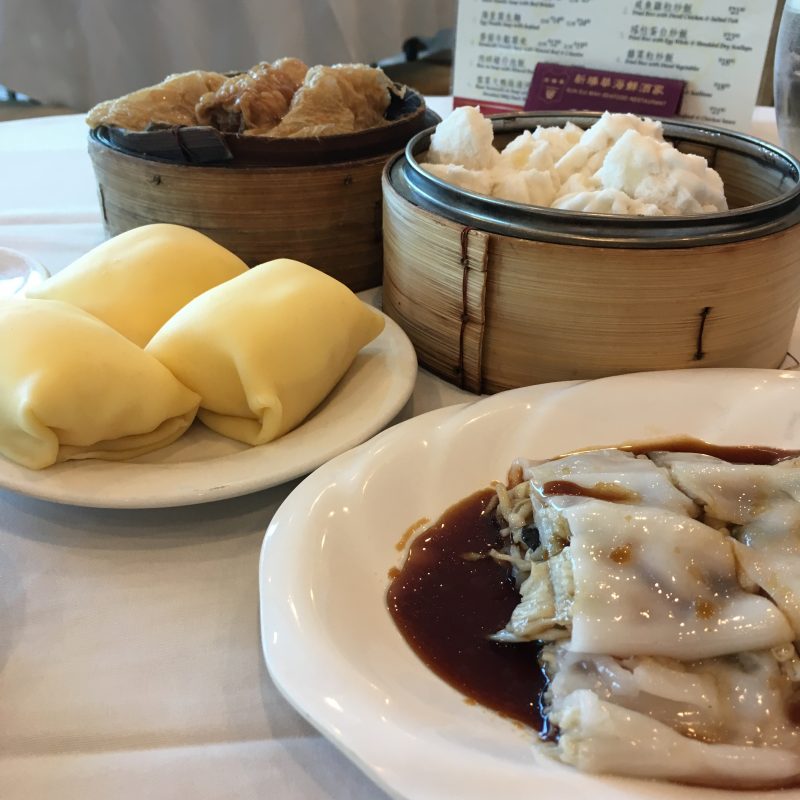 Dim sum, or dianxin, directly translated from Cantonese is dot heart (Yee, 1977 & Anderson, 2011). True to its translation, dim sum occupies a large part of my heart where memories of wonderful meals, great company and lots of laughter reside. In non-pandemic times, it provides a spectacular opportunity to gather your beloveds all around a giant round table equipped with a Lazy Susan (an inner round circle that spins in place on the table).
Dim sum is usually served during the brunch hours; late morning to early afternoon. Items are served in small portions, with anywhere from three to four items per serving that come in steamed, baked or fried format.
[Photo: clockwise from top left: bean curd rolls, steamed BBQ pork buns, mushroom rice rolls, mango pancakes (a Chinese crepe filled with an icy cold mango & whipped cream).]
Dad was in his early teens when he emigrated from China (Hong Kong & Toisan) by himself in the 1950s. Being so young and on his own in Canada meant that he had limited connections with his culture: a few friends from his village who had also immigrated and slow-moving mail in a non-internet era.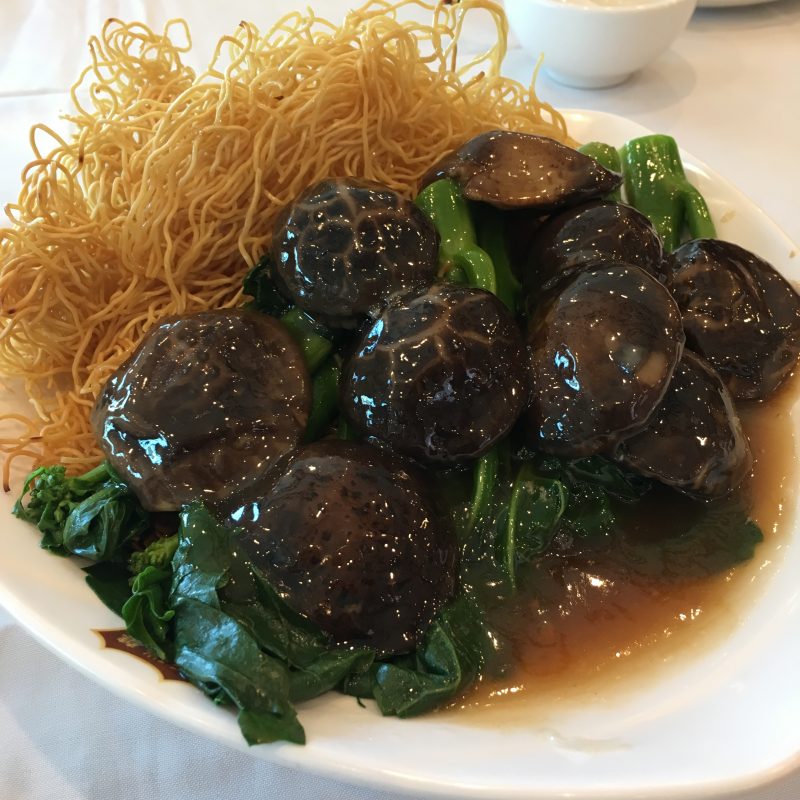 By the time I came around, his Cantonese was rusty from minimal use and my family's exposure to Chinese culture was limited to food, tea, the giving of red envelopes at celebrations and visits to some of Dad's family who had settled in California. My earliest, and most frequent, recollections of my Chinese heritage came through regular visits to any number of Edmonton's Chinese dim sum restaurants recommended to my dad through his Chinese friends.
[Photo: crispy chow mein noodles with shiitake mushrooms and gai lan (commonly referred to as Chinese broccoli). While not a typical dim sum dish, Dad would often special order it in addition to dim sum dishes.]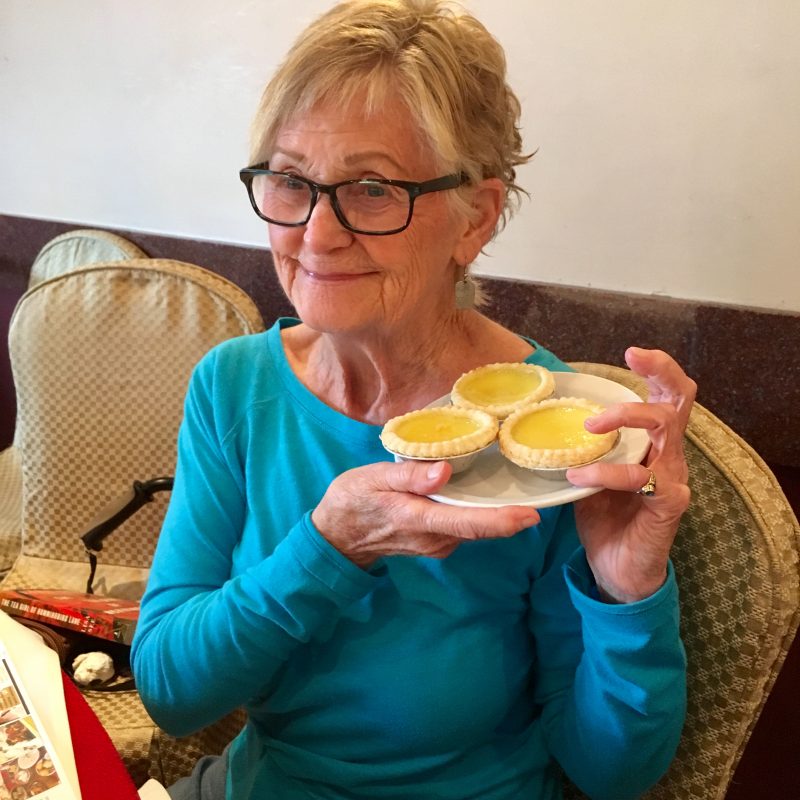 It was always a point of pride for my father, and now myself, to introduce our family and friends to the wonderful world of dim sum; just more evidence of the heart expressing itself through food. One of my favourite stories of dim sum involves one of my godbrothers when he was a young kid. He was shocked to learn that he wasn't Chinese (he's Norwegian Canadian); he called my dad uncle, and consumed copious amounts of Chinese food while growing up.
[Photo: my Auntie Mo, part of my godfamily and my inspiration for being in the library profession, with a plate of egg tarts. She sent this picture to her son in Massachusetts; egg tarts are his favourite.]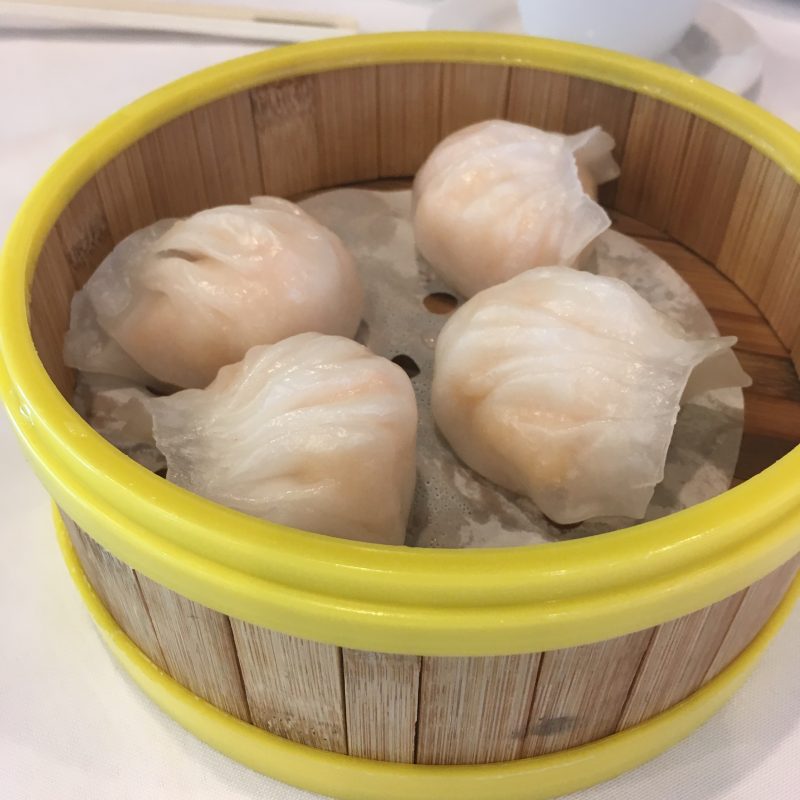 If you would like to experience the magic that is dim sum, do a quick Google search of dim sum restaurants in your area. Go for a visit, take a look at the menu, and just dive in. With the pandemic still in full-force, many Chinese restaurants offer some awesome takeaway service; but be sure to check if, and when, they serve dim sum.
If you are a member of our University of Alberta community (current student, staff and faculty), you can access our HathiTrust collection to discover a couple of notable dim sum publications, as well as our Bloomsbury Food Library database which is chock full of amazing resources, including food maps, encyclopedias and even recipes!
Thanks for the read! Love us on the blog? Chances are, you'll love us on social media! Follow us, @uofalibrary, on Instagram & Twitter!
References
Anderson, E. (2011). China. In K. Albala (Ed.). Food cultures of the world encyclopedia: Asia and Oceania (pp. 61–72). Santa Barbara: © ABC-Clio Inc. Retrieved May 11, 2021, from http://dx.doi.org/10.5040/9781474208673.0012

Yee, R. (1977). Dim sum. 1st ed San Francisco: Taylor & Ng.