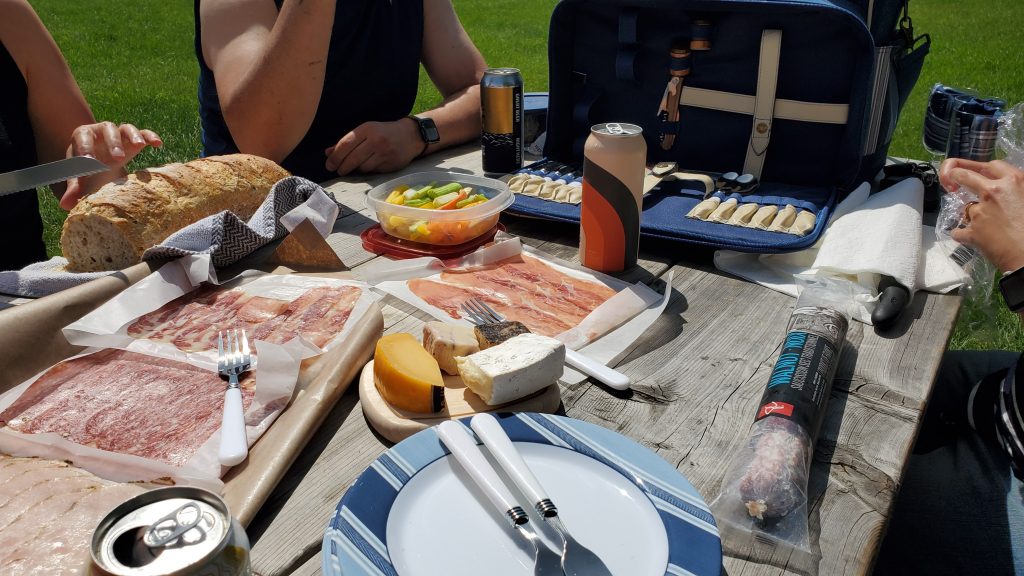 There is no denying that a strong connection exists between family (blood or chosen), friends, food, and festivity. A highlight of summers-past in the City of Edmonton includes the ever-popular and wildly tasty Heritage Festival; an August long weekend sun-soaked celebration of our multicultural city. During this time, Hawrelak Park comes alive with a diverse display of various ethnic delights, including food! The current pandemic climate continues to change agendas; we are unable to gather to collectively and the Heritage Festival has gone virtual. As a nod to this festival, a few of our library staff have reached into their family recipe books, and/or Instagram feeds, to share a bit of their heritage with you.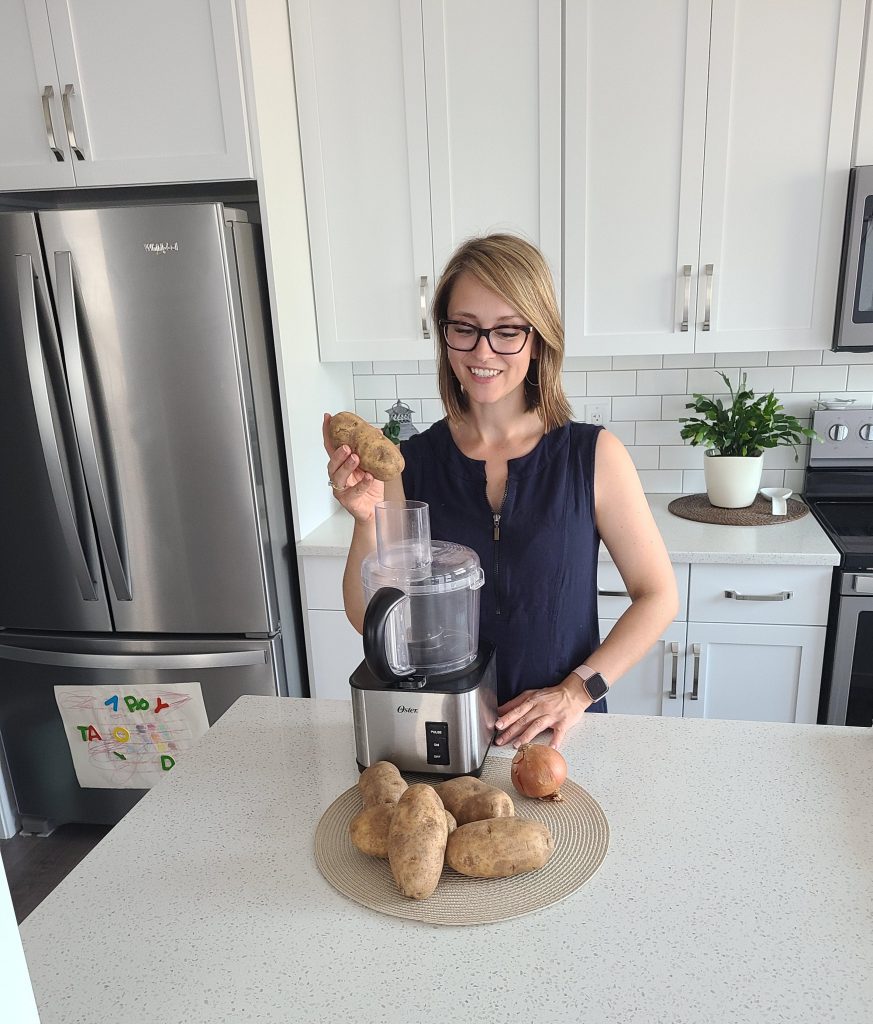 Polish Placki Ziemniaczane
– from Information Services Specialist, @uofalibrary Instagram Jedi, and proud Ukrainian, Eva Romanick.

This is a traditional pan-fried potato pancake recipe and a wonderful comfort food. If you really want to spice up your life, add goulash on top…but maybe next time…baby steps!
Placki Ziemniaczane
6 medium-sized peeled potatoes (please ignore my unpeeled potatoes above)
1 medium-sized onion
4 Tbsp flour
1 large egg
salt & pepper to taste
sour cream for serving – optional but necessary, if you know what I mean 🙂
Grate potatoes and onion in a food processor (you can pulse too, but it's personal preference). Place mixture into a mixing bowl. Add egg. Mix. Add flour. Mix. Add salt & pepper. Mix. Add oil to a non stick skillet, and heat up. Fry them like you would any regular breakfast pancakes, just a couple minutes each side, until golden brown. Place on plate. Garnish with sour cream and enjoy your placki ziemniaczane supper!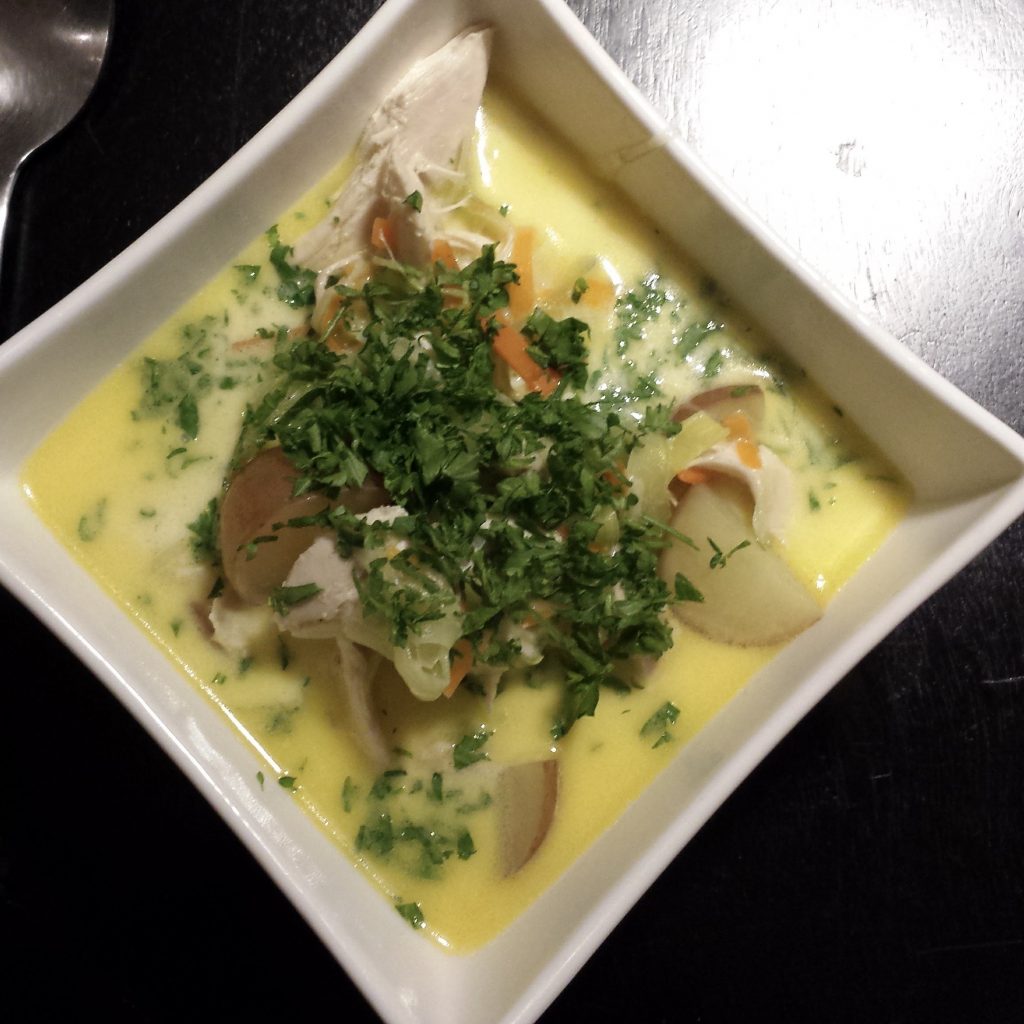 Meredith's Gallery of Goodies
– Meredith Bratland, our UAL Strategic Communications Manager, Instagrams the MOST. SPECTACULAR. FOOD. Seriously, her feed will make you want to eat your phone.

"We are all about the food heritage in our house and food helps us feel connected to Billy's [my partner's] home country, Belgium," Mer explains, "He is known throughout our family and friends for his cooking gifts and talent. We are definitely a family that shows love through nourishment. My father-in-law is also an incredible cook and has passed his skills on to my partner."
The spectacular dish on the left is waterzooi, a Flemish stew that can be made with chicken or fish.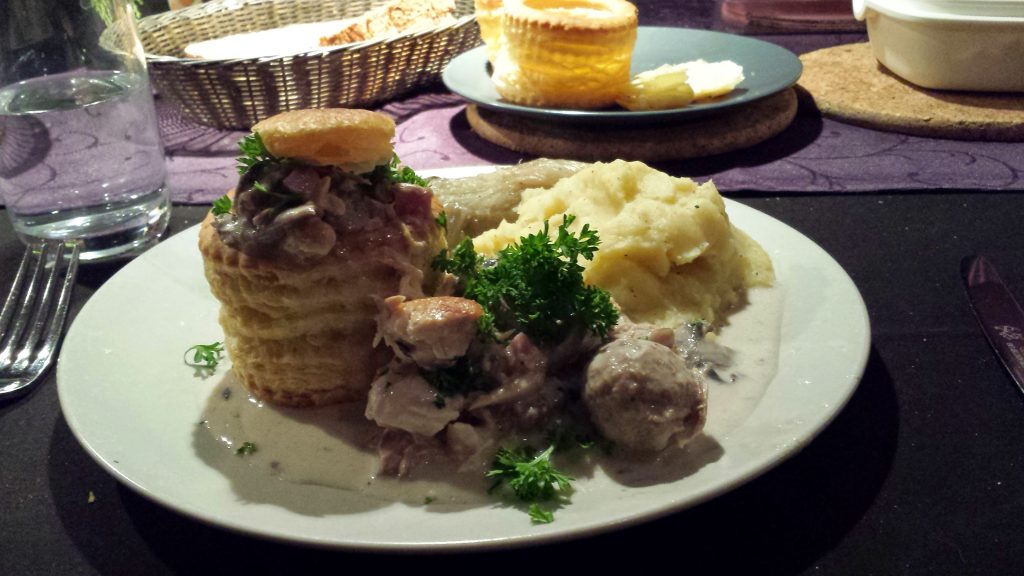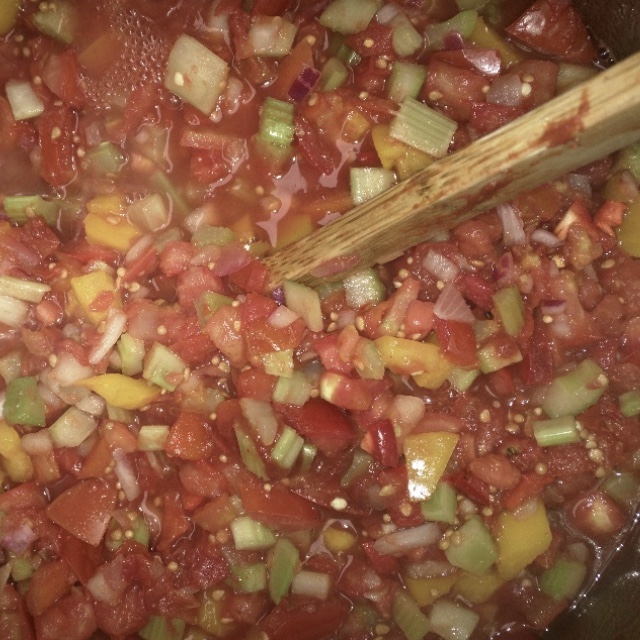 Wiart Family Salsa
– from Information Services Specialist, UAL green thumb, & chef /baker extraordinaire, Carmen Loconte. Guy is Carmen's father and the Rutherford staff can heartily verify that his salsa recipe is the real deal and a trip straight to flavourtown!
Guy's Salsa Recipe
10 lbs ripe tomatoes (I use romas, if you use other tomatoes, you may wish to remove the skins)
4 cups diced onions
½ cup pickling salt
Combine and let set overnight (refrigerate,

drain the next morning)
Add in a large pot:
6 cups diced celery
2 diced green peppers
4 small jalapeño peppers (take seeds out for mild)
3 tsp dried chili peppers
2 ½ tbsp. mustard seed
1 small can tomato paste
2 cups white vinegar
½ tsp cayenne pepper
½ sugar
1 tsp cumin
Bring all to a boil for 10 minutes and then add

½ cup cornstarch (with water), and boil for 3 more minutes.

To prepare jars and lids: put in oven at 200 for 10 minutes to sterilize everything.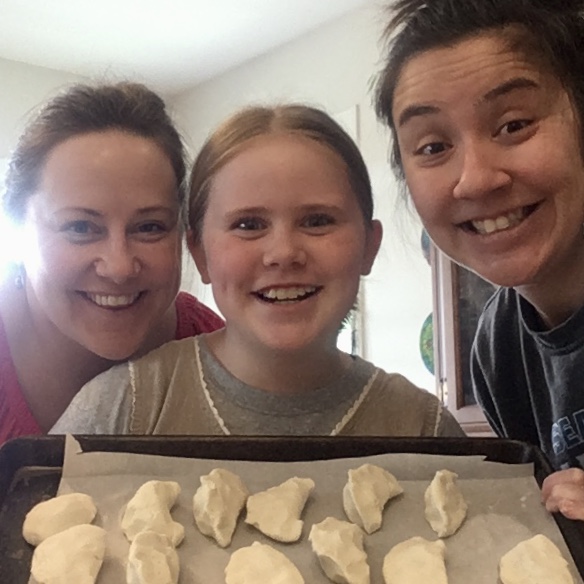 Lamoriss Family Perogies
– for years I have been making my Auntie Doreen's perogie dough recipe and recently I've been honoured to pass these mad skills on to my niece, Trisha! My name is Junelle Mah; blog author, Information Services Specialist, and GIPHY deployer on our @uofalibrary Twitter feed.
1 tsp salt
1x 500ml sour cream (full fat)
1 egg
4-5 cups of all purpose flour*
Blend together salt, sour cream, & egg until thoroughly combined. Slowly add in up to 4 cups of flour, 1 cup at a time until incorporated and then start kneading until it turns into a solid ball. Use the 5th cup only if the dough really, really needs it; likely you won't and will use this for rolling out the 
perogies
 later on. Cover in a bowl with saran wrap. Let rest overnight if possible, at minimum one hour.
A LOT of onions, chopped fine (say 3-4 big ones depending how oniony you like them…chop up another 2-3 to caramelize for topping them when they're done)
A few lbs of butter (must be butter)
Dry curd cottage cheese (1x 500 ml tub/batch of dough OR medium cheddar cheese – I usually get a couple of bags of shredded to cut down on prep time)
Salt & pepper to taste
Russet Potatoes (2.5 lbs per batch of dough)
Assembly Line
Day One: peel potatoes & cut into manageable pieces. Boil until soft; can put a knife through easily. Rice them in a potato ricer and DO NOT TOUCH. Let them cool in the freshly riced form, preferably overnight.
Caramelize chopped onions in butter and salt. This will take a LONG time over medium heat. Cast iron works best, but use what you think would be best.
Assemble dough. Let rest in fridge.
Day Two:  Combine potatoes with salt & pepper, cheese, & onions. There is no 'right' amount, you measure that stuff with your heart & your taste buds…in other words, add in what you think is best.  You need to do lots of tasting to make sure that the amounts are correct.
Cut out portions of the dough at a time to roll out; make sure you keep the rest covered so it doesn't dry out. Roll out to the desired thickness on a clean, floured counter; this will take time to get the right 'feel' for it. Roll some out, cut out a round with a cookie cutter or wine glass and fill it with some filling. If the dough creates holes it means the dough is rolled out too thin. When you fold your
perogies
, make sure you pinch them well all the way around. MAKE SURE THERE ARE NO GAPS AND EVERYTHING IS SEALED. If you don't, the filling will boil out.
Have a pot of boiling water ready to go on the stove for when the pinched 
perogies
are ready. Pop them in boiling water and pull them out when they float. Cool on a parchment-covered baking sheet. To serve: plate them up right out of the water or pan fry for a little colour.  Top with your favourite flavours: caramelized onions are our family's go-to, other options include sour cream, butter, bacon…
To freeze: Let them cool and then store flat in a large freezer bag. 12 or so should fit in each bag flat. DO NOT STACK THEM OR ELSE THEY WILL STICK. You MUST boil them before you store or freeze them, otherwise the dough turns into a gluey mess when they thaw.
*for gluten-free method, Trisha & I used rice flour and added an extra egg. You have to be a little more careful when rolling out and filling your perogies due to the lack of stretchiness/pliability that gluten provides. With a little practice & patience, these will turn out lovely! 
Thanks for the view, we hope you get a chance to whip up some of these amazing recipes! We invite you to subscribe to our newsletter (scroll down to the bottom right side of this page). From our families to yours, we wish you a safe and happy Heritage Day long weekend!