Staff profiles tell the story of an organization. Here at the University of Alberta Libraries, this is ours…
Meet Kaitlyn, Sarah, Kathy & Carol!
Kaitlyn Hill, Sarah Chomyc, Kathy Urban and Carol Rodgers make up our Monograph Acquisitions Team.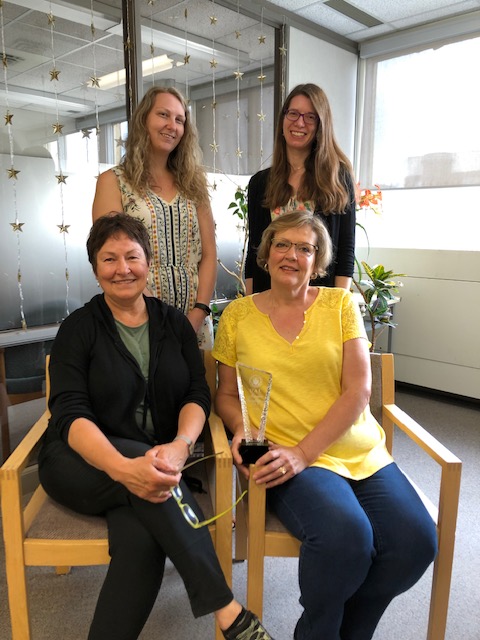 Congratulations! The Monograph Acquisition Team just got awarded the University of Alberta Library's Team Service Excellence Award Winners! How do you feel?
We are all very grateful that our team has been recognized in this fashion and consider this very positive feedback to the work we do every day! The award itself will serve as a reminder of what we've accomplished in the past year, and as an incentive to continue to work together to provide the best service possible to our Library and its users.
What does a monograph acquisition team do day to day?
A large part of our day is taken up by ordering, but it is more complicated than it might look at first glance, as we order many obscure items. The ordering process is more like detective work as we try to find a vendor that sells the requested item, and we end up ordering from all over the world. We can spend a day ordering from vendors in Alberta, Norway, and India all in one day! Other things we do are more behind the scenes tasks that bring materials to the area libraries, such as checking in periodicals, and helping staff and patrons troubleshoot problems with electronic resources. We also open the mail, which involves testing out the puppets and robots that we order! Working on the monograph acquisition team is really a challenging and exciting position, and often a new surprise pops up every day!
You must have some neat things coming through acquisitions. Any summer reading recommendations you can share with us?
Yikes! We've been too busy ordering and haven't had time to read anything to recommend. We have been testing out robots and puppets instead. However, we have been ordering some books for the Don't Judge a Book By Its Cover project, so we definitely suggest checking some of those titles out once the event begins.
Check out our previous 2017 and 2018 Don't Judge a Book By Its Cover events.
What are your plans for the trophy?
We will most likely purchase a grand trophy case made of marble from Italy, 24k gold handles, with proper air ventilation. Just kidding. It's currently sitting on top of Carol's desk hutch which provides a great vantage point for us all to admire it and remind ourselves to keep working hard to better our patrons' experiences with the University Libraries!
Feel free to recommend a purchase for anything you find missing from our catalogue, and our Monograph Acquisition Team will try to get it for you, whether from Canada, internationally, or across seas😃👍
The French version of this article is available here! La version française de cet article est disponible ici: uabsj.blogspot.com/2019/07/laissez-nous-vous-presenter-kaitlyn.html