University of Alberta Library is celebrating the new Geoffrey & Robyn Sperber Health Sciences Library, which is anticipated to open in Fall 2023. This post is part of a series of posts that will showcase the Sperber Library over the next several months.

This blog post was written by: Connie Winther, Lydia Zvyagintseva and Lisa Tjosvold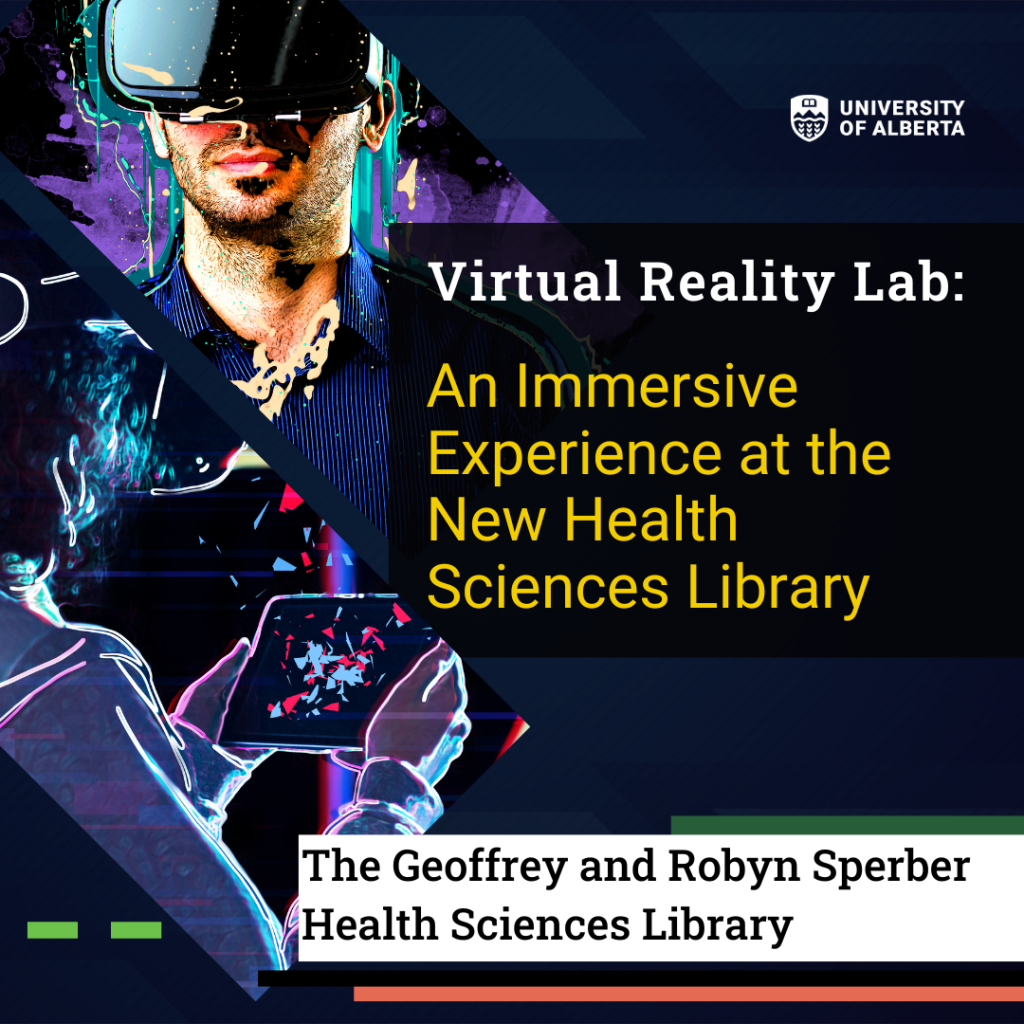 Imagine being able to see the inside of a body in three dimensions, or experiencing what your vision might be like with a visual impairment, or making your way through an escape room – all without actually going anywhere. The new Geoffrey & Robyn Sperber Health Sciences Library has a dedicated Virtual Reality space where experiences like these can be made possible!
Purpose of VR in health education
Virtual reality is a technology that allows a user to experience a computer generated 3-D simulation through a headset and hand-held controllers. Frequent educational uses include learning anatomy through an immersive experience or providing simulation training for surgical trainees. This technology also helps future health practitioners foster empathy through experiencing different impairments and team-based activities, all in a simulated, safe, controlled environment. Virtual reality has the potential to transform the way students, researchers, and healthcare professionals learn and explore medical knowledge!
Why VR in the library?
As with many types of resources and technologies, the library provides free shared access to hardware and software that otherwise might not be available to a U of A faculty member, staff, or student. Given the possibilities of using VR in teaching or research, the library is excited to be able to provide free access for users to explore this technology! Libraries advance multiple information and technological literacies, and virtual reality is no exception to the learning environment.
VR space
The Geoffrey & Robyn Sperber Health Sciences Library has a dedicated space to experiencing virtual reality. This dedicated VR space includes a central area for using VR and a seating area for observers to experience the VR through a large digital display. Most importantly, the new Library has staff who will help University researchers and students become comfortable with this technology for learning and scholarly purposes.
VR equipment
Upon opening, the library will have two headsets available for use – one Meta Quest Pro and one Valve Index. The headsets will be powered by a state-of-the-art gaming computer, ensuring high quality graphics, and will offer a variety of software, including learning programs related to Health Sciences and programs for creating 3D and VR content. Headsets will be cleaned with an ultraviolet cleaning device ensuring a safe environment for users. After a short orientation to the space and equipment, members of the U of A community are able to book the VR Lab. We welcome classroom collaborations and requests for tours of the VR Lab in the new Sperber Library as well!
Watch for more information on the library website about our VR space opening and how to book a time and orientation to the equipment! If you are interested in incorporating VR into an assignment, a teaching session, or within your research, contact sperberhelp@ualberta.ca.
This content is licensed under a CC BY-NC-SA 4.0 Creative Commons license.