University of Alberta Library is celebrating the new Geoffrey & Robyn Sperber Health Sciences Library. This post is part of a series of posts that showcase the Sperber Library.
This blog post was written by: Janice Kung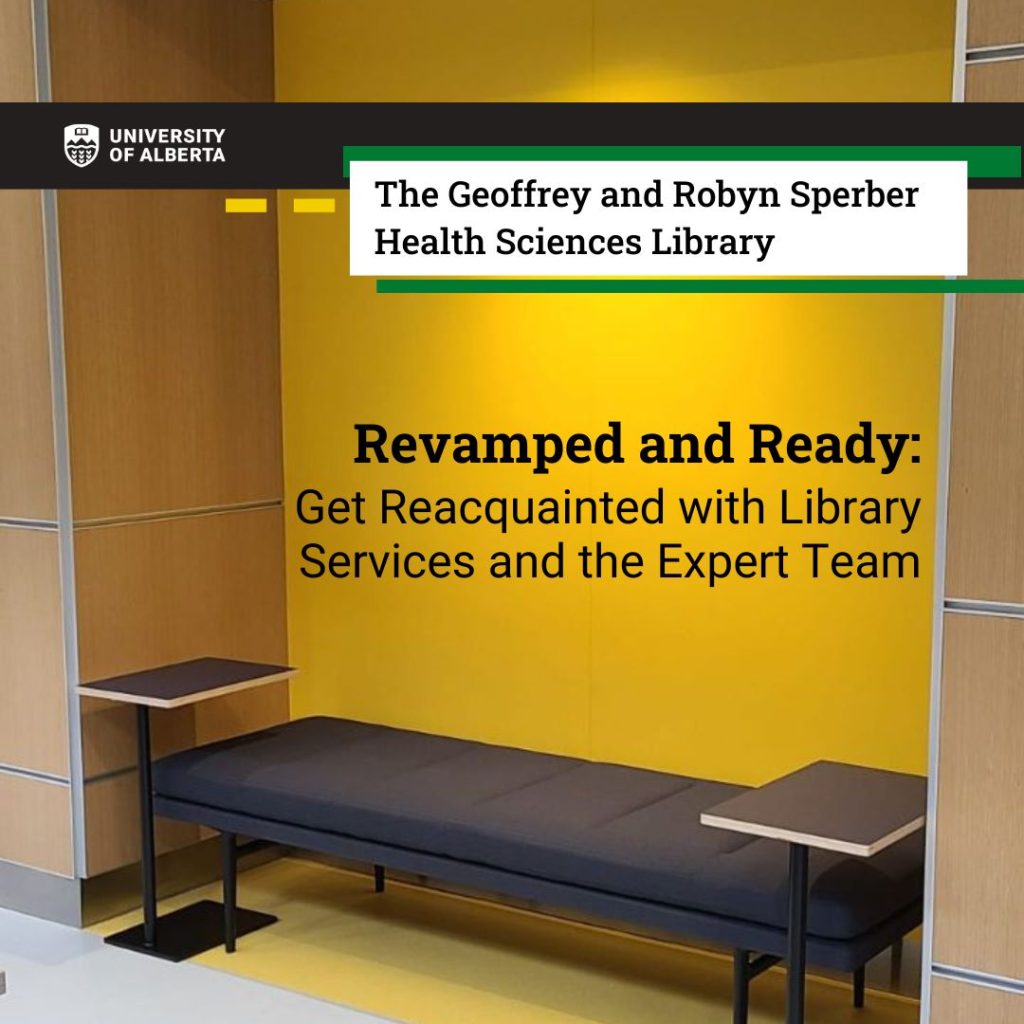 Greetings to all health sciences enthusiasts and knowledge seekers! After weeks of eager anticipation, we are thrilled to promote the long-awaited reopening of our health sciences library. We understand the challenges and inconveniences caused by the temporary closure of the John W. Scott Library, but fear not, the Geoffrey and Robyn Sperber Health Sciences Library is here to take your academic and research journey to new heights this fall! Prepare to be reacquainted with our amazing library services and staff!
Library Services
The brand new state-of-the-art Sperber Library is poised to revolutionize the way you access knowledge and pursue your academic and research endeavours. From the revamped physical spaces to our expanded range of services and resources, our library is fully equipped to help you access high-quality information when you need it and where you need it. Whether you need assistance with finding required readings, navigating complex databases, conducting research, or finding relevant resources, our team is here to support you every step of the way. We firmly believe that a library is not just a repository of books and journals, but a dynamic hub where students and researchers collaborate to foster academic growth. In addition to the full suite of services with which you are familiar, there will be new tech spaces ready for exploration including 3D printing, virtual reality, and a media lab for recording podcasts! With an exciting new teaching space embedded in the library, you'll be able to attend in-person workshops on a wide range of topics from systematic review searching to learning how to 3D print your own models.
Library Staff
At the heart of our new health sciences library lies a dedicated team of experts who are eager to assist you in your pursuit of knowledge. Did you know the health sciences library team has a combined total of more than 175 years' experience working in the University of Alberta health sciences library? Let's reintroduce you to our remarkable staff, a group of passionate Information Services Specialists (ISSs) and Librarians.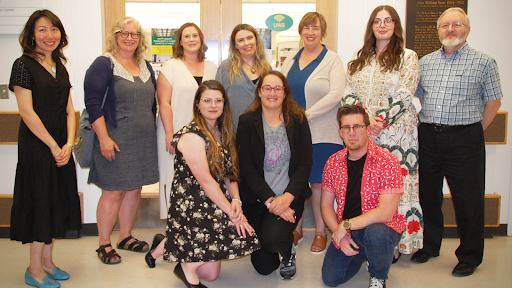 We have five friendly ISSs who cover our service desk:
Brenda Wolfe
Jerry Kubina
Arden Hill
Jackie Sudeikat
Sarah Lum
They literally keep the library open and enthusiastically answer your questions in person, by email, on the phone, and even through the library's Chat service. In addition to helping you troubleshoot technical issues, locating your required readings, or getting started on writing a term paper, the ISSs work on special projects, too! They provide LAN (Local Area Network) liaison support, collections support, and design the beautiful display cases that showcase timely and interesting topics such as History of Dissection, Plant and Herbal Medicine, and Celebrate the Scott Library – looking back on the history of the library since its opening in October 1984.
There are also nine librarians to complete the staffing complement. Angie Mandeville, Head, Information Services and User Engagement for the Health Sciences Library, superbly manages ISS staffing, coordinates training, services, student engagement issues and has had a hand in almost all areas as we launch the new space! Added to that eight librarians offer support to specific faculties and departments, providing the College of Health Sciences with customized services for the individual. At the helm is Connie Winther, Head, Faculty Engagement; she oversees the work of seven Faculty Engagement librarians. Get to know the librarians a little more by learning which area they support: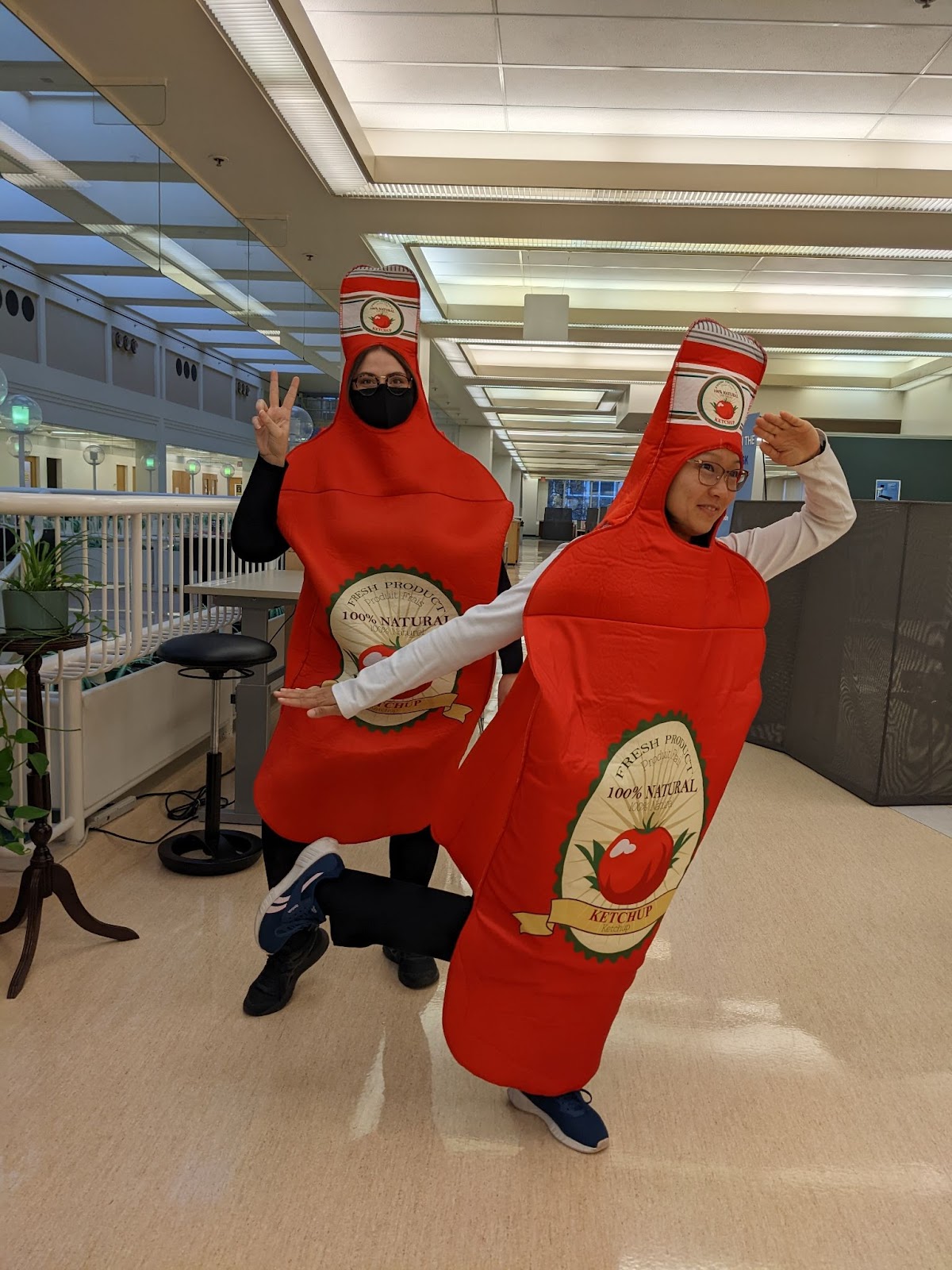 Liza Chan, Dentistry & Dental Hygiene
Dagmara Chojecki, History of Medicine
Liz Dennett, Rehabilitation Medicine
Megan Kennedy, Nursing
Janice Kung, Pharmacy & Pharmaceutical Sciences
Allison Sivak, Kinesiology, Sport & Recreation
Lisa Tjosvold, School of Public Health, Dentistry & Dental Hygiene
Are you wondering where Medicine fits into the picture? Since Medicine comprises dozens of departments, research institutes, research centres, and divisions, supporting the largest faculty on campus is no small feat! As a result, all health librarians share in the work, with Liz as the lead contact for the Faculty of Medicine & Dentistry. Librarians provide curricular-based instruction, library workshops (e.g. systematic review searching), and have one-on-one consultations with researchers on myriad topics. When in doubt, reach out to a well-informed health sciences library staff to help you out!
While the library staff work hard in the health sciences library, they know how to play hard, too! You may find a few staff members getting into the Halloween spirit this October. We look forward to welcoming you back this fall!
This content is licensed under a CC BY-NC-SA 4.0 Creative Commons license.