This post was written by GIS Librarian, Larry Laliberte
In March 2020, the University of Alberta William C. Wonders map collection sheltered in place as a global pandemic unfolded. It would be a year before staff could return in full, creating a disconnect from the physical space. During this absence, map staff began planning in-person map collection tours that would recalibrate the collection as evidence of extractive dispossession, rhumb the maps as anthropogenic fragments, and situate their containers in deep time.
The following is a composite of three map collection tours, conducted in March and April 2023.
The tour starts in the wall map area on the first floor of Cameron library by John Speed's 1627 'new and accvrate map of the world'. Beginning in the wall map space is an ode to the classroom visual methods utilized in academia during the 20th century. Here the map collection, with a heft of prairie settler geographies, is introduced. A collection seen through the contours (conceived, perceived and lived), of Henri Lefebvre's production of space.1 A collection conceived, maps, makers, and curators representing the dominant order of society. Moving from wall maps to maps on a wall the tour shifts to the Digital Scholarship Centre's (DSC) visualization wall.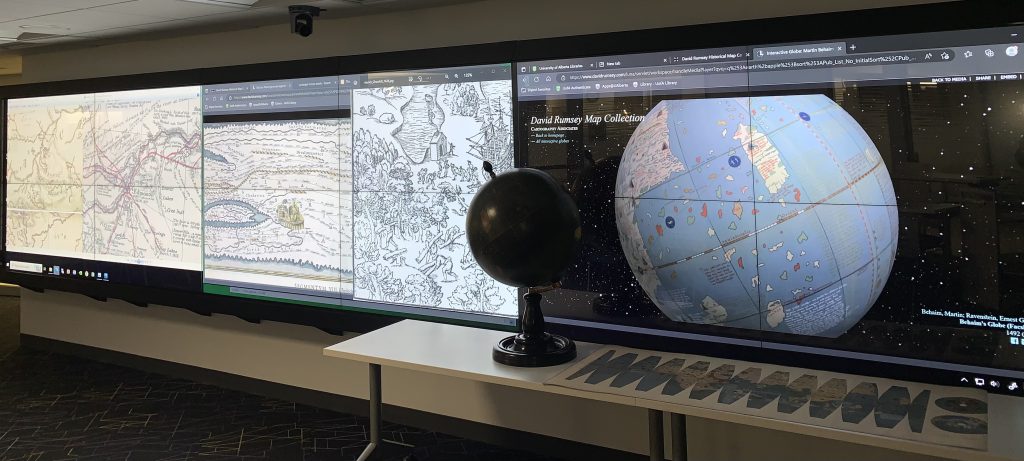 The visualization wall's serendipitous location, on-the-way to maps, allows for the tour to sit, and zoom & pan. In order to make use of the wall's linear configuration, maps with greater width than height are utilized. Exploration maps created by, La Vérendrye, Thompson, and Palliser who traversed the prairies are examined along with Peutinger's Roman roads and Waldseemüller's map depicting a separate Western hemisphere. A virtual spinning Behaim Globe is displayed alongside the map collection's physical reproduction providing a hands-on tactile experience. The tour group is asked "what is missing from this 1492 European representation of the world"? Few notice it at first glance, that the eurocentric sphere does not display the Americas. As such, the globe is introduced alongside the anthropocene, becoming a golden spike, coincident with colonization of the Americas.2 Further anthropogenic evidence is drawn from Jens Munck's 1624 map regaling in the hacking of forests, while Henry Youle Hind's 1858 map depicts wetlands as vast wet prairie easily drained. Jumping into the great acceleration of the 20th century, a montage of rail, road and pipeline maps rise and fall across the screens, documenting an increasingly fragmented landscape and burgeoning carbon footprint.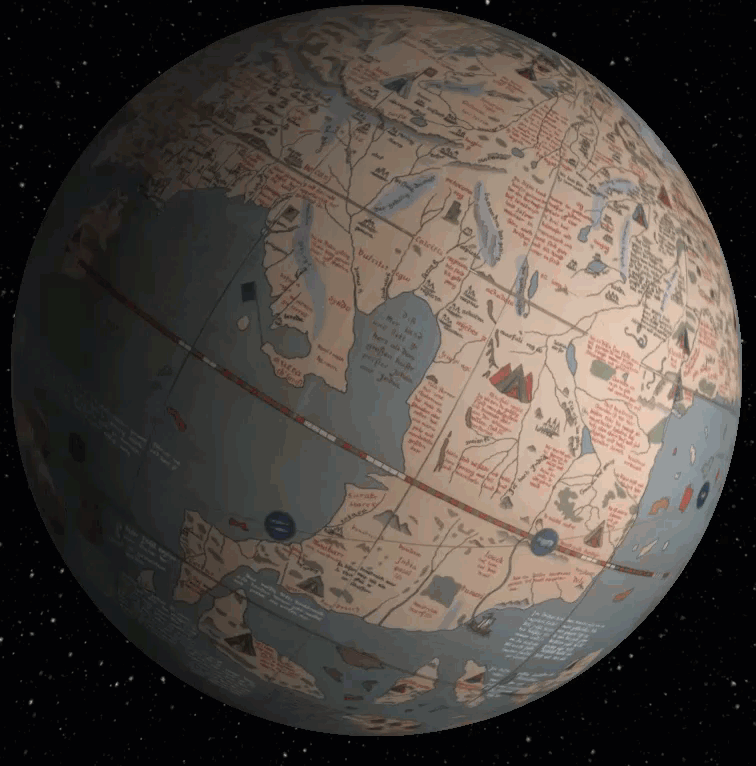 Stepping out from the spatial shadows of the visualization wall the tour makes its way to the fourth floor. This spatial procession, a transect of enactments within a library, fills in Lefebvre's perceived production of space. The tour is asked to think of their immersive footsteps and elevation change while ascending the stairwell and portaging to the fourth floor where 250 map cabinets, 1000s of atlases and over 500,000 air photos await.
The tour gathers in the map room. A space that serves both as an archive, and working area. Critically, in terms of an audible tour, it becomes a space for discussions and presentation in the lee of a library floor designated as silent. The tour obliquely examines a mixture of maps, atlases and air photos compiled when answering reference questions related to land use change over time. These materials also serve as temporal slices that situate the collection, containers, and the tour in deep time. This is done by drawing upon the 1969 Atlas of Alberta with a plate detailing the precambrian shield "metamorphosed from the original slates into schists and gneiss"3 that is 2.5km (and 4 floors), beneath our feet. Utilizing a map displaying the retreat of the Wisconsin ice sheet in North America, it is noted that 21,000 years ago the tour (and our feet), would have been underneath 1km of ice. Making use of a 1962 surficial geology map of the Edmonton area it is shown that 6000 years ago the tour would have been submerged under a glacial lake "ringed in primitive club mosses and lichen". 4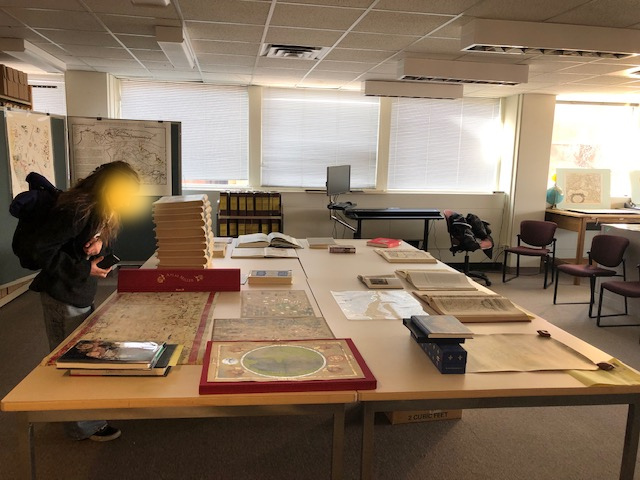 The tour finishes with the group encouraged to make their way, in quiet contemplation, given the floors designation, through a spatial maze of quarter sectioned map cabinets. To gaze upon a kaleidoscope of spatial renderings conveniently laid out atop those cabinets through the lens of Lefebvre's lived space. One that emphasizes how a collection of god's eye views that served as training materials for a generation of extractive managers, planners and academics might be reimagined, redrawn and digitally reconfigured through poetic, artistic, and even mystical ways.
In the next post we will shift from on site map tours to maps out on tour.
---
References
wtf is geography?! [@WTFisGeography]. (2022, October 10). wtf is the "production of space?!" [Tweet]. Twitter. https://twitter.com/WTFisGeography/status/1579484854580039683
Davis, H., & Todd, Z. (2017). On the Importance of a Date, or, Decolonizing the Anthropocene. ACME: An International Journal for Critical Geographies, 1(4), 761-780. Retrieved from https://acme-journal.org/index.php/acme/article/view/1539
Godfrey, J. D. (1993). Edmonton beneath our feet : a guide to the geology of the Edmonton region. Edmonton Geological Society.
Ibid
Love us on the blog? Then you'll love us on social media! Check us out at @uofalibrary on Instagram, & Twitter!
This content is licenced under a CC BY-NC-SA 4.0 Creative Commons licence.