Sound the horns, bang the drums, and break out those exquisitely well-choreographed dance moves. The Winter 2022 semester is over…now what? Give your brain a well-deserved break with some enjoyable read recommendations from our University of Alberta Library Staff.
Some items are in our catalogue, others are held by our friends at Edmonton Public Library (EPL). For those in our U of A community who do not have an EPL card, fear not! We have a spectacular partnership with EPL, and an LPass will allow you to connect your 13-digit U of A ONEcard barcode to EPL's collections. Our end-of-semester post from Fall 2021 has more great examples of resources you can access with your LPass.
FICTION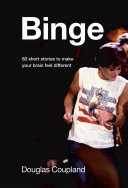 Binge: 60 Stories to Make Your Brain Feel Different (Douglas Coupland)
You can read most of these stories in 15 minutes or less, but they will be on your mind for much longer. Interesting, quirky, fun.
– Mireille Smith, Information Services Specialist. Rutherford Library & Bibliothèque St-Jean.
The Long Way to a Small, Angry Planet (Becky Chambers)
First of all…the title. Who wouldn't be intrigued by the title. Next, its SciFi. Third, it's about relationships set in outer space. Check, check and check.
– Grace Romanow, Information Services Specialist. Cameron Library.
And Then There Were None (Agatha Christie)
Anything by the "Queen of Crime" is always a good choice, but this book puts the ultimate twist on a whodunnit – 10 strangers are stranded on an island, and are picked off one by one by a murderer until – SPOILER – then there were none.
– Laurel Warkentin, Information Services Specialist. Augustana Library.
They Came to Baghdad (Agatha Christie)
Engaging heroine and beautiful descriptions of Baghdad in 1950. I enjoy the action and spy fiction genres books written by Christie which usually feature brave and intelligent heroines. They are very descriptive and you can immerse yourself in a different time and place. Travel involved planes, trains, ships and was always eventful! (hint: many of the Agatha Christie books are available in downloadable audiobook form from EPL…#RoadTrip)
– Elisabet Ingibergsson, Information Services Specialist. Rutherford Library & Bibliothèque St-Jean.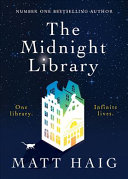 The Midnight Library (Matt Haig)
Thought provoking in these difficult times. Pick a new book and try a new life!
– Carmen Loconte, Information Services Specialist. Rutherford Library.
First Grave on the Right (Darynda Jones)
Not only does the main character solve crimes, she reaps souls on the side. She is wildly witty with a dash of sarcasm and a couple of cups of awesomeness (caffeine). If you are looking for a funny, action-packed read, I highly recommend this series.
– Tamara Storm, Building Services Magician. Rutherford.
The Unbearable Lightness of Being (Milan Kundera)
With everything happening in Ukraine right now, it feels like a very relevant read. It centers around a troubled married couple who are deeply affected by the invasion of their home country, Czechoslovakia, by the Soviet Union (and 3 other Warsaw Pact countries) in 1968.
– Natalya Brettle, Senior Information and Circulation Services Specialist.
NON FICTION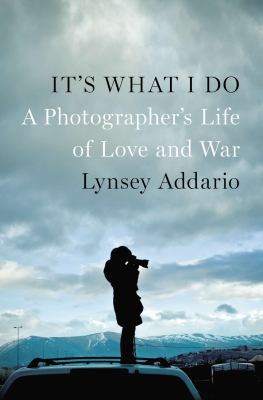 It's What I Do: A Photographer's Life of Love & War (Lynsey Addario)
Lynsey Addario has had a very successful career as a photojournalist and war photographer for some of the most well-known news publications of our time. Her memoir explores her long and challenging journey to success and the personal sacrifices she made as a woman to advance in her career; delving into the difficulties of being successful in war-torn regions where being a women often complicates her work. It is a striking tale of the courage and mortal risks that those in her profession take to bring us images from the front lines. She delves into intimate details of failed romantic relationships and moments when she did not believe she would survive, providing insights into the emotional toll of experiencing so much conflict first hand. This book stunned me and I will never glance past a photo in a newspaper headline casually every again. Feel to check out my review in Goodreads.
– Hanne Pearce, Public Services Assistant. Digital Scholarship Centre.
What It Is (Lynda Barry)
I love this book – it is unlike anything I have ever read before! It's sort of a memoir/scrapbook/writing guide that encourages readers to think of life's big questions and use them as inspiration in their creative endeavours! 10/10 AMAZING!
– Kelsey Kropiniski, SLIS Student Staff.
Humankind: A Hopeful History (Rutger Bregman)
I picked up this book because it was it was recommended by former mayor Don Iveson on the CBC "West of Centre" podcast. They were asking he and former Calgary Mayor Naheed Nenshi (2 thoughtful, progressive guys with some time on their hands) about what they've been up to and what they've been reading since leaving office. This book offers an interesting and ultimately encouraging analysis of human nature. From the publisher's blurb on the EPL website: The "lively" ( The New Yorker) , "convincing" ( Forbes ), and "riveting pick-me-up we all need right now" ( People ) that proves humanity thrives in a crisis and that our innate kindness and cooperation have been the greatest factors in our long-term success as a species.
– Jeff Papineau, Library Assistant. Bruce Peel Special Collections.
Born a Crime (Trevor Noah)
This is such a remarkable and well-written memoir by comedian Trevor Noah about his childhood growing up in South Africa, during and immediately after apartheid. It's full of both hilarious anecdotes and poignant memories of the challenges he and his family faced.
– Laurel Warkentin, Information Services Specialist. Augustana Library.

GRAPHIC NOVELS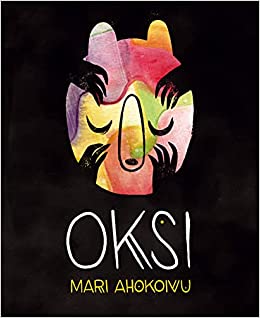 Oksi (Mari Ahokoivu)
Oksi is a graphic novel inspired by Finnish mythology that transports you as the reader to a forest filled with magical creatures, gods, family love and violence.
– Céline Gareau-Brennan, Librarian. Business.
Nobody's Fool: The Life & Times of Schlitzie (Bill Griffith)
A fascinating, well researched, and non-exploitative graphic novel, biography of Schlitzie, a side show performer from the early 20th century.
– Jamie Spivak, Information Services Specialist. Rutherford.

Heartstopper (Alice Oseman)
This graphic novel series is so wholesome and precious and will heal your soul after another tough COVID school year. There's also a brand new live action adaptation in the works on Netflix!
– Jane Banks, Information Services Specialist. Cameron.
Check Please (Ngozi Ukazu)
Graphic novel for an easy read after the semester is over. With amazing art, lovable characters and super cute story. Oh and hockey because, #Canada.
– Kelsey Cameron, SLIS Student Staff.
UNIVERSITY OF ALBERTA LIBRARY DIGITAL ACCESS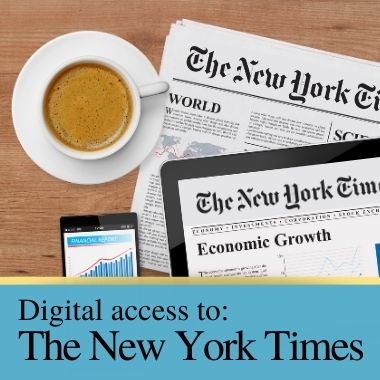 The New York Times*
There is a wide variety of current events, news, investigative journalism, editorial opinion pieces, videos, games and recipes. Our library subscription to NYTimes.com is compatible with the New York Times app, which makes your reading portable for lounging on the couch, dinner table or transit commute.
– Sonya Leung, Information Services Specialist. Cameron.
*The NY Times digital access is not the same as our U of A Library access to NY Times through our databases. For more information on this difference, as well as how to register/renew NY Times digital access, please read our previously published blog.
Thanks for the read, and a massive round of applause and appreciation to our U of A Library folks for sharing their recommendations; we couldn't post blogs like this without you!
Love us on the blog? Chances are, you'll love us on social media! Follow us, @uofalibrary, on Instagram & Twitter!