This post was written by SLIS student Heather McMullin
Nigeria — the most populous country in Africa and the seventh most populous in the world1 — is an economic, literary and cultural powerhouse and there is a strong contingent of Nigerian students attending the U of A. Here are some fun facts you may not know about Nigeria: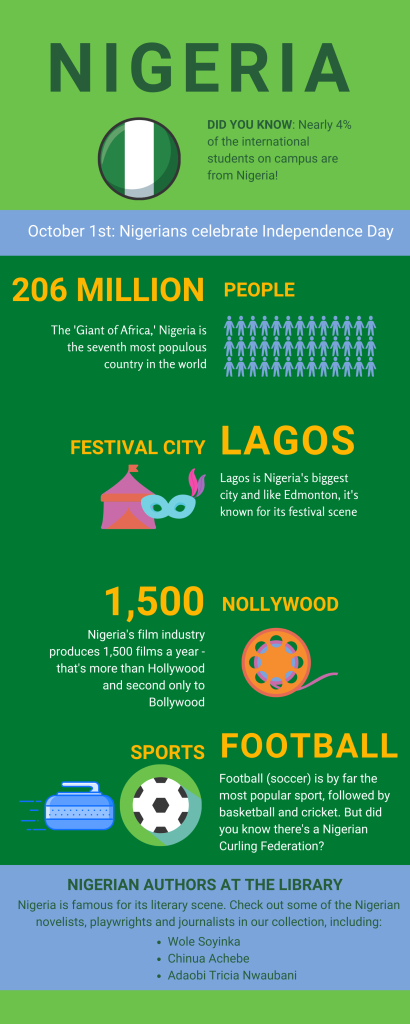 Nollywood is the nickname for Nigeria's film industry, which is second only to Bollywood for the volume of films it produces2. Curious to learn more? Emily Witt's ebook Nollywood: The Making of a Film Empire, is a great place to start. We have the Nollywood film Half of a Yellow Sun available to borrow if you would like a sampling.
Many Nigerians are enthusiastic football fans. Basketball, cricket, and track & field are also widely enjoyed. You may be surprised to learn that Nigeria sent a female bobsled team to the 2018 Olympics, and just announced they'll be sending 10 bobsled and skeleton athletes to Beijing in 20223. Also, the Nigerian Curling Federation was established in 2017 and sent its first team to the Worlds in 20194.
The capital of Nigeria is Abuja, but its largest city is Lagos: one of the biggest cities in the world and the most densely populated city in Africa5. Lagos has a lively festival scene, including:
Eyo Festival – this is a masquerade event that showcases Yoruba culture and is also widely believed to be the forerunner to Brazil's Carnival6.
Nigeria's literary scene is vibrant and you can read the works of many Nigerian novelists, playwrights, poets and journalists in our collection. Check out Wole Soyinka, a playwright and novelist who won the 1986 Nobel Prize in Literature. His book The Burden of Memory, the Muse of Forgiveness, examines reconciliation and social healing. Chinua Achebe is well-known for his ground-breaking novel Things Fall Apart, but we also have dozens of other works by him in our collection. For a current examination of Nigerian society, take a look at journalist Adaobi Tricia Nwaubani's work, which includes pieces written for the Washington Post about the Boko Haram kidnappings. We'll be putting together an online book display of more Nigerian authors for you to explore later this month.
If you want to do more research about Nigeria, we can help! Here are some databases we recommend you start with:
AllAfrica provides African news and information with daily stories in French and English;
JSTOR's World Heritage Sites of Africa includes visual, contextual, and spatial documentation of African heritage sites;
Black Short Fiction contains stories and folktales by African, African American and Caribbean authors
Happy Independence Day to our Nigerian students on October 1st!
Thanks for the read! Like our blog posts? We invite you to subscribe to our newsletter (scroll down to the bottom right side of this page). Love us on the blog? Then you'll love us on social media! Check us out at @uofalibrary on Instagram, & Twitter!
---
1 Campbell, J., & Page, M. T. (2018). Nigeria : what everyone needs to know®. Oxford University Press., p. 1
2 White, T. C. (2021). Nigeria. Salem Press Encyclopedia.
3 https://allafrica.com/stories/202109240102.html
4 https://www.nigeriacurling.com/news/team-nigeria-arrives-norway-world-mixed-doubles-curling-championship-2019
5 Nigeria. (2017). In M. S. Hill (Ed.), Worldmark Encyclopedia of the Nations (14th ed., Vol. 2, pp. 609-632). Gale.
6 https://en.wikipedia.org/wiki/Eyo_festival