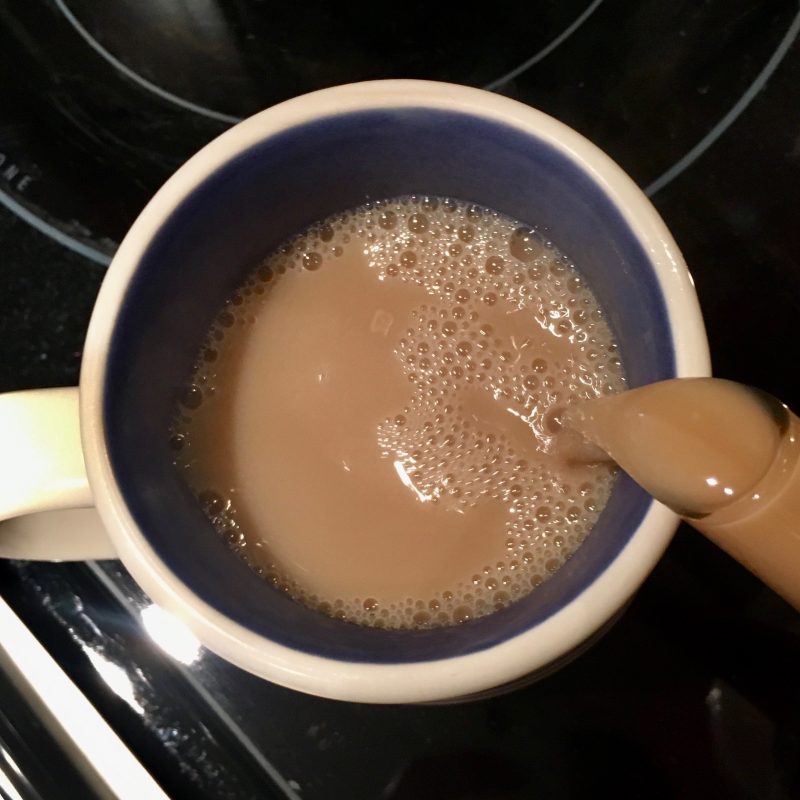 One of the aspects of living in Canada that I appreciate the most is my exposure to a wide variety of cultural practices, experiences and people. Living in BC's Lower Mainland for a number of years gave me a huge appreciation of the scale of community and connections embodied by my colleagues of South Asian descent. I was in awe of the talent shown by local musicians and Bhangra dancers. I was invited to learn about, and celebrate, Holi and Diwali with our student community while working at a small university. More often than not, I had the pleasure of experiencing profoundly vibrant flavours and tastes of homemade treats and drinks made by generous hands and warm hearts.
As the Library continues to honour Asian Heritage Month, as a non South-Asian I wanted to respectfully bring one of my memories of South Asian culture to the blog. On a rainy winter day I was given a steaming mug of homemade masala chai by a colleague. The memories from this act of kindness and the flavour of the tea still resounds in me many years later. It is my intention to bring forward masala chai as a cherished memory, and as a symbol of my appreciation to those wonderful colleagues who shared a part of their hearts through a cup of kindness.
This soul-affirming potion of fresh ginger and whole spices simmered in black tea was like a wave of warmth through my core. It was NOTHING like the brewed versions I had consumed at local coffee shops, which were bland and flat in comparison. I have been trying to replicate that bold taste ever since I moved back to Alberta, which has been a spectacular longitudinal experiment for the senses.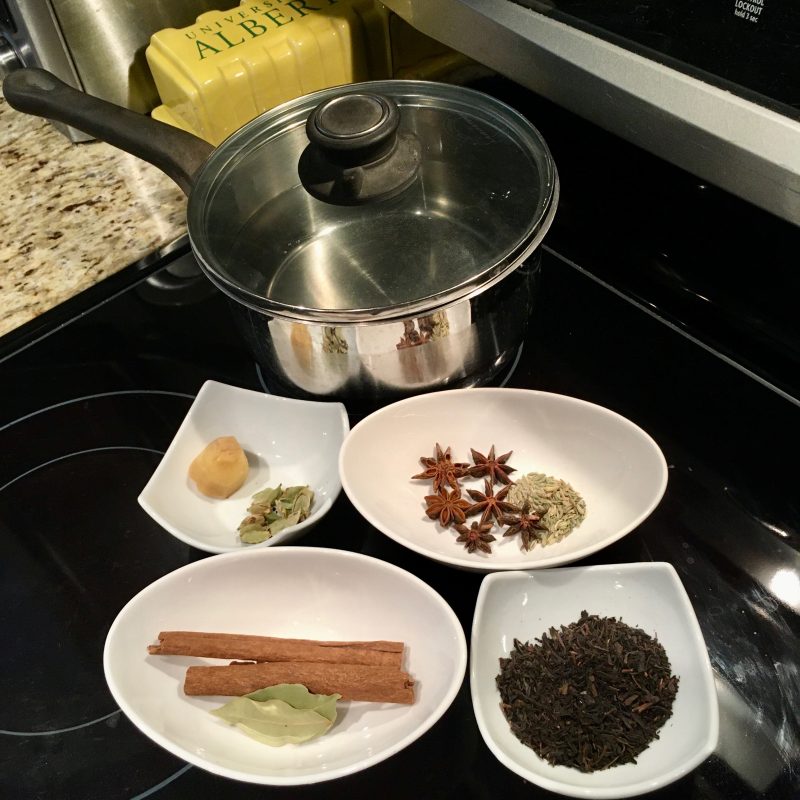 Chai is the basic word for tea in India. The flavourful spiced beverage (with or without dairy/non-dairy added to it) that North Americans are more familiar with is better referred to as masala chai, or spiced tea.
"Pre-prepared spice mixes, known as masalas in India, are used occasionally on the subcontinent but they are usually added to the dish at the end of the cooking process…There are good reasons why Indians rarely use pre-prepared masalas as the main flavoring for their dishes. Spices take different lengths of time to release their flavor," (Collingham, 142).
[Photo above, clockwise from the upper left: a knob of freshly peeled ginger, whole cardamom pods (crushed with the back of a spoon), star anise, fennel seeds, black tea, bay leaves, and whole cinnamon sticks.]
Collingham notes that spices are more volatile when introduced to hot oil; the uneven nature of the cooking process can cause spices to burn (143). Many recipes for masala chai will introduce the spices and the tea to the water for a boiling period and then a steeping period. This suggests that the flavour of the spices will not be disrupted during the tea's cooking process.
And that cooking process is as wonderful as the process of consuming the actual brew. The rolling boil sends ginger knobs, tea leaves, star anise, cardamom pods, and the like cascading all around the pot. It's not only mesmerizing to watch, but it's incredibly lovely and fragrant. It is wonderful aromatherapy for your home.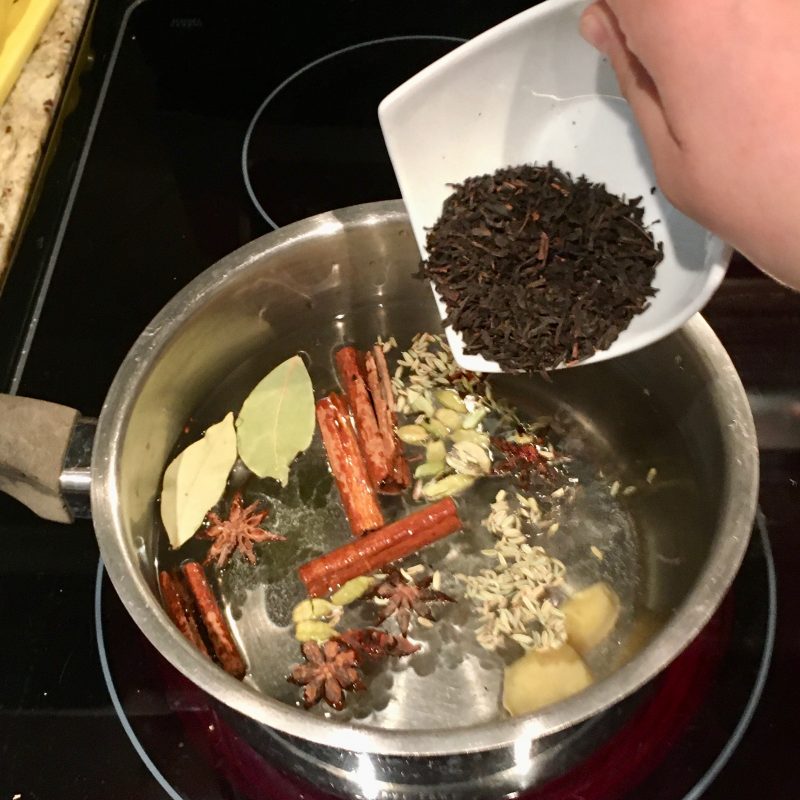 I've included a few different recipe options below to demonstrate the number of ways masala chai can be made. There are common ingredients between all of the recipes, but the quantities and presence/absence of some of the spices will vary. I source the spices that I need from Bulk Barn; I can get the quantities that I need without worrying about waste. The tea is a basic organic black tea and I always use fresh ginger; I can find both at either Superstore or T&T Supermarket. Apart from the black tea (which can also be a darjeeling or an assam) you can tailor your brew to whatever flavour your palate desires.
Me? The more fresh ginger, the better. I will often add a peeled knob of ginger to swim in my tea cup as I drink my warm masala chai. When I want the flavours to be smooth and soothing, I will add a couple teaspoons of brown sugar and some soy milk. When I want the boldness of the spices to sing their songs, I will drink it clear. The possibilities are endless, and I encourage you to try some of these recipes out with your own particular tastes in mind; add an extra dash of this or remove a pinch of that, and see what develops. I will always strive to match that original memory of masala chai, however part of me is happy to resign to that the magic of that first cup of kindness.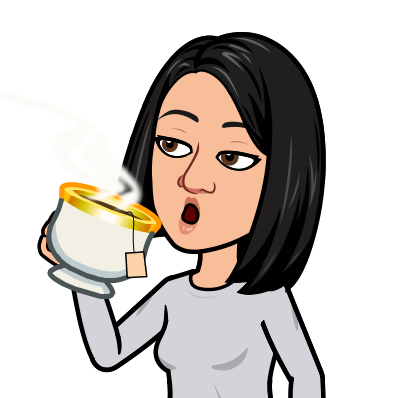 Spiced tea or Masala Chai
Collingham, L. Curry: A Tale of Cooks and Conquerers. Oxford U P, 2006.
4 tablespoons ground ginger
2 tablespoons whole black peppercorns
2 tablespoons green cardamom seeds
1 tablespoon whole cloves
Pot of tea
Milk & sugar to taste
Grind the spices in a clean coffee grinder. Store the powder in an air-tight container and add 1/2 tsp to a pot of tea. Serve with milk and sugar.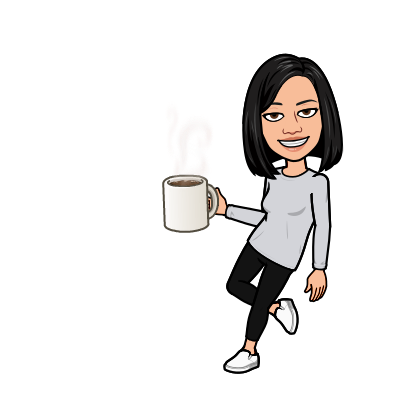 Bon Appetit's Best Masala Chai
4 Servings
1 (1½-inch) piece fresh ginger, unpeeled, coarsely grated
1 (3-inch) cinnamon stick, lightly crushed with the flat side of a knife
6 teaspoons loose strong black tea (such as Assam) or 6 tea bags (such as PG Tips)
14 green cardamom pods, lightly crushed, or ¾ teaspoon cardamom seeds, lightly crushed
2¾ cups milk
¼ cup pure maple syrup
½ cup water
Bring ginger, cinnamon, and 3½ cups water to a boil in a medium saucepan over medium-high heat. Lower heat and simmer rapidly, stirring occasionally, until liquid is reduced by a third and very fragrant, about 20 minutes. Remove pan from heat, stir in tea and cardamom, and let steep 2 minutes.
Return pan to medium-high heat and stir in milk and maple syrup. Cook, stirring occasionally and keeping a close watch, until mixture begins to foam up and boil, about 5 minutes. Immediately remove from heat and let sit 5 minutes. Strain chai through a fine-mesh sieve into a teapot or pitcher and serve.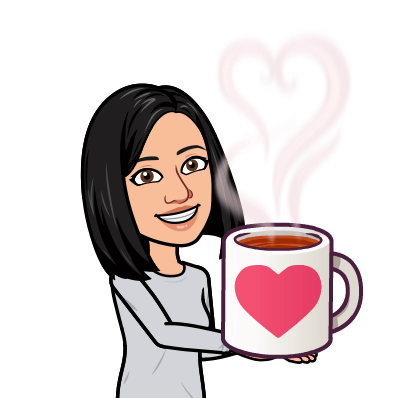 Chai by Food Network's Aarti Sequiera
2 cups water
1 (1-inch) piece cinnamon stick
4 green cardamom pods, smashed
4 whole cloves
1/2 star anise
2 quarter-sized coins fresh ginger
2 scant teaspoon black tea leaves (recommended: Taj Mahal) or black tea of choice
2 teaspoons honey, or more to taste
Whole milk or half-and-half
In a medium pan bring the water, all of the spices and the ginger to a boil over medium heat. Turn off the heat and allow it to steep for 15 minutes. Bring the mixture back to a boil, then add the tea. Turn the heat off, and allow it to steep for 3 to 5 minutes depending on how strong you like your tea. Stir in the honey and add milk to your liking. Strain it into a bowl or pitcher and serve!
Thanks for joining us! If you're interested in learning more about various South Asian culinary traditions, try Bloomsbury Food Library or simply type your query into the search box on our homepage. Like our blog posts? We invite you to subscribe to our newsletter (scroll down to the bottom right side of this page). Love us on the blog? Then you'll love us on social media! Check us out at @uofalibrary on Instagram, & Twitter!