It's the end of winter and the end of term! YAY!! Congratulations to all our students. Post-secondary learning is difficult and we know that the 20/21 learning year was a particularly challenging one for the entire UAlberta community. You've worked very hard to get here, and now is a good time to reflect upon your resilience and tenacity over the past year.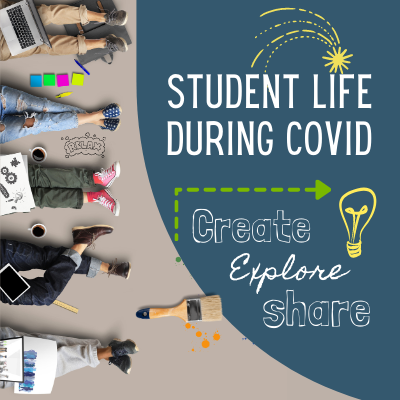 The University of Alberta Library and the ACCESS Community Social Work Team invite you to participate in a community arts initiative to explore and express your student experience during COVID while focusing on your overall wellness. Draw, paint, sing, snap pics, write (poems, stories, code?!)…the medium is up to you; we just want you to express yourself!
We want to help you document your COVID experience and you can submit your work to be permanently archived in ERA, our digital archive.
There are lots of ways to get involved, and you can participate in any or all of them:
Join us online to get your creative juices flowing
Staff from the library and the Social Work Team are hosting virtual workshops in May and June, where students can gather to talk, listen and create. Please register:
Share and celebrate!
We are hosting a special session on Tuesday, June 8, 5-6:30 pm, where we will share and celebrate our creative works! Please register here.
Do you need some art supplies?
We can provide up to 25 small art kits with oil pastels, watercolour paints and brush, multimedia and origami paper and a glue stick! Supplies are limited! (Sorry but kits are only available to students living in Canada.) Request your kit.
Contribute your creative work to an e-Zine
Publish your creative work in an e-Zine as a permanent artifact of the UAlberta experience and also as a resource for other students as they face continuing impacts and challenges of post-secondary education during COVID. This will be available to the University community.
You don't have to participate in a workshop to submit your artistic creations for publication. Please review the Guidelines and Creative Work Selection Criteria.
The Student Life During COVID submission form opens Tuesday, May 18 at 9 am. The deadline for submissions is Wednesday, June 30 at 11:59 pm.
Follow and share
Care to share on Twitter or Instagram? Tag @uofalibrary and we'll get in touch for your permission to add to the e-Zine.
If you have any questions about this project, please contact Lucinda Johnston at lucinda.johnston@ualberta.ca.
This initiative is funded by the Healthy Campus Unit, Campus and Community Recreation Services, and Human Resource Services.
French translation of this article can be found here!