UAlberta students, kudos to you as you continue to work hard and prevail in the face of ongoing challenges to the 20/21 learning year. The University of Alberta Library and the ACCESS Community Social Work Team invite you to participate in a community arts initiative to explore and express your student experience during COVID.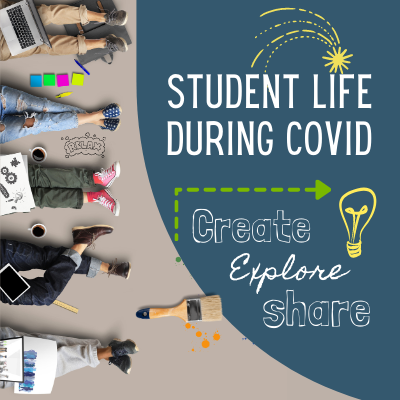 We encourage you to reflect on your resilience and tenacity over the past year, with a focus on your overall wellness–and then creatively express your experience. Draw, paint, sing, snap pics, write (poems, stories, code?!)… the medium is up to you; we just want you to express yourself!
Need inspiration?
Contribute your creative work to a Zine!
In addition to the benefits and enjoyment you may derive from the creative process, you can also document your COVID experience by submitting your creative work to a Zine. Digital and print versions of the Zine will be a resource for other students as they face continuing impacts and challenges of post-secondary education during COVID, and will serve as a permanent artifact of the UAlberta pandemic experience.
The Student Life During COVID submission form is accepting submissions until Friday, October 22 at 11:59 pm. Please review the Guidelines and Creative Work Selection Criteria
Follow and share
Care to share on Twitter or Instagram? Tag @uofalibrary and we'll get in touch for your permission to add your work to the Zine.
If you have any questions about this project, please contact Lucinda Johnston at lucinda.johnston@ualberta.ca.
This initiative is funded by the Healthy Campus Unit Heroes for Health Grant, Campus and Community Recreation Services, and Human Resource Services.