Walking around our campuses I marvel at the beautiful urban forests that surround us! A walk outside at this time of year with the sounds of leaves rustling above or crunching underfoot, the blazing autumn colours remind us of their presence. What better time of year to celebrate National Tree Day!
This is a short list of books from our collections which both celebrate trees as well as highlight their precarious existence in our environment. Have a look!
The Golden Spruce by John Valliant tells the story of a rare golden-needled spruce tree in Haida Gwaii and the man who chose to cut it down. The Golden Spruce is about much more than a man and a tree – it's about the intersection of logging, environmentalism and Indigenous culture.
Big Lonely Doug : the story of one of Canada's last great trees by Harley Rustad is another book about a man and a tree, but in this case, the man chooses not to cut the tree down. Big Lonely Doug is a massive Douglas fir that stands alone in a clearcut on Vancouver Island
Once They Were Hats by Frances Backhouse. The spotlight goes on our national emblem – the beaver! Beavers have been gnawing down trees, building dams, shaping the land and creating critical habitat in North America for at least a million years. Discover quirky facts about these industrious creatures in this fascinating book.  
Eating Dirt: Deep Forests, Big Timber, and Life with the Tree-Planting Tribe Having worked as a treeplanter many decades ago, I was fascinated by Charlotte Gill's book which is part narrative on the life of a tree planter, interspersed with information about the botany of trees, environmentalism and the logging industry. 
Empire of the Beetle: How Human Folly and a Tiny Bug Are Killing North America's Great Forests by Andrew Nikiforuk. Beginning in the late 1980's, an insect the size of a rice kernel has killed more than 30 billion pine and spruce trees in western North America. The beetle didn't act alone. Misguided science, out-of-control logging and a hundred years of fire suppression created a volatile geography that released the world's oldest forest manager from all natural constraints.
The books below might be of interest to younger readers. Whether its an exploration of the boreal forest; the true story of Wangari Maathai, environmentalist and Nobel Peace Prize winner; or a discovery of the moon calendar of the northern Cree; check them out!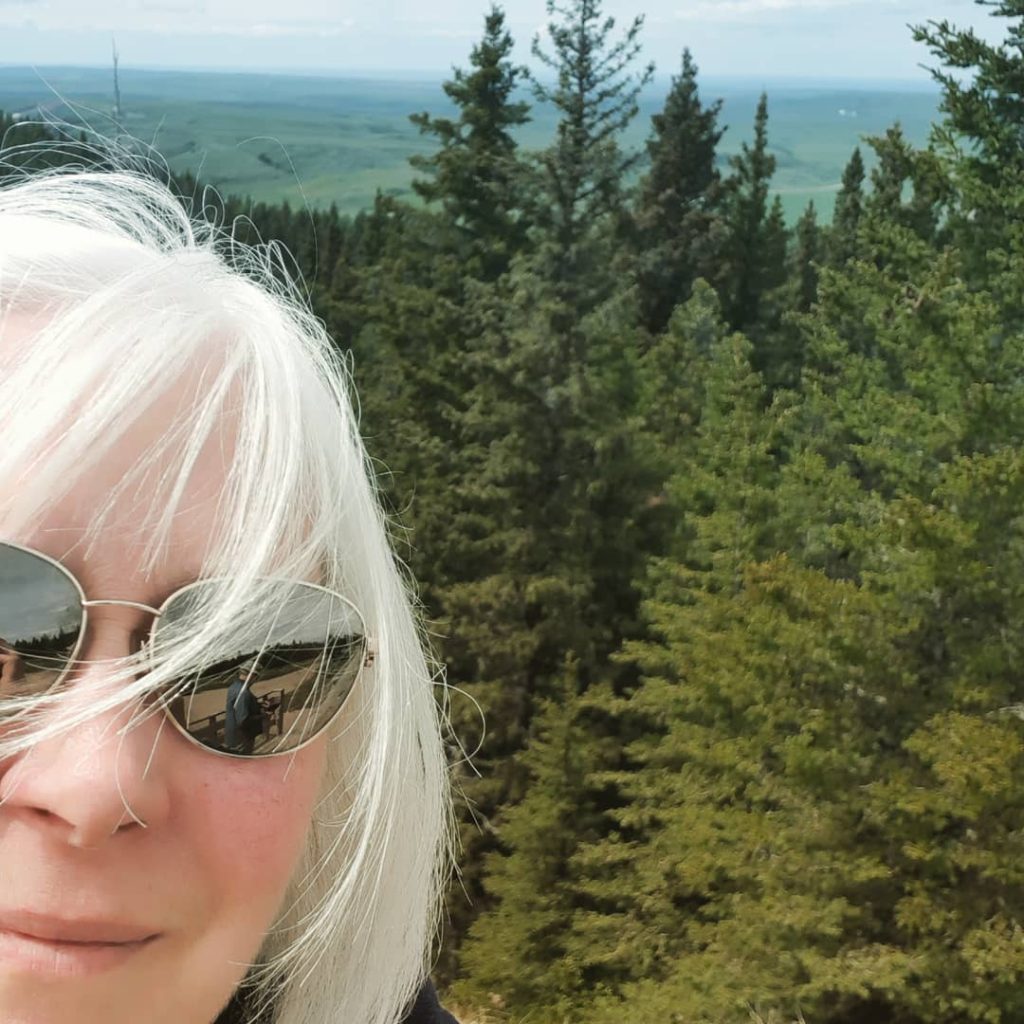 Thanks for the read! Like our blog posts? We invite you to subscribe to our newsletter (scroll down to the bottom right side of this page). Love us on the blog? Then you'll love us on social media! Check us out at @uofalibrary on Instagram, & Twitter!
(that's me enjoying the spectacular views at Cypress Hills Interprovincial Park)