With the majority of students and staff being advised to work and study from home, this is how our librarians are supporting online learning…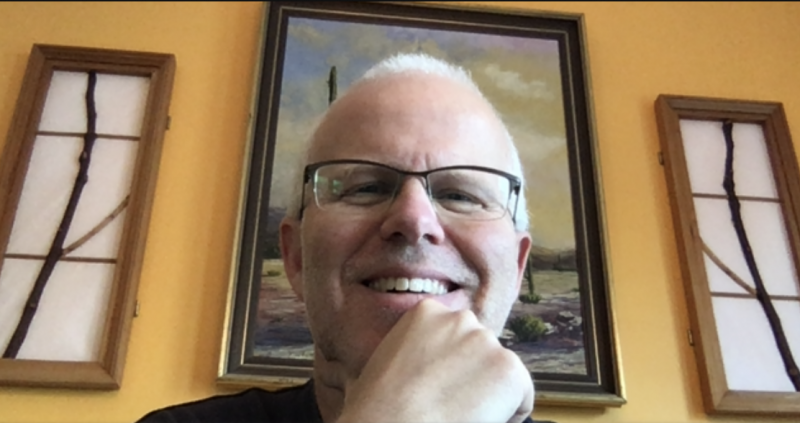 Our Academic Librarian, David, is not really doing anything new. We've been using online materials and interacting digitally, often outside "normal" business hours, for a long time. Learning on our own through recordings of other people's ideas is nothing new either; think of books, journals, newspapers, videos, tapes, radio, educational TV, correspondence courses, letters, telephone calls, etc, etc…
But something does seem different. Maybe it's the proportion of our time spent in a 2-dimensional, sensory-reduced world where everything looks the same through whatever screen we're using. Maybe it's the feeling of having one hand tied behind our backs because we're cut off from various physical resources and interactions that… just work better.
Or maybe we're more intensely exposed to the challenges of infinity. We used to have boundaries that helped contain our research: books in our local library, journal subscriptions, archives within travelling distance, mail speed for interlibrary loans, people we could talk to. Now, we can supposedly find anything and feel pressure to find everything. But it turns out that searching through an infinite haystack is complicated.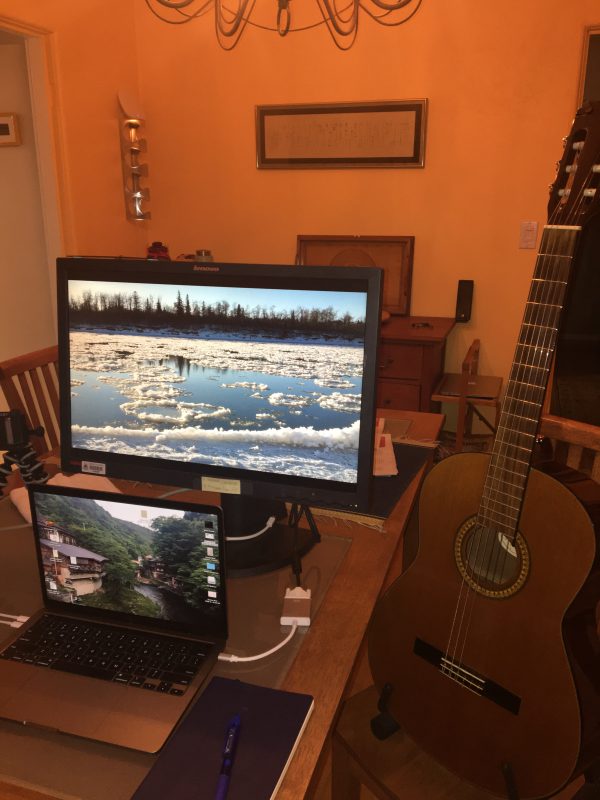 "Don't believe what you think" is the foundation of research and library searching. University offers us a rare chance to grapple with ambiguity and imagination – if we are brave enough.
People usually find their way to David when the simple, straight-forward, or familiar aren't working – so every interaction really is unique. He has yet to find a linear or consistent approach but here are some principles and tools he always comes back to.
Anxiety and confusion are normal. Don't be shy. Ask questions.
Research is not linear. Start anywhere.
Don't forget to read and think. Searching is just a blunt tool to get you started.
There is no single, perfect search engine (aka. database). Try several.
Critically evaluate your search engines (databases). What does it actually search and how much control do you have?
Use subject guides to identify better databases
Use the Oxford English Dictionary (OED), even if you think you are fluent. It's full of unexpected meanings, origins and quotations that will shift your perspective.
There are three types of searching: known, metadata and topic. Use them all.
Learn how to take control of your searching using things like AND, OR, wildcards, quotation marks, proximity, full-text vs metadata fields, etc.

If you're a math person, searching is like algebra with words.
If you're visual, consider topic mapping like this and use the boxes in many search engines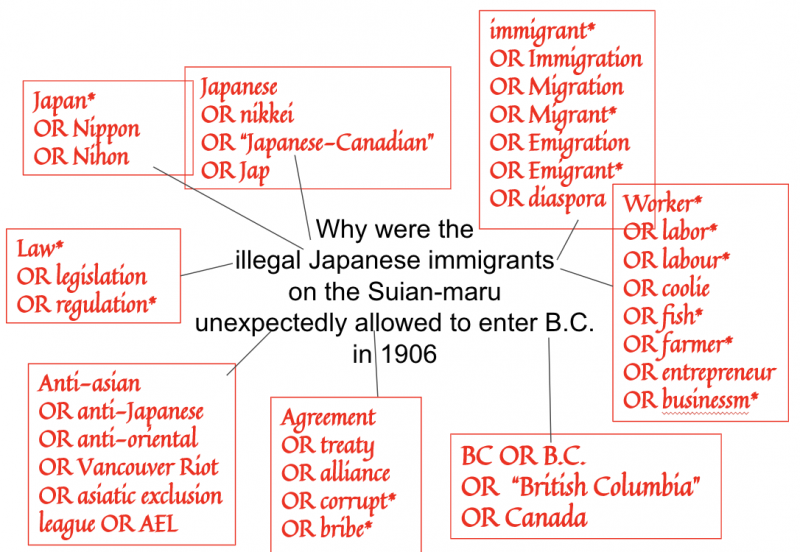 David has had many, many fascinating consultations over the years. Here are just a few notes from a recent one, that highlights a bit of the fun we can have researching "convocation and its impact on alumni affinity"
Searching Proquest Databases led to good scholarly sources (including theses/dissertations), picked up more Canadian content and suggested some interesting leads from a historical perspective.
"Convocation" is not exactly equivalent to graduation and it is also used in religious settings (based on leads from historical news accounts that led to the OED which in turn changed our search strategies). 
One search variation after several trials, noting keywords and scanning titles and abstracts looked something like: 1)

convocation OR graduation) N/3 (universit* OR college* OR "post-secondary education"

AND (alumni OR alumnae OR graduate*) AND (engagement OR affinity OR loyalty OR involvement). 

This gave a few key articles that also had good sources referenced in their notes/bibliography/works cite, names of key scholars and other potential search terms. 

Coming across HM Tory's first convocation speech to the University of Alberta in 1908 in this context raised a few questions and further avenues for investigation, such as: 

How can you have a convocation the year a university starts (i.e. no one is graduating yet) and how does that change what we think "convocation" is?
How has the message to graduates, or members of convocation, changed over the years?

Various historic newspaper accounts suggested convocation was a governing body, not just a ceremony. 
Several disciplines probably study this phenomena and each will have some specialized databases (see subject guides): e.g. business, economics, sociology, education, history, communications.
| | | |
| --- | --- | --- |
| 1. | ↑ | convocation OR graduation) N/3 (universit* OR college* OR "post-secondary education" |