Like many other festivals this year, Cariwest Festival has been moved to an online platform from August 7th to 9th.
The year 2020 would have marked the 36th Cariwest Festival in Edmonton, a festival that aims to bring the culture of the Caribbean carnival to the City of Edmonton. We will surely miss this amazing event that brings us colours, music, cuisine, fashion and joie de vivre from the Caribbean. For those of you who want to explore more about Caribbean heritage, we at UAlberta Library have an extensive range of resources, accessible online, that you will enjoy.
Through our vast online collection you can listen and dance to steeldrum music; for a start try Caribbean Steeldrums 20 famous tropical melodies.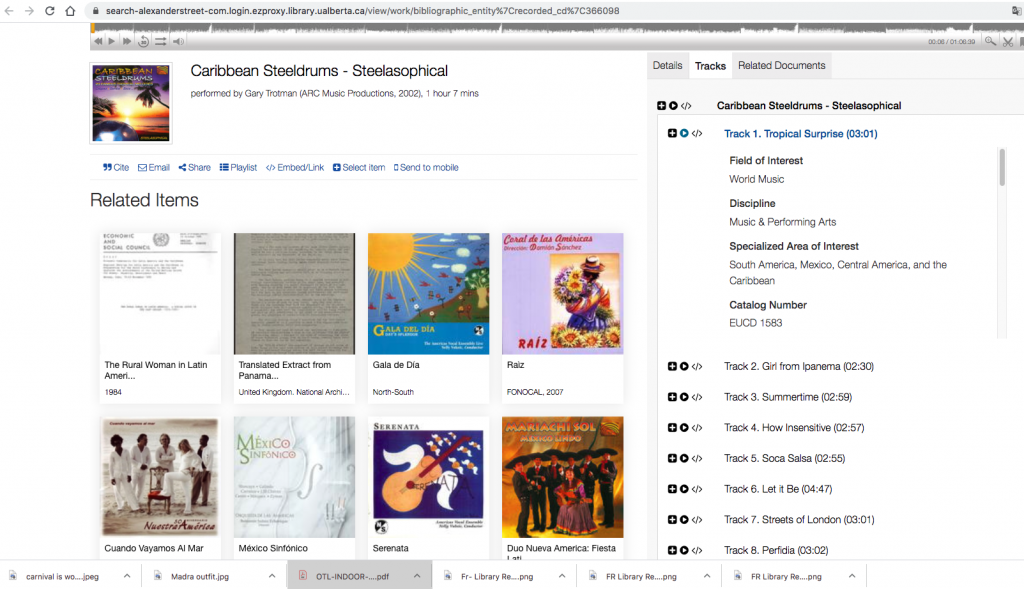 You can also watch videos on carnival festival culture and the history of it in Canada; how it is both a bridge and a celebration of Caribbean culture for those missing it after moving to Canada. Jump-up – Caribbean Carnival in Canada is a great short story for the little ones! Other videos with historic breadth are the Community Celebration: Other Caribbean Festival  and Caribbean Festivals, which explore the origins, cultural significance and costumes worn as a part of specific festivals.
For those wanting to dig even deeper, we have some scholarly resources that focus on carnival culture in the Caribbean; Carnival is woman: feminism and performance in Caribbean mas, a book that deals with feminism in the Carnival sphere, is but one example.
---
Unique and vibrant costumes are key to what makes the Cariwest Carnival Parade the amazing spectacle that it is!  When it comes to fashion, a great resource to check is the Berg encyclopedia of world dress and fashion. Latin America and the Caribbean.
---
Don't forget our subject guide, Human Ecology: Clothing, Textiles & Material Culture, where you have access to numerous databases providing you with resources about fashion, its history and current trends; through the art, the forms and the textures of materials.