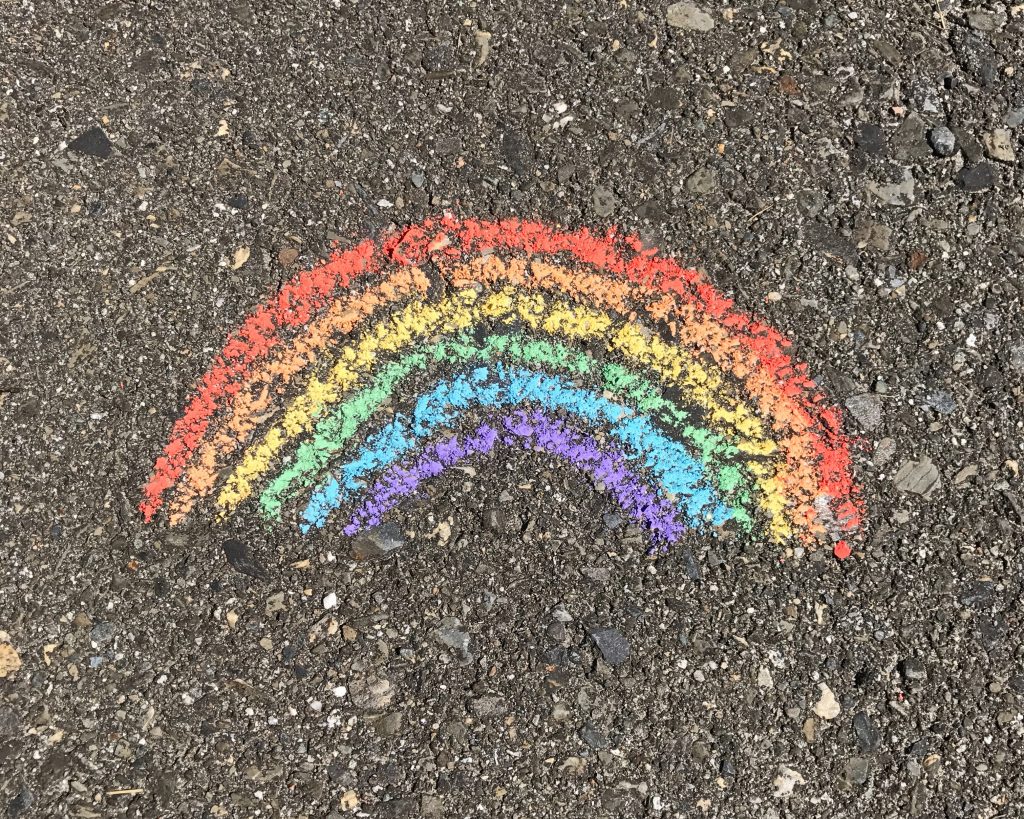 With restrictions on mass gatherings still in place, many of us are looking for other ways we can celebrate Pride season with LGBTQ2S+ communities. Reading and learning about sexual minority issues in academic and non-academic literature is one way we can participate in Pride this year.
I recently broadened my own understandings in this area, when I was asked to conduct a literature review into queer theory for our team learning purposes. So I set out to learn and realized that there was much I did not know. Queer theory is multi-faceted and provides profound insights into existing social norms. What I hope to present to you here is not an exhaustive list of titles, but some online resources that I found helpful in understanding what queer theory is and how it has evolved.
What is Queer Theory?
When starting on a new topic that I don't know much about, I look for broad articles that can give me an overview of issues and concepts. I started by looking for articles about queer theory that would have a broad scope, like the article entitled "Queer Theory" by Annamarie Jagose in the New Dictionary of the History of Ideas, which I found by searching in the Gale Virtual Reference Library database. 
Jagose opens her article by highlighting the word queer and the multiple connotations it holds. Queer is mostly synonymous with homosexuality, a term that in the past was primarily a pejorative, used to shame abnormal behaviour. The term queer now encompasses a host of meanings, appropriated by the communities it was intended to marginalize. "…It can signify a coalition of nonnormative sexual identities…which might include lesbian, gay, bisexual, and transgender people. In other deployments, queer denotes not an identity as such but the taking of a critical distance from the identity-based categories of modern sexuality…it is more accurate to represent it as ceaselessly interrogating both the preconditions of identity and its effects" (p.1980). It is that critical position of "ceaseless interrogation" that Jagose highlights as a key facet of queer theory.
It is difficult to apply a narrative to the emergence of queer theory as it was formed in fragments with influences in feminism; radical movements of colour; lesbian and gay movements; and critical movements such as post-modernism and post-colonialism (p.1982). A key catalyst was the AIDS movement that rose up in the 1990s, after homophobia caused world governments to overlook AIDS as a health crisis, thereby delaying development of a treatment. "In the context of AIDS activism, many commonsense understandings of knowledge, power, identity, and community were radically reworked in ways that coincided with queer theory's denaturalization of sexuality." (p.1981)
While the ideas and issues that comprise queer theory were already forming in the mid 20th century, the term 'queer theory' was first used in 1991 by feminist writer Teresa de Laurentis in a special issue of the journal differences: A Journal of Feminist Cultural Studies entitled "Queer Theory: Lesbian and Gay Sexualities"*. Since the 1990s, queer theory has grown at a fierce pace, producing a diverse range of positions and key thinkers. 
Basic Pillars & Key Thinkers
French philosopher and social theorist Michael Foucault's History of Sexuality looked at sexuality in relation to truth and power. According to Foucault, society defined a 'sexual truth' and everyone was measured against that truth based on how they conformed to it. In this way, Foucault's work argued that sexuality is a social construct. Sexual essentialism is an embedded part of Western folklore that sees sexuality and as a singular universal state, fixed at birth. Foucault's work was one of the first formal challenges to the legitimacy of characterizing people as or 'normal' or 'abnormal' based on their sexual desires and behaviour. 
One of the founding principles of queer theory breaks down the concept of sexual binaries, viewing sexuality as a spectrum. In 1984 Gayle Rubin, a cultural anthropologist wrote the article "Thinking Sex"**, which is widely regarded as a founding text for queer theory. The article highlights historical ideologies (social and religious) that contributed to sex-negativity and focuses on sexual hierarchies and how different groups (liberal/conservative, feminist/patriarchal) define acts and types of sex as 'permissible' or 'taboo'. According to Rubin, "We have learned to cherish different cultures as unique expressions of human inventiveness rather than as the inferior or disgusting habits of savages. We need a similarly anthropological understanding of different sexual cultures" (p.154). Rubin also laid the groundwork for the principle of separating sex and gender in queer theory.
The 'denaturalization' of sexuality refers to the separation of gender from sex. This pillar of queer theory was taken up by Eve Kosofsky Sedgwick in her book Epistemology of the Closet. Sedgwick exposes the binary within western society that requires us to separate people into heterosexuals and homosexuals based on their physical sex, and the sex of their preferred partner. She rejects the idea of applying these same divisions, attributes of masculine or feminine, to homosexuals, and presents examples of sexual and gender variations that cannot be placed within this hetero/homo binary, essentially revealing its flaws.  
Judith Butler took the separation of sex and gender a step further. Her books Gender Trouble and Undoing Gender focus on how gender is more so the way we act, not what we are. Gender performativity is clearly visible in the types of clothes a gender wears, gender-specific tasks or interests. Skirts are worn by men in some cultures (Highland Scotland, for example), whereas in other cultures they have primarily been a form of dress for women. Butler demonstrates how gender performativity is used as a form of resistance to gender norms, as in the case of cross-dressers, drag, butch and femme expressions. In her book Bodies That Matter: On the discursive limits of "sex" Butler returns to the concept of biological sex and its limitations. The book clarifies the division of sex and gender and the concept of gender performativity.
These key ideas of queer theory, formed in the interest of challenging sexuality, gender and identity norms, are now growing into a field of study that, as Jagose suggested, ceaselessly interrogates and even challenges modern conceptions of what is 'normal' in areas outside the realm of sexuality. Queer theory is being applied in areas of study that are looking at race, culture, history, politics, teaching etc.
My journey into queer theory started with an interest in learning more, and also in understanding how it might be applied within teaching. Having established a foundation, I was able to search databases such as LGBTQ+ Source and Education Multi-Database Search to find useful books such as Queer Theory in Education. There are also many other ebooks on queer theory available in the library catalogue. 
Further Reading and LGBTQ Resources
My intent with this article has been to take you on my own journey of learning about queer theory and to highlight some of its key ideas. For those who are interested in spending some time deepening your own knowledge about LGBTQ2+ issues, here are a few digital recommendations with a local connection:
My colleague Emily Zheng wrote a blog post earlier this year on Gender and Sexuality in Primary Sources, and her article links to a number subscription-based and open access resources related to LGBTQ2+ history and first-hand experiences.
The University of Alberta hosts journals that make their content available openly. Canadian Journal of Sociology includes a special issue on gender and sexuality in African Canadian communities.
Recent research on the experience of sexual minority youth in Alberta public schools is also openly available through the Journal of Contemporary Canadian Issues in Education, hosted by the University of Alberta Library.
Population Research Lab in the Department of Sociology shares data from the Alberta Survey, which includes multiple factors, including gender.
The Institute for Sexual Minority Studies and Services shares research publications and outreach materials to community agencies through the Education Research Archive.
Theses and dissertations written on the topic of gender at the University of Alberta can also be found in the Education and Research Archive.

"Soul of a Man" at Interdisciplinary Undergraduate Conference in Feminist, Gender, and Sexuality Studies at the University of Alberta, Edmonton is recorded and available through the Audio and Visual digital collection, including drag performances by UofA researchers.
*Unfortunately, this special issue is not available electronically.
**A reprint of this article is available via HathiTrust in Deviations : a Gayle Rubin reader.
Many thanks to colleagues Lydia Zvyagintseva and Kate Cawthorn for input into this article.
Citations
Butler, J. (2006). Gender trouble: feminism and the subversion of identity. New York: Routledge Classics.
Butler, J. (2004). Undoing gender. New York: Routledge.
Butler, J. (1993). Bodies that matter : on the discursive limits of "sex". New York: Routledge.F
De Lauretis, Teresa. (1991) "Queer Theory: Lesbian and Gay Sexualities." differences: A Journal of Feminist Cultural Studies 3, no.3. p.3-28.
Foucault, Michel. The History of Sexuality. (1978) 1st American ed. New York: Pantheon Books.
Jagose, Annamarie. (2005)."Queer Theory." In The New Dictionary of the History of Ideas. Ed. Maryanne Cline Horowitz. Vol. 5. Detroit: Charles Scribner's Sons. Gale Virtual Reference Library. p.1980-1985

Pinar, W. (1998). Queer theory in Education. Mahwah, N.J.: L. Erlbaum Associates.
Rubin, G. (2011). Deviations : a Gayle Rubin reader. Durham, NC: Duke University Press.
Sedgwick, E. Kosofsky. (2008). Epistemology of the closet. Updated with a new preface. Berkeley, Calif.: University of California Press.