Congratulations to the winners of the 2019 Images of Research! We are so pleased to present the outstanding entries of the Images of Research competition for 2019.
Out of 67 eligible entries, a panel of judges chose the winners and semifinalists; all will be on display in HT Coutts Education Library from April 4 to 30, 2019.

Images of Research exhibition
Location: HT Coutts Education Library, main floor
Date: April 4 – 30, 2019
First Place $800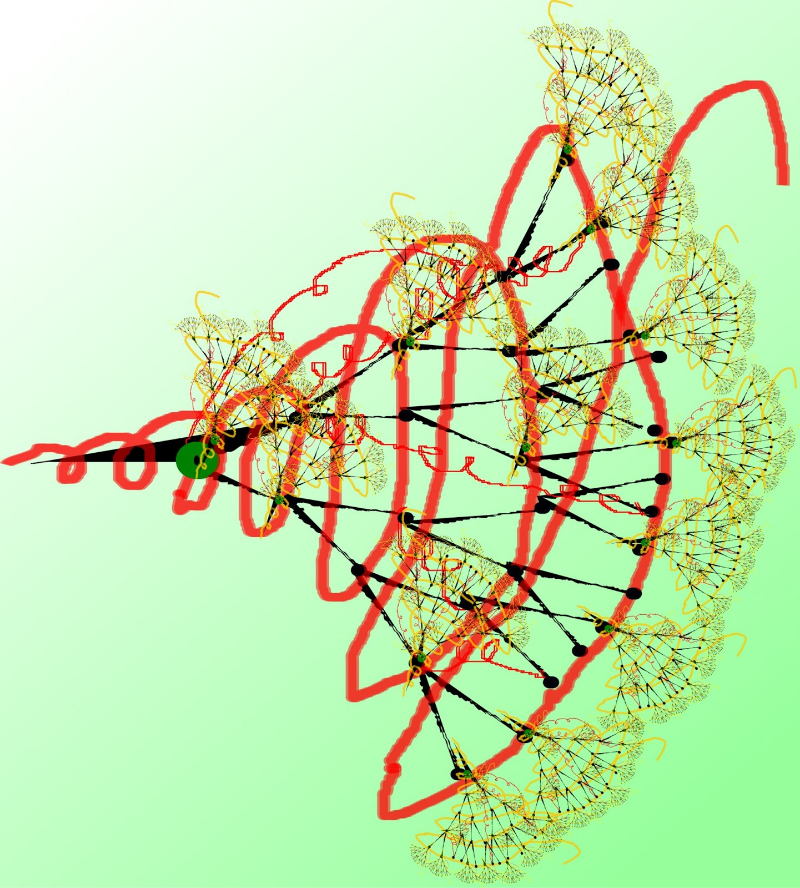 Abundant Recursive Mathematics Curricula Possibilities
Lixin Luo
PhD Secondary Education, Education
"A mathematics curriculum often seems be designed or delivered as linear: a sequence of predetermined, sometimes unrelated, topics with little chances for learners to revisit them from different perspectives. This suggests learning as accumulation with predictable outcomes. However, learning, observed through a complexfied worldview, is neither linear nor predictable. Learning is a self-organizing process through which a learner and her environment co-evolve, and a recursive elaboration through which a learner transforms her previous understanding. This view demands a recursive curriculum that changes along its formation. What might such curriculum be like in theory and practice is my research focus. This fractal-like image is a working visualization of recursive curricula. The nodes represent equivalent contents. Each branch represents certain mathematical/curricular event(s) that allow a content to change into or connect to another. The infinite spiral is made of loops that represent different development stages of an entry content (highlighted in green) and are ordered by the level of abstraction. The nodes on the same loop are different forms of the same content. Any node can be an entry point for many recursive curricula in the same or different dimension. This image represents abundant curriculum possibilities rather than a fixed one."
Second Place $600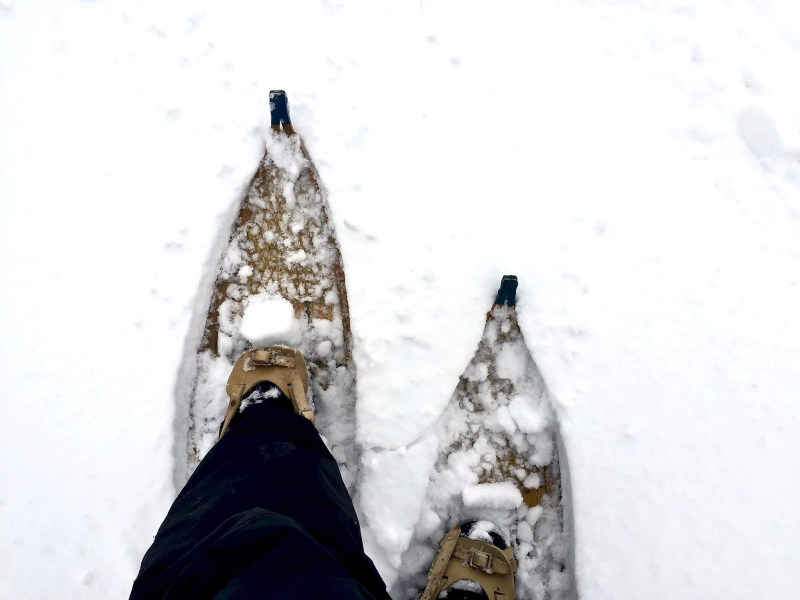 Steps Towards Meaningful Physical Education
Jodi Harding-Kuriger
PhD – Elementary Education, Education
"These snowshoes were made by my Dad and Grandpa Fern. First steps: build a snowshoe form, steam lengths of straight pliable wood, bend it over the form to shape the shoes, rivet ends together, remove shoes from the form and allow to dry. Second steps: cut moose rawhide strips, once frame has dried, weave the rawhide through all the predrilled holes in the frame to create the webbing of the snowshoes. Third steps: attach the leather harnesses to the snowshoes.
Research is ceremony because it is life changing and it requires preparatory steps long before the final event (Wilson, 2008). First steps: using the Meaningful Physical Education (MPE) approach (Beni, Fletcher, & Ní Chróinín, 2017; Ní Chróinín, Fletcher, & Griffin, 2018), piece together flexible lesson plans using experiences that are enjoyable, challenging, communal, personal, and improve abilities. Second steps: weave student choices, culture, context, and community into the plans. Third steps: Reflect on teachers' and students' physical education experiences in all environments: air, water, land, snow & ice. Harness physical education to life long love and joy for physical activity."
Third Place $500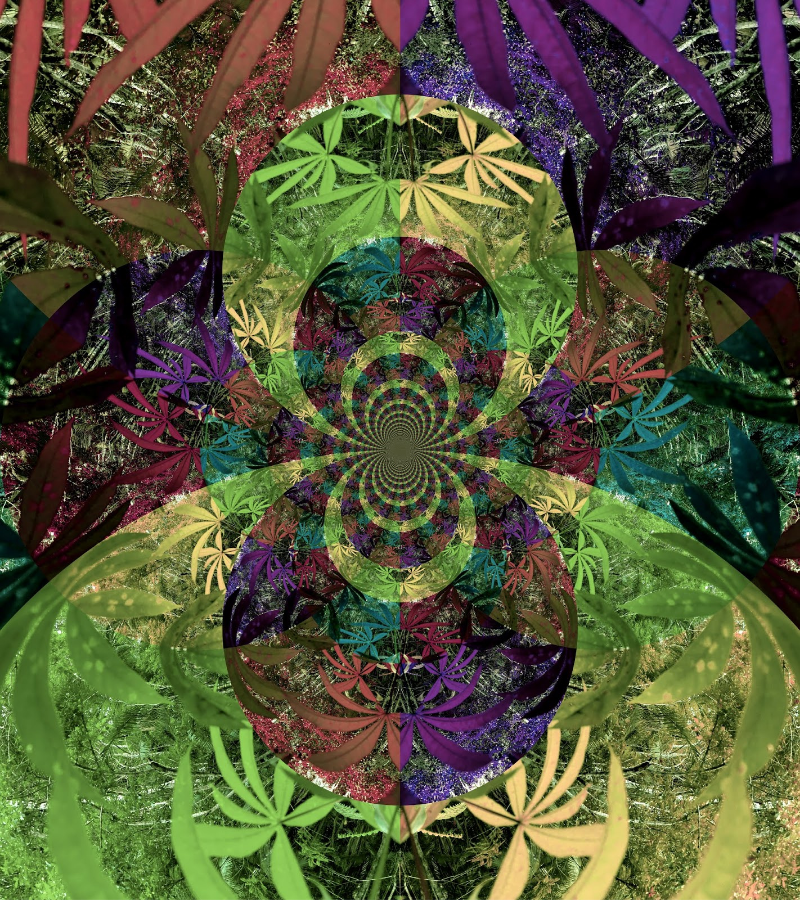 Biochar Bloom
Konstantin von Gunten
PhD – Earth & Atmospheric Sciences, Science
"Brazil is a fusion of powdery sands, mystic jungle, thundering waterfalls, and an exuberant carnival culture, much like the colors and shapes in the image presented here. Our focus is the Atlantic forest, the Mata Atlântica, which home to many species, some of which live nowhere else on this planet. Around 85% of the Mata Atlântica have been deforested and unsustainable land-use techniques, such as the slash-and-burn land management, had a detrimental effect on the fertility of the leftover soil. While providing a short-termed boost with nutrients, this approach leaves the soil depleted shortly after. Following nearly forgotten Amazonian indigenous soil management practices, we joined a project on using biochar, charcoal made of biomass, for cost-effective and sustainable soil amelioration. It was applied in different ways to optimize its beneficial effects on soil stabilization and the growth of perennial crops, such as cassava. The image is made up of leaves of cassava plants on a backdrop of nearly virgin Mata Atlântica. Small-scale plantations in the midst of the Mata Atlântica – an agroforestry approach aiming at protecting the remains of this unique habitat in harmony with sustainable food production on the already deforested land."
Honorable Mention $250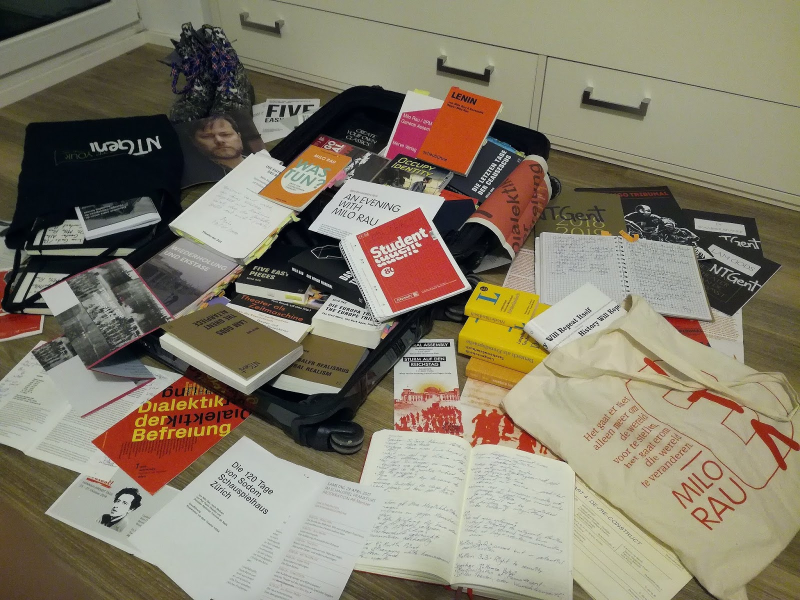 Re-Packing My Library: A Collection in Understanding
Lily Climenhaga
PhD – Drama, Arts
"Re-Packing my Library" depicts the collection process that goes into writing a dissertation. It shows a collection of books, papers, pamphlets, programs, and notes amassed over three years of research packed (once again) hastily into my father's old bag the night before yet another departure.
Taken in my small Munich apartment, this picture shows material collected over the past three years about the Swiss-German director Milo Rau and his production company, the International Institute of Political Murder, for my dissertation. The documents in and around the suitcase are the result of the numerous research trips to performances, political actions, conferences, lectures, and interviews that have taken me – and my battered suitcase – across Europe. These research trips have helped me understand Rau's theatre – his political aesthetic, complex themes, and directorial choices – and has given me a greater respect for Rau's research trips (to Moscow, Bukavu, Kigali, Bucharest) in his near-obsessive search to understand war, genocide, and justice. The collection of papers and books spilling out of the suitcase are a reminder of late nights, cheap hotels, long waits at airports, and even longer train rides, but also the physical, material proof of my own obsessive, international search for understanding."
Honorable Mention $250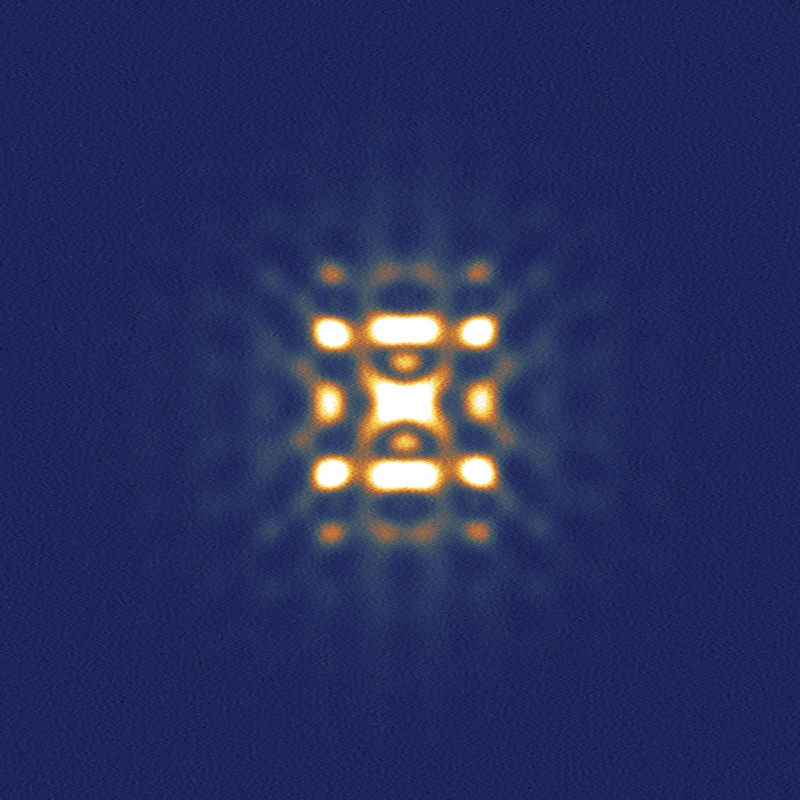 Probability
Taleana Huff
PhD – Physics, Science
"Here, we have experimentally measured the wavefunction of a single buried arsenic atom peeking through a silicon surface. Its complex form perfectly captures one of the most fundamental properties of quantum mechanics: the location of an electron is based on probability and is never fixed. While we tend to think of electrons as being perfect little spheres existing in a single position, they really can be found everywhere around the atom. Bright spots in the wavefunction show areas with a higher probability of finding one. Arsenic atoms in silicon are used as the building blocks of quantum computers, so understanding its elusive electrons helps with more advanced designs."
People's Choice $250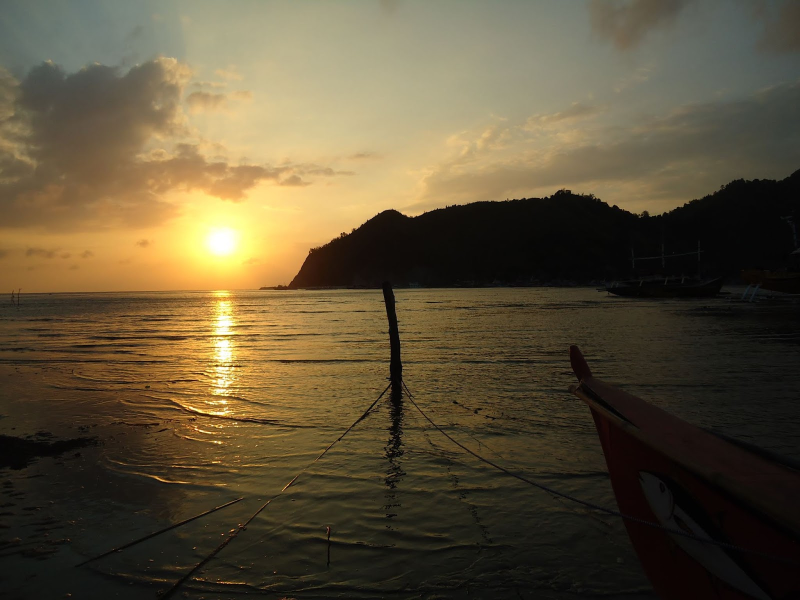 Sunset: Uncertainties and opportunities
Deanna Joyce Neri
Masters – Anthropology, Arts
"After a long day of drifting at sea, fishers go home with either a boatload of fish or nothing at all. Sunset marks the end of a day's work of a fisher who sails on a daily basis to make ends meet. This photo was taken during my ethnographic fieldwork in Davao Oriental, Philippines. Fishing as a livelihood closely embedded in the environment is very vulnerable to the impacts of climate change. The acute changes in weather patterns compounded by the influx of commercial fishing companies forced small-scale fishers to go further offshore which increases the costs of every venture. In a landscape marked by environmental degradation and marine resource depletion caused by natural and human-induced calamities, fishers are prompted to engage in a myriad of economic activities. In this research, I take a closer look at how these fishers navigate through the waves of uncertainty. Farming and wage labor becomes the community's adaptive strategy in the midst of economic instability. As they safely moor their boats, fishers see the sunset as a symbol for the arbitrariness of their lives. The cyclic nature of the sun setting over the ocean brings the hope of a new dawn with new opportunities."