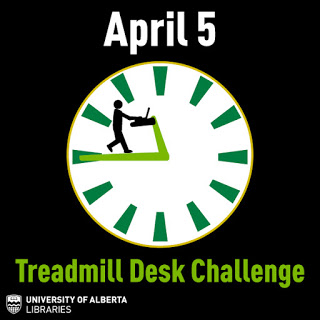 World Health Day is Friday, April 5, 2019. Join University of Alberta Libraries in our treadmill desk challenge!
What is the goal of the treadmill desk challenge? It's to see how many minutes (or hours!) we can accumulate by walking our way to health on our seven treadmill desks. On April 5 we will post a sheet on each treadmill where you can log the amount of time you spent on the treadmill desk. No need to put your name, or any specifics, we just want to know how long you used the treadmill desk . Our goal is to accumulate more than 500 minutes by 6 pm. Help us by devoting some time to our treadmill desk challenge – the best part is that you can study, write or do whatever work you need to get done while being active.
You can find treadmill desks at the following libraries:
The announcement of how many minutes were completed will be announced on social media the week of April 8th. Thank you for joining us and supporting World Health Day!
World Health Organization:
https://www.who.int/campaigns/world-health-day/world-health-day-2019
Call to action:
https://www.who.int/campaigns/world-health-day/world-health-day-2019/key-messages