This is a new yearly series on the blog to focus on UAlberta Libraries staff who were nominated for a Service Excellence award. Over the next couple of weeks, we will share the nominees and winners of 2018. Nominees were put forward by fellow staff members and then winners were chosen by an internal committee of peers.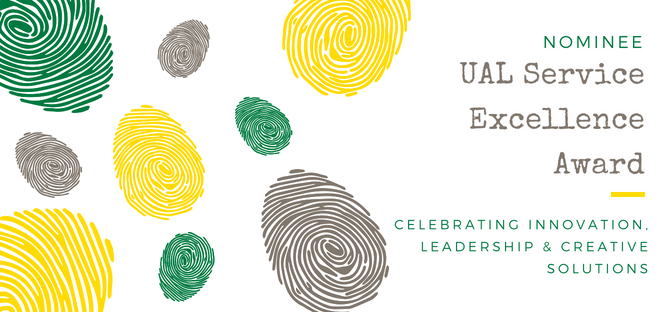 Humanities and Social Science Public Service Team
UAL Service Excellence Team Nominee
Submitted by: Virginia Pow
Why is the Public Service Team at HSS so awesome? Because of the team's amazing ability to work together and problem-solve together. The core of the team are our 9 Public Service Assistants, who's esprit-de-corps allows them to accomplish anything they set their minds to, and contributes to a positive workplace for everyone at HSS. Whether it is finding solutions for users, working on student engagement, supporting Librarians, or seamlessly implementing equipment lending services, the team is united in their mission of providing excellent service and creating a welcoming and inclusive environments at HSS and Weir. An environment, which they successfully maintained through the HSS first floor renovation in 2016 and after, as users adapted to the new space. They are committed to ongoing learning both as individuals and as a group. For example they challenged each other to undertake and complete the Indigenous Canada MOOC, and they continually seek learning opportunities and share them with each other.
As a team, HSS PSAs literally work from dawn until dark seven days a week to make library collections, services, and facilities friendly and accessible. The PSA team combines knowledge, professionalism, and caring for library users. When students don't know what a microfilm is or how to use it for their research, when they have no idea how to start their English assignment, when their paper is due in 10 minutes and the printer just won't print, the HSS PSAs are there to collaborate on solutions and ease academic and library anxiety with understanding and humour. They advocate on behalf of students to their supervisors, bringing concerns and suggesting improvements.
The core team of PSAs knows their key role within the public service infrastructure, and they are such a strong team that they are able to expand to include Indigenous Interns, SLIS Collaborative Students, Weir Student Employees, Librarians, and Practicum students throughout the cycle of the academic year. While continuing to provide excellent service and engaging in successful student outreach, they are constantly training new colleagues, leading by example, and inviting student employees to contribute to student engagement projects. While service often begins with them, the PSAs know they are part of a wider service landscape: they collaborate with and refer to Subject Librarians, Access Services, Bib Services and ITS colleagues, ONECard, IST, Protective Services, and beyond.
Equipment lending is a service that has been so well loved by students and the only way this could have occurred was because of the efforts and work behind the scenes of the PSA team.  However, it was only seamless for the students – the countless hours and time the team put in to make it work has been well noted by their HSS colleagues. This team works hard to successfully make an above-and-beyond level of care and service feel easy and seamless for users, whose experience always remains their top priority. Being the first point of contact is a huge responsibility and the HSS team does so with grace and a smile.
Team Members:
Amy Southgate, Bernard Offengenden, Carmen Loconte, Denise Irwin, Hanne Pearce, Jamie Spivak, Noelle Fraser, Shawna Manchakowsky, Ursula Pilmeier.