By Sean Lis
Sean is a student assistant at the Digital Scholarship Centre and a graduate student in the Digital Humanities.

If you've ever been on Cameron Library's second floor, you'll have doubtlessly encountered the glowing sign and glass walls of the Digital Scholarship Centre (DSC). If the doors are open, come take a look and maybe chat with staff; take it from me, the DSC is the place to be! Whether you need a quiet place to study, a place to synergize your research collaborations, or are simply looking to expand your tech literacy in our many workshops, the DSC has you covered; come and see!
As the mandate of the DSC is to advance research and learning in technology, we have a number of spaces that can be used for research meetings, small events and class instruction. These spaces are ideal for special lectures or hands-on workshops.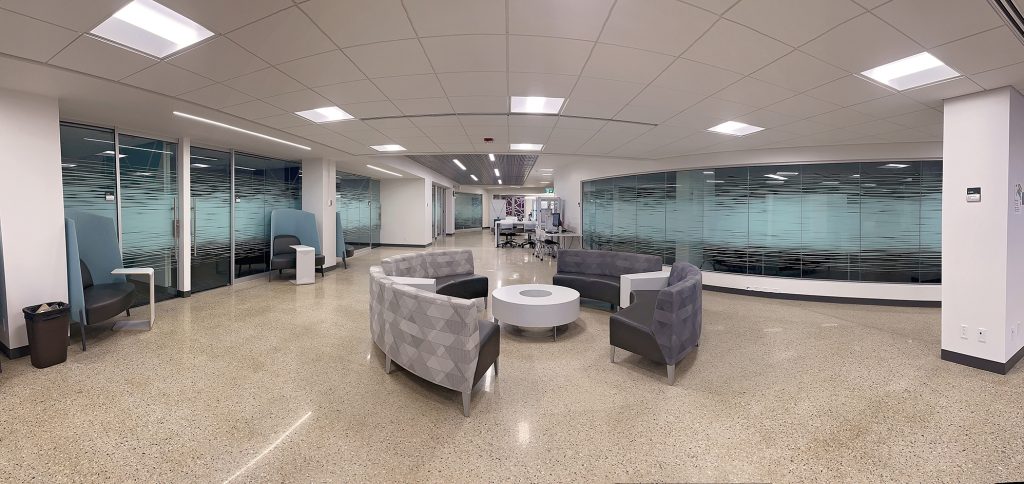 The main floor area – with its touch table, couches, remotely-connectable TVs, and the gentle hums of the 3D printers – is a wonderful spot to collaborate with others on research, and class projects. You are welcome to use these spaces during the DSC's operational hours. The area is a quiet conversation zone, you can bring a coffee or drink in a closed container, but we ask that you do not eat in the space, as there is a lot of technology around.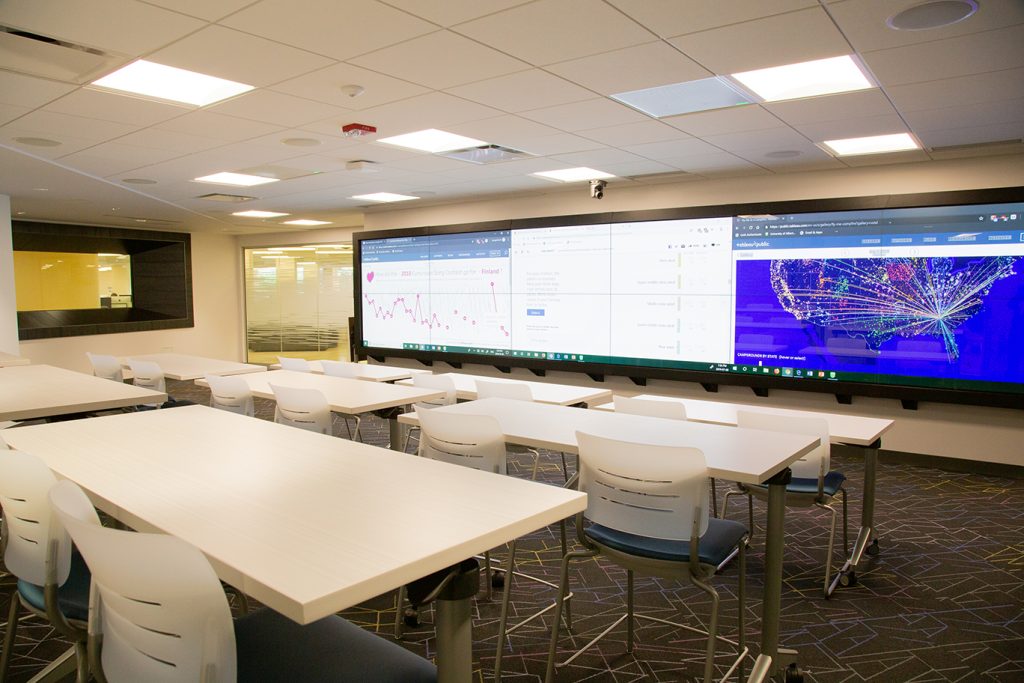 For workshops, events and classes we have two large spaces. The Vis lab has a 7.3m x 1.4m display visualization wall, and is the premier spot in the DSC to host your seminars or show off your work in its full glory on 12 HD screens. Equipped with a rotating ceiling camera, it can accommodate an online audience if its 40-person capacity isn't enough!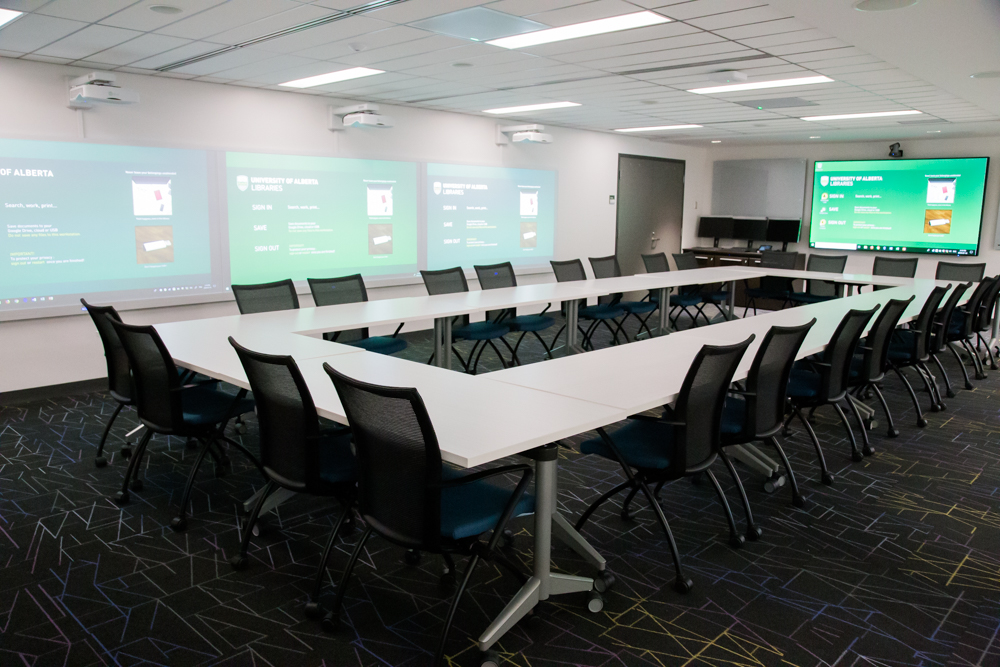 If you need a room for a hands-on workshop there is also the Multipurpose Room. There are multiple screens and it has modular furniture to rearrange to suit your needs, and its 4 large screens make the whole wall your digital canvas to paint with all your display needs. The MP Room can seat 24 people with tables, and more with audience-only seating. It also has a wall camera and built-in microphones to accommodate those who can't be there in person. To book the large classrooms, you can make a booking request: just head to the DSC Website's Space Booking Page. These rooms must be booked at least 24 hours in advance and we recommend you also book a time to come and test out the screens, cameras etc., in advance so everything goes smoothly during your event.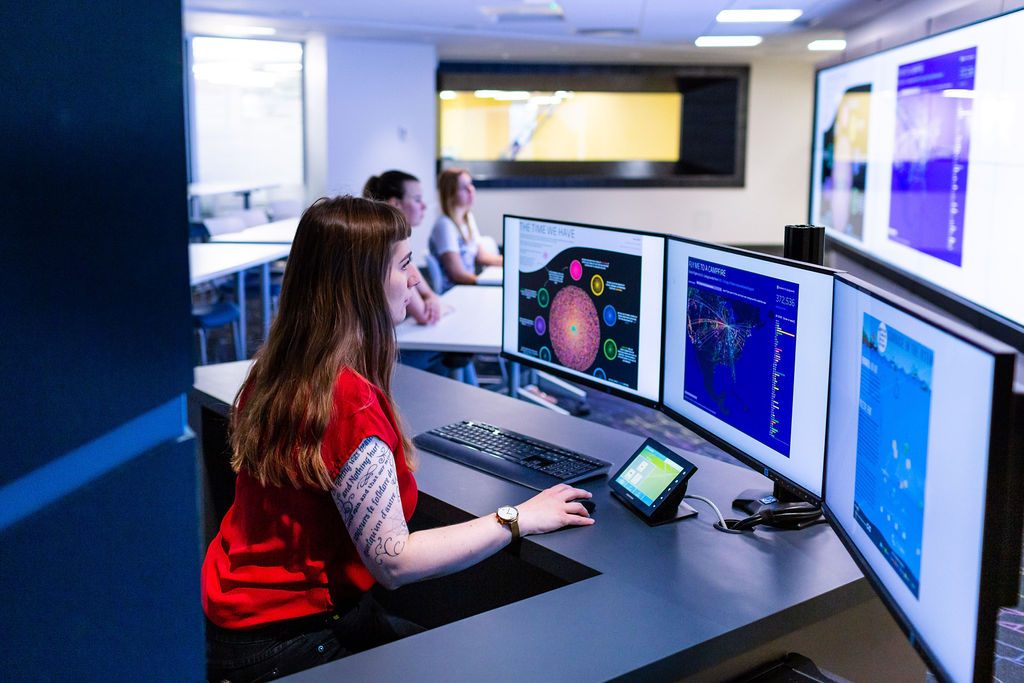 Workshops
A large part of the DSC mandate is to advance digital literacy and learning in technology. In addition to providing space for workshops, our knowledgeable staff provides free learning opportunities throughout the year. Interested in expanding your skills in digital media production, data management, software use, and/or making? Of course, you are! Serendipitously, our wonderful staff here at the DSC host many workshops where you can learn the skills needed to bring your work to the next level using technology. Join us for our Digital Scholarship Tools series, where you can learn the ins and outs of tools that can streamline your data gathering, processing and publishing workflows. Have you ever wanted to preserve your programming work without worrying about version control? Our workshop on Docker can help with that, as well as teach you new ways of sharing your code without worrying about operating system conflicts, and all the other benefits of creating a virtual server. Want to learn an efficient way to clean and organize a structured dataset? Then our workshop on OpenRefine is just the thing you need.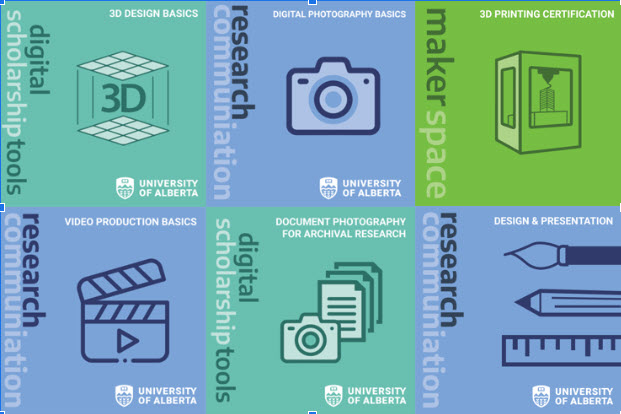 Our Research Communication series can teach you new and interesting ways to present your research findings and expand your visual communication skills by learning more about photography, photo-editing, video and more. These skills extend beyond academics!
As you can see, the Digital Scholarship Centre has many opportunities to grow your digital literacy, expand your tech skills, and collaborate in your research. During winter term our doors are open Monday to Friday from 9am-5pm, so if you're so inclined, come check us out, we really don't mind!