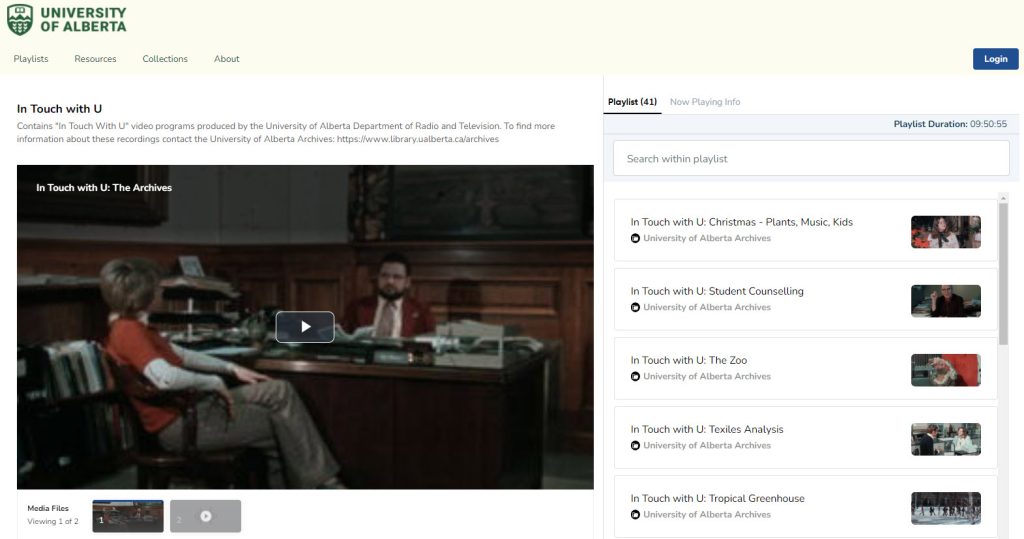 Those who make regular use of UAlberta Library's online repository of video and audio materials might have noticed that the interface looks different. That change is Aviary, which takes the place of our former platform ERA A+V. Aside from the updated look, Aviary has several useful features like automated captioning tools, improved object discoverability, the ability to include supplemental files and more. Like ERA A+V it supports Open Access sharing of the items stored within.
Students, faculty and researchers who call the University of Alberta home are encouraged to use Aviary to preserve and share their A/V research and teaching materials. These can include interviews, oral histories, music performances, radio and television broadcasts, educational materials, archival films and more. Our Aviary team is happy to discuss prospective projects with you. We're always looking to diversify our collection and support teaching and research at UAlberta.
Some examples of the collections currently stored in Aviary include,
Workshops where you can learn more about Aviary are being held this May and June. Click on the links below to sign-up for one.
Have an idea for a collection, or would like to learn more about Aviary? Email erahelp@ualberta.ca.
Love us on the blog? Chances are, you'll love us on social media! Follow us, @uofalibrary, on Instagram & Twitter!
*requires logging in with CCID to view the full collection