As we reflect on the past 365+ days, it can sometimes feel surreal that the world has endured a full year of unprecedented change. In the spirit of International World Happiness Day, on Saturday, March 20th, our library communications and engagement team wanted to bring a bit of reflection to our community. A call-out to our spectacular library staffers has yielded a two-part plethora of positivity when they were asked, "What brings you joy?"
Christine Brown, Head, Faculty Engagement (Humanities, Social Sciences & Law)
What makes me happy? A beautiful street of flower delight in Athens, Greece and a happy dog!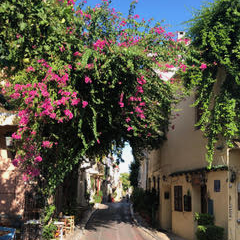 For me photography is like a modern kind of magic that we take for granted. Not only do photos capture moments for what they were, but they can also capture more than what was visible to the naked eye at the time it was taken. We have these devices in our pockets that capture light and provide us with a remarkable way of expressing our own perspective and how we see the world. For me, there is nothing more marvellous than waiting out the sunset on a height somewhere on a nature trail, waiting for the light to be perfect.
Thanks for sharing Part I of this staff special, please join us tomorrow as we delve into Part II of 'What Brings You Joy?' Like our blog posts? We invite you to subscribe to our newsletter (scroll down to the bottom right side of this page). Love us on the blog? Then you'll love us on social media! Check us out at @uofalibrary on Facebook, Instagram, & Twitter!