This is a special two part interview with our Vice-Provost (Library & Museums) & Chief Librarian, Dale Askey. Part One reflects back on 2020 and how it changed UAlberta Library. Part Two (coming tomorrow) is looking forward to 2021 and beyond.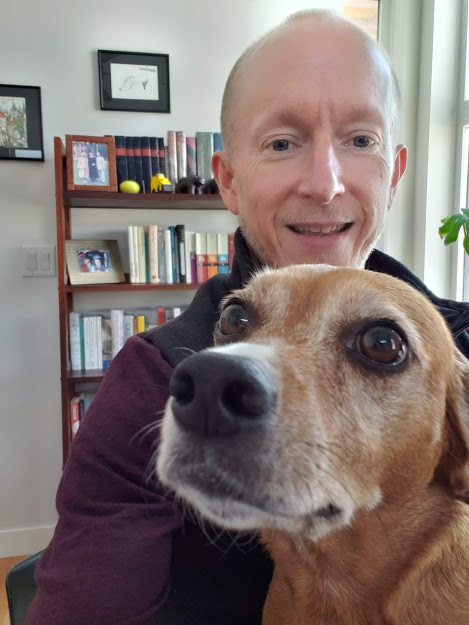 How has working from home changed the way you work and interact with U of A and UAL staff?
Profoundly. I'm a social person who enjoys conversation and interacting with a wide range of people every day. A big part of my role involves staying in touch with the entire breadth of activity of a diverse portfolio, which just isn't possible in a largely digital environment. Also, for better or worse, my education and background have made me reliant on dialectical methods; put less obtusely, I like to debate and use it as a way to surface issues and advance ideas. This is much harder to do with digital tools where body language, facial expressions and vocal modulation are less present.
That said, working from home has made me even more punctual. This was never a particular weakness, but it seems really rude to make someone wait in an online meeting for even two minutes.
It has made me much more deliberate about reaching out to people directly for meetings and conversations, particularly from across campus. A major part of my role is interacting with and building relationships and trust with senior leadership and other key people from all of our campuses.
Have you noticed any pandemic-service trends among academic libraries in North America?
Some of the responses have been nearly across the board, such as completely (or almost completely) closing physical locations and suspending circulation of print collections. Some of the actions to mitigate the impact of those two steps have also been fairly widespread, such as curbside service (nearly universal) and focusing acquisitions work on digital content to an even greater degree than normal.
For those who were HathiTrust members before this all started, most have implemented Hathi's Emergency Temporary Access Service, although a number of schools in the US have again deactivated it because they opened their libraries in September (which I suspect they now regret to some degree). Within Canada, I am encouraged by the open lines of communication between libraries on these issues so that we can assure our campuses that we are acting based on consultation and a broad view of risks and procedures.
This isn't a trend, per se, but I have observed both personally and from many of my peers a certain frustration that as soon as the pandemic hit, on many of our campuses, the people leading the response (often Provosts, but always at the VP level) reverted to a very narrow view of libraries as primarily a place where students gather and people check out books. Sure, those are both true, but both are part of a much broader level of service, much of which takes place virtually whether we are in a pandemic or not.
The mantra that took hold at UAlberta was "We're here for you online (and always have been)." I've also used and heard many others use the phrase "digital-first" or "digital-forward" when talking with campus leaders about what the library is doing right now.
Given the Library staff's excellent reputation, I can't say that I was surprised how well everyone adapted to the challenges the pandemic put in our way. This is such a strong group of people all working together. What I can say is that I am grateful for the thousands of large and small ways that everyone has found to contribute to continuing our services in challenging times. I also want to acknowledge how difficult this has been and continues to be as many people juggle a complex mix of personal and professional changes and demands.
I encourage all of us to be kind with ourselves and to remember that it's OK to take a break and also to acknowledge that right now some things at work just aren't going to be what we might want them to be. Back in April I started repeating the "it's going to be a marathon" notion, while hoping that I would be proven wrong. From the perspective of November, perhaps marathon was something of an understatement. We're not at Ironman extremes yet, but I feel like we're definitely past the 42.2 km mark, metaphorically speaking.
Come back tomorrow for Part II – Looking Ahead with Dale