Staff profiles tell the story of an organization. Here at the University of Alberta Libraries, this is ours…
Meet Allison Easton!
Allison is a second year graduate student working as a Student Public Service Assistants at Cameron Library.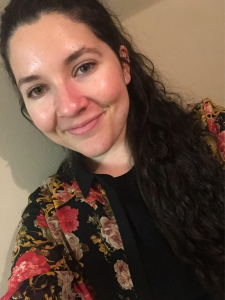 What motivated you to go back to school to get your MLIS (Master of Library & Information Studies)?
I had always planned on continuing on with my education after I completed my Bachelor's Degree. I had some experience working in a classroom setting, and found that I enjoyed one-on-one interactions with students, and directing them to helpful resources. A career as a librarian was something that I had considered when I was in High School, and when I did some further research on it, I decided to pursue that and get my MLIS.
How do you balance being a full time Masters student and working part time at the library?
Good question! I find that it can get a bit stressful at times, but that being deliberate in planning my time makes it easier to balance. I also view my work as a learning opportunity, and find that it really enriches my experiences as a student.
What surprised you about working the service desk at Cameron Library?
Working at the service desk has opened my eyes to the many resources and services available at the library (like 3D printing!). I have also really enjoyed getting to work with the people who visit the library, as well as the staff who work at the library (although, that is less of a surprise).
What is one thing you try to do everyday when you get home to help you relax?
I try to go for a short walk to get some fresh air. If it's too cold out, a cup of tea works quite well.
Netflix? Crave? Hulu? or pvr (do ppl even watch live tv anymore)? Is there a tv series you are hooked on?
Netflix! I have been enjoying watching cooking competitions recently.