The University of Alberta (U of A) Augustana and Camrose community came together on Wednesday, February 13 to dedicate their new nordic ski library, named in honour of Garry (Gibber) and Dorothy Gibson. The dedication was celebrated as a 'Tea and Ski', where in true Gibson fashion stories and beverages warmed up the crowd while a hearty handful of students, staff, and faculty took to the trails post-ceremony for a brisk -17 degree celsius loop in honour of the day.
This lending program is the first of its kind in an academic library in North America, and is a multi-department collaboration between Campus Recreation, Student Life, and the Library. The Dr. Garry & Dorothy Gibson Nordic Ski Library allows Augustana students, staff, and faculty the opportunity to borrow classic cross country skis, boots, and poles in the same manner as they would check out a library book.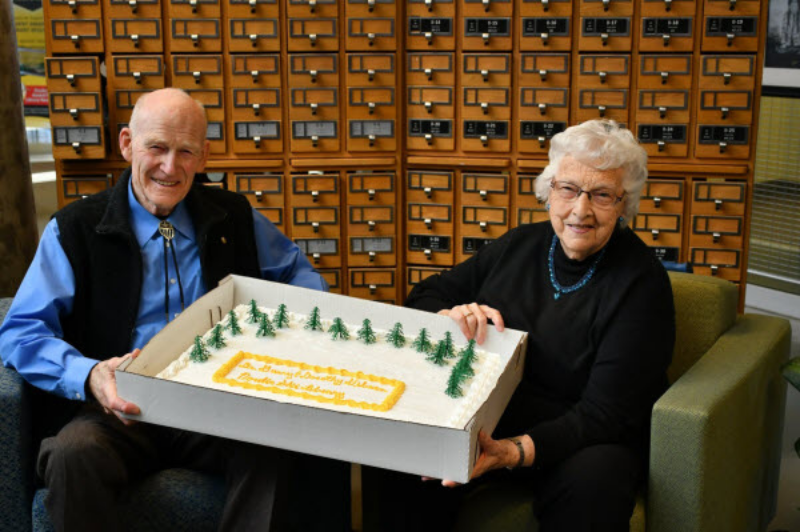 The initial concept of a winter gear lending library began a few years ago. The dean of Augustana campus, Allen Berger sought an opportunity to encourage the community to take part in a more active winter lifestyle, which married well with Augustana's rich nordic ski history and prime location on the edge of 16 km of groomed ski trails. Funds were raised to purchase for 20 full sets of equipment, plus an additional 10 sets of poles and 10 pairs of boots. The capital was made possible through a grant provided by the U of A Dean of Students office, multiple donors through Augustana's November 2018 'Giving Tuesday' event, and the generous matching donation from U of A Protective Services Sergeant Tony Thomsen.
In his dedication speech to the Gibsons, Berger spoke of the passion and dedication to recreation and lifelong fitness Gibber and Dorothy have given the Augustana and Camrose community for over 40 years. In 1973, Gibber helped develop Augustana's biathlon and cross country programs, and in 1978 he developed the outdoor education program based on his research to complete his PhD in physical education. Dorothy worked hard to manage and support athletes and teams every step of the way behind the scenes in every capacity one could imagine. This dedicated duo's hard work and generosity continues to extend to the students of Augustana through student awards, recreation and athletics, chaplaincy, and outdoor education just to name a few.
As the program is in its initial season, this lending library is currently only available to Augustana students, staff, and faculty. All participants must attend a short, one-time only Orientation session with Campus Recreation staff to size their gear and learn the basics of trail safety and etiquette. Campus Recreation and the Vikings Nordic Ski Team also provide opportunities to learn or brush-up on their cross country skills through their weekly 'Learn to Ski' programs and their informal ski meetups.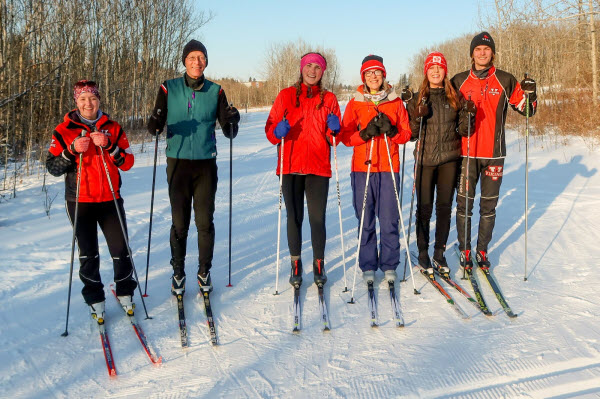 Thanks for the read! For more information on the Augustana Ski Library, please visit the U of A Augustana Campus Recreation website. Love us on the blog? Chances are, you'll love us on social media! Follow us, @uofalibrary, on Instagram & Twitter!