University of Alberta Library is celebrating the new Geoffrey & Robyn Sperber Health Sciences Library, which is anticipated to open in Fall 2023. This post is part of a series that will showcase the Sperber Library over the next several months.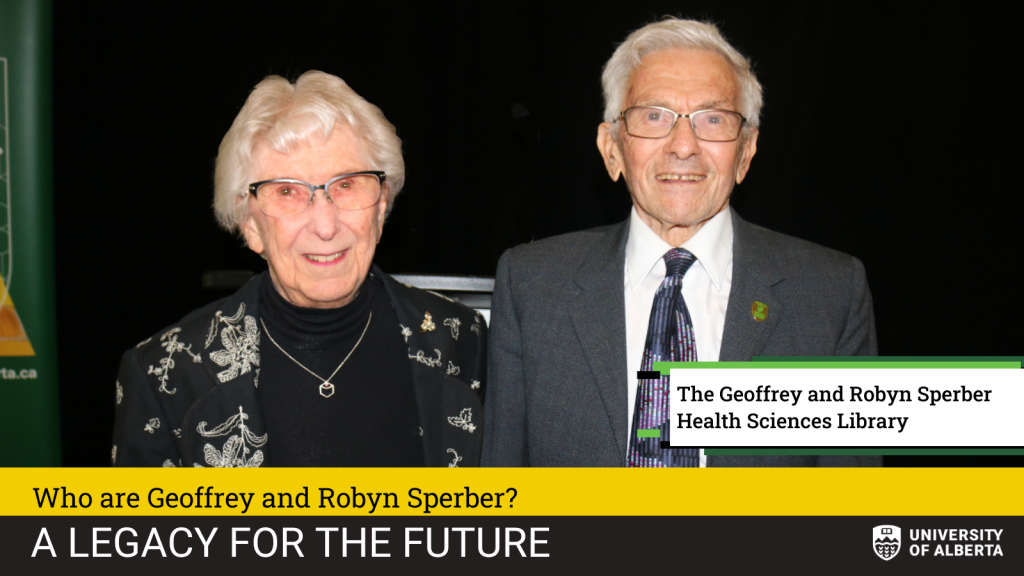 This post was written by Chief Librarian, Dale Askey
Although it has yet to open, in the Library we already call the new health sciences library, currently under construction, the "Sperber Library," although the full name, of course, is the Geoffrey and Robyn Sperber Health Sciences Library. To honour their generosity and ensure that their legacy is rich and well known, I'd like to offer a more personal portrait of the people I have come to know over the last four years as a complement to Dr. Sperber's departmental biography and a Folio article recognizing their gift.
Originally from South Africa, the Sperbers came to Edmonton in 1961 and it has been their home ever since. Dr. Geoffrey Sperber came to the UofA as a professor in Dentistry and retired from that department in 1996 as a full professor. His academic accomplishments are many, as we can see from the many books and articles he published. Two have appeared in multiple editions: Craniofacial Embryogenetics and Development and Craniofacial Embryology. One of his co-authors on the former book is his son, Steven Sperber. Robyn and Geoffrey raised three children and are proud seven-time grandparents.
Well known facts about Dr. Sperber include his incredible passion for the Dentistry Museum Collection, of which he served as curator for many years. Anyone who has had a conversation with him will know about his love for this fascinating and occasionally eyebrow-raising collection. For those who haven't had the opportunity to learn about the collection directly from him, there is a wonderful 1974 short film made by the UofA's Department of Radio and Television where he discusses some of the highlights of the collection. In the video, he demonstrates the use of an extraction turnkey, a dental tool that resembles a medieval torture device. When he gave me a personal tour of the collection a few years ago, he gave me an up-close demonstration of the tool, which truly evokes chills. The understated humour he displays in the video while demonstrating and discussing the tool is another of his trademarks.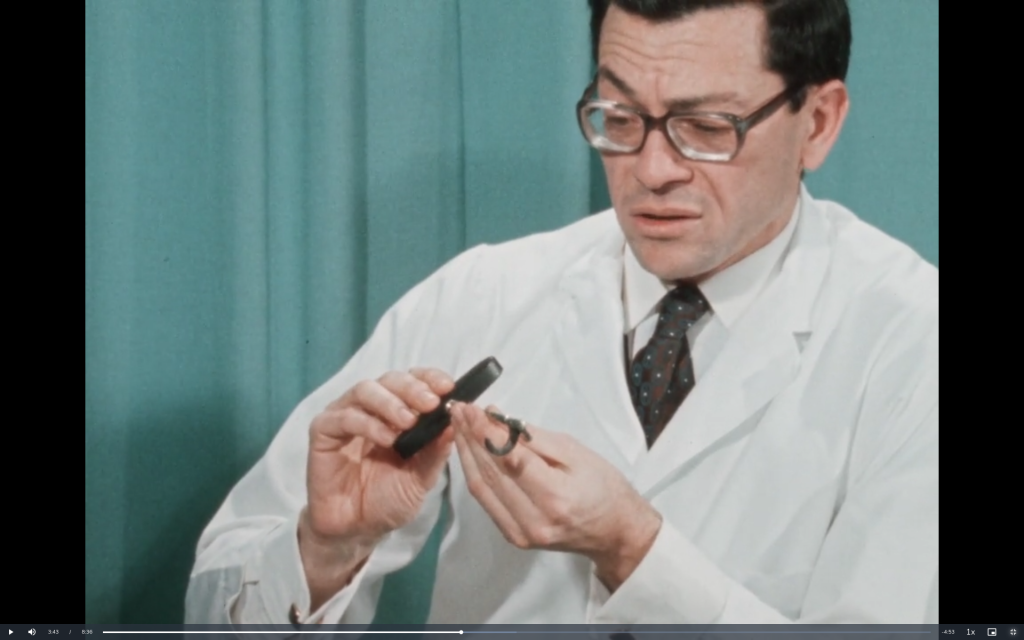 Dr. Sperber's enduring presence on campus is another of his defining characteristics. As noted, he "retired" in 1996, but until the pandemic, he was on campus nearly every day. He continued to do research, to explore, and to publish articles and revise his standard books. Through it all, he has tirelessly advocated for the Dentistry Museum Collection and, more broadly, for the science and practice of dentistry. His passion for his work is noteworthy and reflects the depth of experience and knowledge he has on so many aspects of dental practice and history.
On a recent visit with the Sperbers, Dr. Sperber pulled out the original copy of his doctoral dissertation. When he arrived at the UofA in 1961, he already had multiple degrees in Dentistry, but in 1973 he returned to South Africa and the University of Witwatersrand to work on his PhD thesis Morphology of the Cheek Teeth of Early South African Hominids. Hearing him talk about working with some of the leading anthropologists of the era, when humanity's understanding of our evolutionary origins was expanding based on many finds in South Africa and surrounding countries, was fascinating and highlighted how even the longest and most distinguished careers have their key moments. His excitement about being able to hold and study some of the most famous fossils of humans is still palpable fifty years later. After this conversation, Dr. Sperber kindly donated his original copy with all of the original photographic plates to the Library.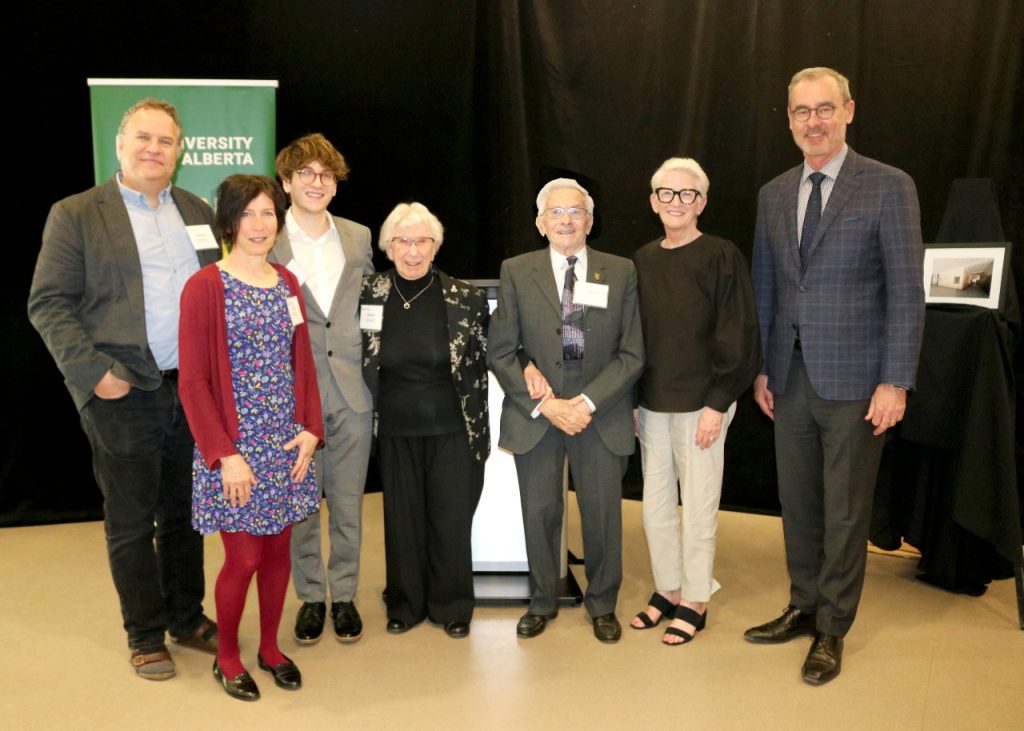 In the video noted above, Dr. Sperber noted his desire for the Dentistry Museum Collection to enjoy greater visibility through public displays. He likely didn't imagine at the time that his and Robyn's support would be instrumental in making that dream a reality, but the comment does underscore the consistency of his vision and his commitment to giving back to the institution. When I speak with Dr. Sperber and Robyn, I am keenly aware of how much they value their time in Edmonton and at the University of Alberta. Thanks to their generosity, we will not only have a prominent, permanent exhibition space, but one inside a wonderful new library bearing their name. Rarely at a loss for words, at the recognition event in 2022 where we announced the naming of the new Sperber Library, he rhetorically asked a group of us what he had possibly done to deserve the recognition. For me, this question underscores the Sperbers' humility, their deep commitment to the University, and their desire to ensure that it continues to be a place where curiosity and exploration can unfold.
This content is licenced under a CC BY-NC-SA 4.0 Creative Commons licence.