This blog post was written by Heather Ritz (Community Social Worker, Student Services – Wellness Supports)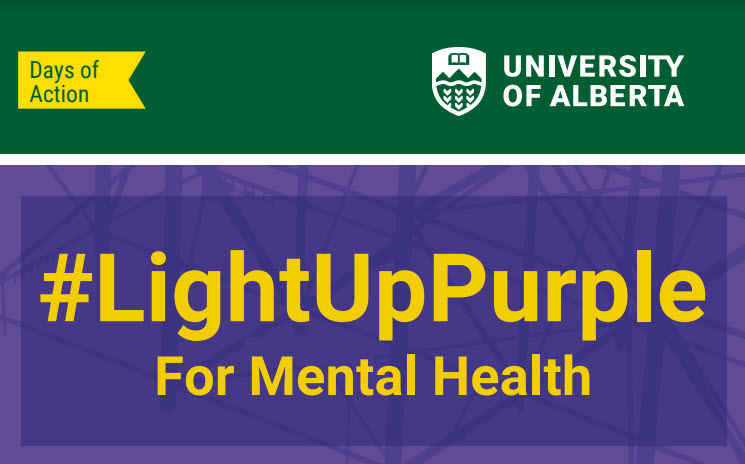 The University of Alberta will #LightUpPurple on October 10th for World Mental Health Day. Various buildings on North Campus will be illuminated in purple light, and many offices across all campuses will be decorated with purple flags, a reminder that checking in with our peers and talking about mental health is important.
Incorporate #LightUpPurple into your day-to-day.
While it's helpful to have an international day of observance for mental health, taking mental health seriously is important every day. Take a moment to check in with how people around you are doing; it's a great start. There are a lot of great opportunities on campus to help us develop skills to listen supportively.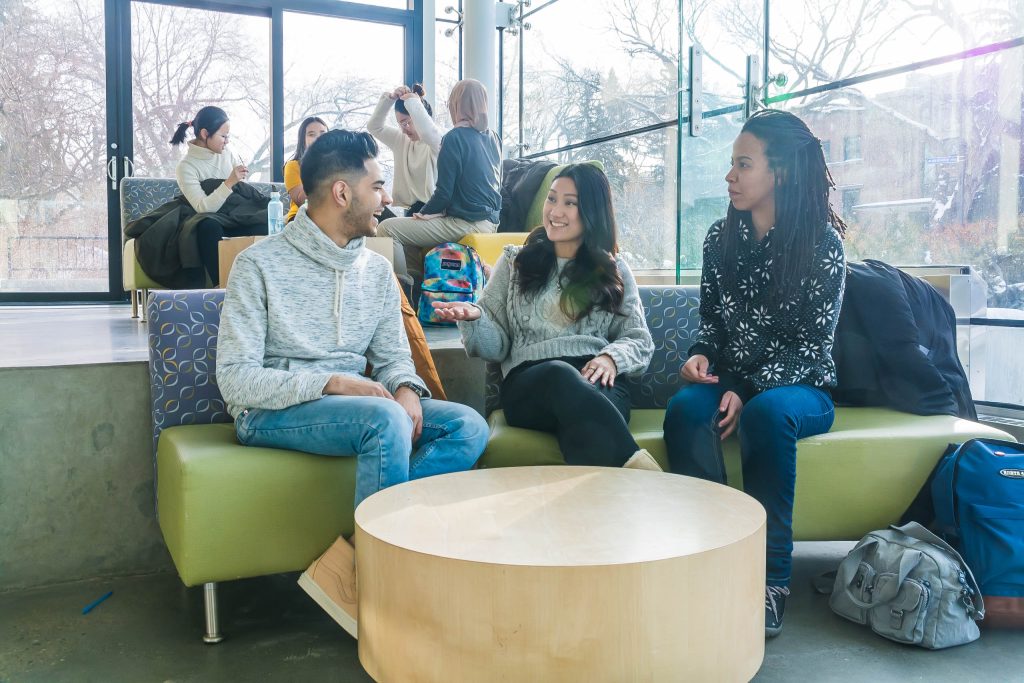 We all have mental health, but what impacts our mental health can vary greatly, and there are diverse ways of understanding wellbeing. As a community, we can help each other by being aware of how personal biases inform what mental health issues and care look like. Listening to other people's experiences can help with this. We're lucky to study and work in an environment that has ample events and lectures to listen to and learn from those around us. Days of Action has planned two events that you are invited to attend:
Student Mental Health Panel | October 10 | 12:30pm – 1:50pm | Cascade Room SUB
Come hear from a panel of students and participate in a conversation about caring for mental health as a student. A live streaming of the panel will be made available at Campus Saint-Jean in the Cafeteria. Refreshments will be provided. Register.
Mindfulness Walk | October 12, 2023 | 12:00pm – 1:00pm (MST) | HUB Room-176
Take a break and participate in a Mindfulness Walk. Nandini, a qualified Mindfulness-Based Stress Reduction (MBSR) teacher and a Buddhist Chaplain at the University of Alberta, will take you on a guided route through the river valley and end at Ace Coffee Roasters. Staying for the social portion at Ace is optional, and participants are responsible for purchasing their own beverage. Register
This content is licenced under a CC BY-NC-SA 4.0 Creative Commons licence.