Ce billet a été écrit par étudiante de SLIS, Heather McMullin
Le Nigéria – le pays le plus peuplé d'Afrique et le septième plus peuplé du monde1 – est une grande puissance économique, littéraire, et culturelle, et il y a un grand nombre d'étudiants nigérian à l'Université de l'Alberta. Voici quelques détails intéressants au sujet du Nigéria: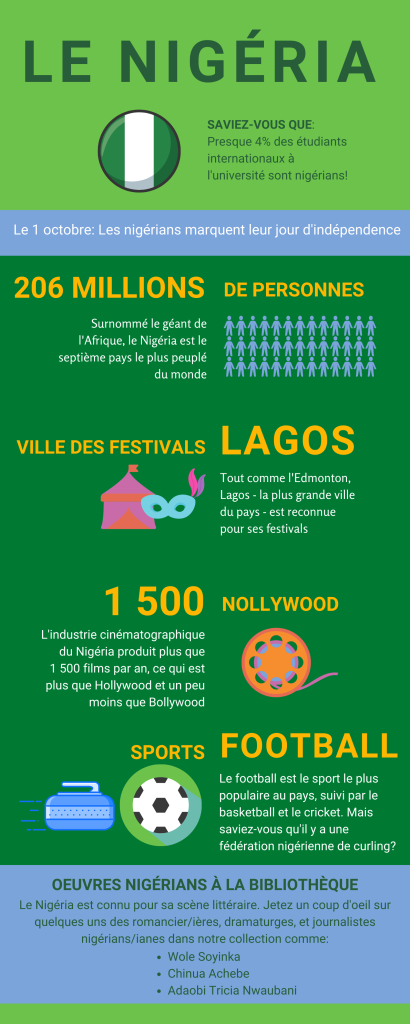 Nollywood est l'industrie cinématographique du Nigéria. Nollywood produit plus de 1 500 films par an, ce qui est plus que Hollywood et un peu moins que Bollywood2. Si vous voulez en apprendre davantage sur Nollywood, le livre numérique d'Emily Witt, «Nollywood: The Making of a Film Empire» est un bon point de départ. La bibliothèque a aussi le film Nollywood «Half of a Yellow Sun» disponible pour votre plaisir.
Beaucoup de nigérians sont des fans de football. Le basketball, le cricket, et l'athlétisme sont aussi populaires. Vous serez peut-être surpris d'apprendre que le Nigéria a envoyé une équipe féminine de bobsleigh aux jeux Olympiques de 2018, et ils viennent d'annoncer qu'ils enverront 10 athlètes en bobsleigh et en skeleton à Beijing en 20223. De plus, la fédération nigérienne de curling a été établie en 2017 et a envoyé sa première équipe aux championnats du monde en 20194.
La capitale du Nigéria est Abuja, mais sa plus grande ville est Lagos, ce qui est une des plus grandes villes du monde et la plus densément peuplée d'Afrique5. Lagos est une destination pour les festivals, telles que:
Eyo Festival (un événement de masquerade qui présente la culture Yoruba et qui est largement reconnu comme un précurseur du Carnaval de Brésil)6.
La scène littéraire du Nigéria est pleine de vitalité et vous pouvez trouver les œuvres de beaucoup de romanciers/ières, dramaturges, et journalistes nigériens/iennes dans notre collection. Wole Soyinka est un dramaturge et romancier qui a reçu le prix Nobel de littérature en 1986. Sa pièce «La mort et l'écuyer du roi» examine les rapports entre les cultures européennes et africaines. Chinua Achebe est un écrivain bien connu pour son roman d'avant-garde, «Le monde s'effondre» et la bibliothèque a aussi des dizaines d'autres de ses œuvres disponibles. Pour les actualités du Nigéria, on vous recommande de suivre la journaliste Adaobi Tricia Nwaubani. Elle écrit pour le Washington Post traitant des sujets comme les enlèvements de Boko Haram. La bibliothèque va aussi partager une exposition en ligne de livres nigérians plus tard ce mois-ci.
Si vous voulez faire plus de recherches au sujet du Nigéria, nous pouvons vous aider! Voici des bases de données comme point de départ:
«AllAfrica» fournit les actualités et les informations africains et contient des articles quotidiennes en français et en anglais;
«World Heritage Sites of Africa» de JSTOR comprend la documentation visuelle, contextuelle et spatiale des sites patrimoniaux africains.
«Black Short Fiction» comprend des histoires et contes populaires des écrivains africains, afro-américains, et caraïbes.
Joyeux jour d'indépendance à nos étudiants nigérians le 1er octobre!
1 Campbell, J., & Page, M. T. (2018). Nigeria : what everyone needs to know®. Oxford University Press., p. 1
2 White, T. C. (2021). Nigeria. Salem Press Encyclopedia.
3 https://allafrica.com/stories/202109240102.html
4 https://www.nigeriacurling.com/news/team-nigeria-arrives-norway-world-mixed-doubles-curling-championship-2019
5 Nigeria. (2017). In M. S. Hill (Ed.), Worldmark Encyclopedia of the Nations (14th ed., Vol. 2, pp. 609-632). Gale
6 https://en.wikipedia.org/wiki/Eyo_festival