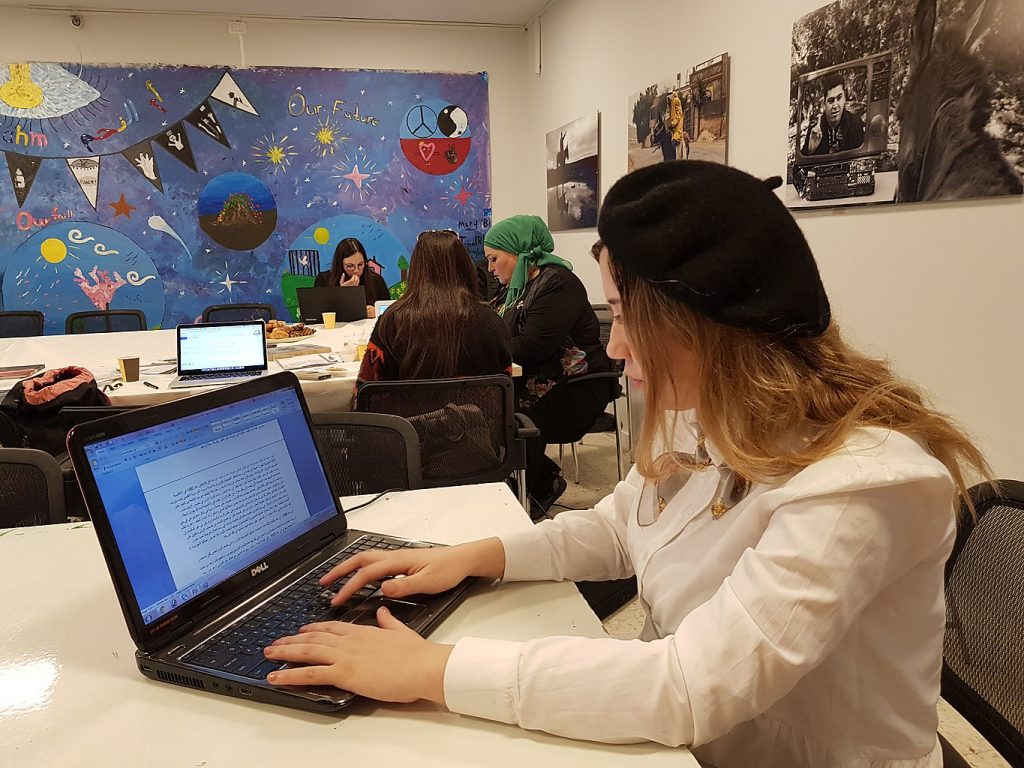 Art+Feminism (A+F) is a yearly campaign that began in 2014 to address the information gap around feminism, gender and the arts on Wikipedia.
This year, the University of Alberta and MacEwan University have partnered to host a YEG edit-a-thon that is open to all. The event will run from 2 to 8 p.m. and they are encouraging people to stop by at any time. They will be running training throughout the afternoon, and there will be a 4:30 p.m. tour of the Mitchell Art Gallery exhibit Grasping at the Roots, curated by Christina Battle.
The event will conclude with a panel discussion at 7 p.m. exploring issues of representation on the open internet and asking the question: Who is missing from Wikipedia and why? The panel features Kayla Lar-Son, Indigenous Digital Initiatives Librarian at the University of Alberta, local artist Kathryn gwun-yeen Lennon and MacEwan anthropology professor Katie Biittner.
Location: Allard Hall Atrium
Date: March 5, 2020
Time: 2pm – 8pm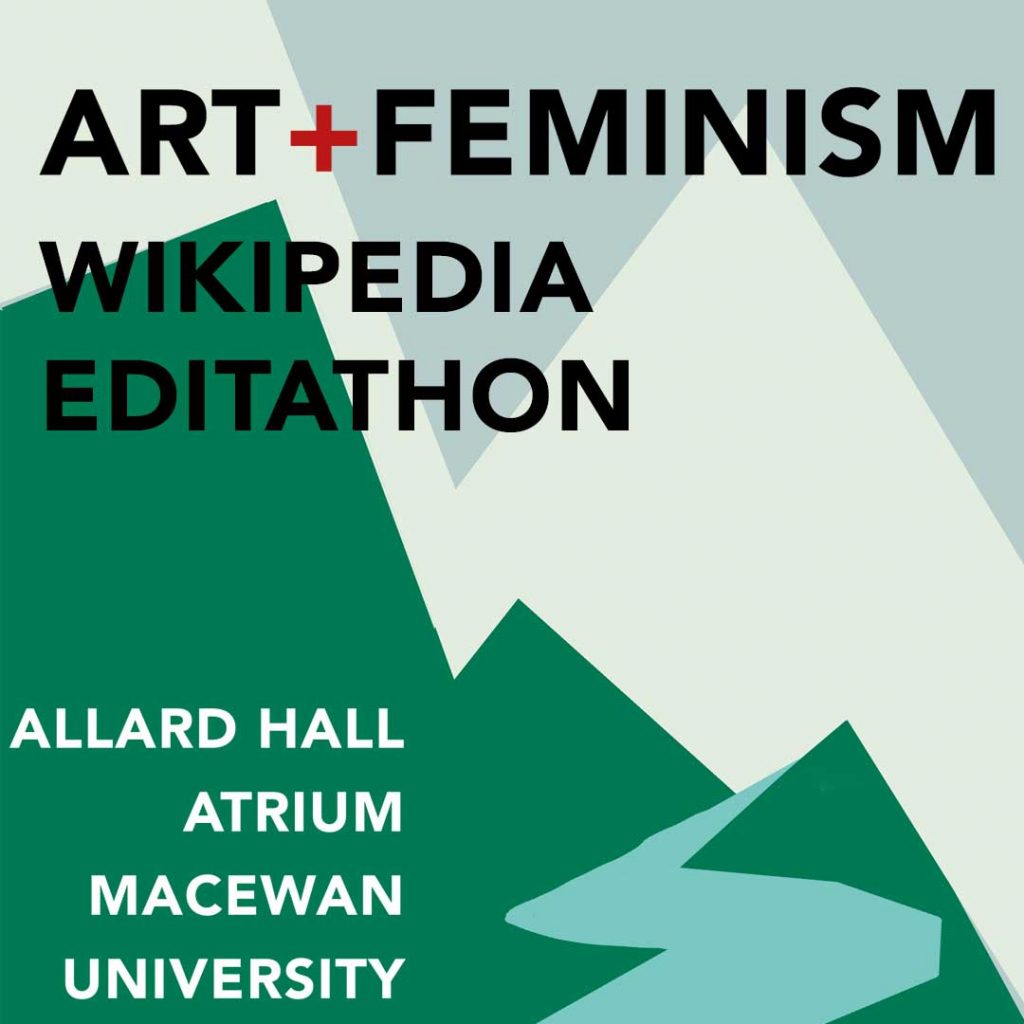 In arranging this event, it was very important for the organizers to actively work towards making the day more equal and inclusive. They wanted to apply feminist organizing principles to as many aspects of the event as possible.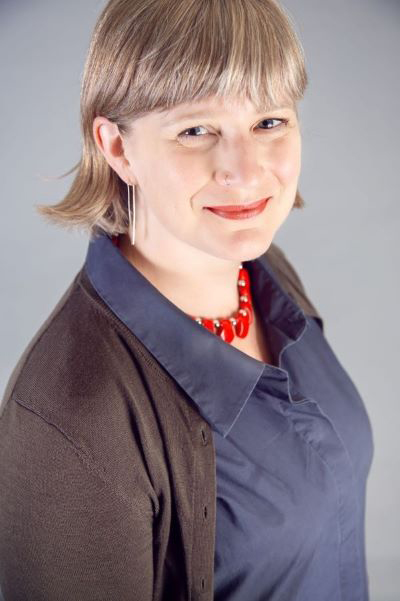 As one of the co-organizers of the YEG Art+Feminism event, Sarah Severson is a University of Alberta librarian and a board member of Wikimedia Canada. We spoke to her about some concrete steps she and her team took towards a more collaborative and inclusive A+F.
What specific things did you do, in an effort to make the event more inclusive?
We considered the event and asked "Who's missing?" and tried to remove the barriers that can often keep people from participating. We want to make it accessible to the most number of people, who don't necessarily have a lot of time or a lot of experience with Wikipedia editing.
We picked a location that's fairly central and transit-friendly. It's highly visible and easy to find. The building offers ramps, automatic doors, and elevators. Because it's a high-traffic area at MacEwan, we're hoping that people might wander in while commuting and join us for even 5 minutes.
We are also going to offer more inclusive modes of Wikipedia contributions: there's going to be stations set up where people can work on something for 5 minutes, 15 minutes, or longer. Contributing doesn't necessarily require the use of a computer. At the event, content contributors can meet up with Wikipedia editors to bring their skills together.
We also wanted to employ a really broad Feminism, with less focus on female-identified persons, and more on marginalization in general. Feminism has to be intersectional.
But the thing is that we won't really know what's missing until we make the space for those things to come to light. We need to create spaces to welcome community members in to help us out. And that's what this event is all about.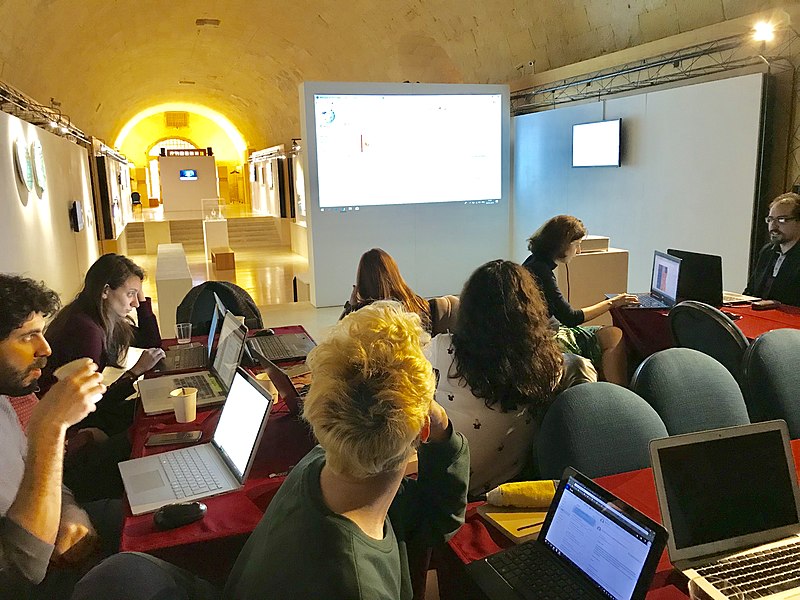 Why do libraries engage with Wikipedia?
Libraries are places where people can get connected to information. Wikipedia is such a useful and prevalent information resource. If someone wants a brief introduction to the topic, Wikipedia might be where they start. A well written and cited article is important to help expose the nuances of topics.
Libraries and Wikipedia have a long relationship. For example, the #1Lib1Ref campaign asks that every librarian contributes by adding one citation. And as a user of Wikipedia, I often see pages and go "ugh." when an entry is really incomplete, or an oversimplified and poor representation of a complex career. So I want to work on helping people make that brief introduction to quality information.
Why did you want to bring Art + Feminism to YEG?
This is my fifth year participating in the campaign and I've really started to recognize the impact of the Art+Feminism movement when I'm reading Wikipedia. When I come across really useful pages about female-identifying or non-binary artists, and I see when they were created — it's often in and around March! That's Art+Feminism!
I also enjoy helping people learn about Wikipedia and help them engage with it. It's incredibly satisfying when you make your first edit, and you save that change. Even if it's something small, like adding a citation or fixing a typo, knowing you can add something to this site that many of us use daily, is powerful.
This year's YEG A+F Edit-a-thon has been co-organized by MacEwan University Faculty of Fine Art & Communications, MacEwan University Library, Mitchell Art Gallery and the University of Alberta Library and received financial sponsorship from the Wikimedia Foundation.