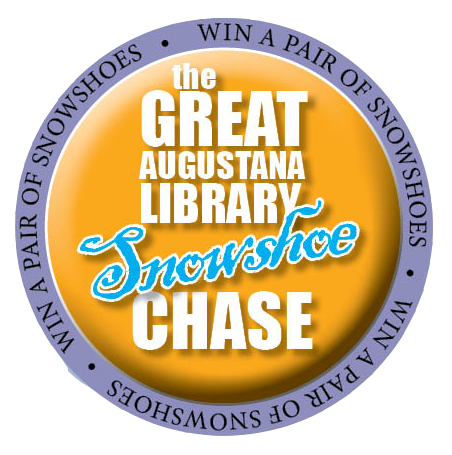 Winter brings plenty of fun to the Augustana Campus and many students, especially those involved with the Outdoors Club are looking forward to it. The Library is no exception to this. Skis from the Dr Garry & Dorothy Gibson Nordic Ski library are all waxed and ready to hit the trails, the library staff are excited to take part in the annual Christmas Tree Competition, and another Great Augustana Library Snowshoe Chase was completed.
The Snowshoe Chase is an annual library scavenger hunt event organized at the Augustana Library every winter. Dr. Glynnis Hood, Professor in Field Studies in Environmental Science and Ecology, has donated a pair of snowshoes for the event for seven years.
"With logistical and administrative help of the Augustana Library, I started the Great Augustana Library Snowshoe Chase in the winter of 2012" says Glynnis. "My key goal was to create a fun, interactive way for students to learn about the extent of library resources available to them, interact directly with library staff, and enhance their skills in academic citation formats and document searches. Snowshoes were a way to integrate an academic exercise with ongoing physical activity to help them combine the knowledge and physical energy they need to enjoy their time at Augustana. We are a winter campus afterall, and snowshoeing is a low risk, accessible way to enjoy winter, both close to home and further afield."
To take part in the competition, students need to provide correct answers to a list of questions about the library. They need to search the catalog, look for items on shelves, find information on our website, ask questions of the staff and take part in other activities that involve navigating the library.
This year's winner is Braeden Kelly, an Environmental Science / Kinesiology double major student. "As a third-year student, I am quite familiar with the library so the scavenger hunt didn't take me very long, but I did enjoy doing it" says Braeden. He adds, "The first way I plan to use the snowshoes is during Glynnis' Christmas Beaver Survey out at Miquelon lake. I was thinking of participating regardless, but now that I have an awesome pair of snowshoes I have no excuses. I will also use them on outdoors club trips and future trips to the mountains which I partake in often."
Well folks, another fun event at Augustana Library is over and we all have to admit that it was a good warm up for a busy and active winter ahead of us.