We know that books can be meaningful, important, and can even change lives. For those of us who have lived with a foot in the closet, stories can be a means to escape, or a confirmation that better worlds exist out there. For many of us, books have been paths to empathy, understanding, and connection.
Even though Pride Week has ended and the library's physical spaces are closed, we wanted to leave you with a few Further Reading suggestions, so that you may continue exploring without having to go outside!
When we asked our colleagues for Pride Week book recommendations, we received so many responses! They told us about why each book was meaningful for them, and why you should give them a try.
Here are a few highlights. Looking for more? Browse & download the full list.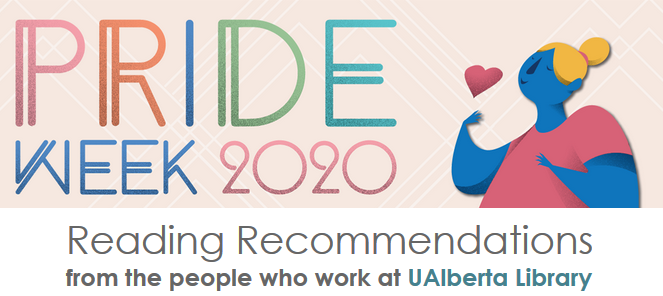 NON-FICTION
Prairie Fairies: A History of Queer Communities and People in Western Canada, 1930-1985
Valerie J. Korinek
If you didn't have a chance to catch Dr. Valerie J. Korinek's talk, you can read her book in its entirety! Dr. Korinek is a historian of modern Canada and Vice Dean Faculty Relations at the College of Arts and Science, University of Saskatchewan. An expert in gender and cultural histories, she has published widely on feminist media, histories of sexuality and activism, food history and oral history. Most recently she is the author of the award-winning book (University of Toronto Press, 2018).
FICTION
Stone butch blues : a novel
Leslie Feinberg
An incredible novel about the struggles of people who don't conform to gender norms. Brutal in parts, but deeply moving and well written.
GRAPHIC NOVELS & SEQUENTIAL ART
On A Sunbeam
Tillie Walden
A sci-fi adventure graphic novel with beautiful visuals. The gender and sexuality of characters are not questioned nor are they struggled with. The characters get to be who they are–they have bad-ass adventures, struggles, successes and failures without the focus being on them being gay (or non-binary!!!)
BOOKS FOR CHILDREN (AND EVERYONE)
It feels good to be yourself: a book about gender identity
Theresa Thorn; illustrated by Noah Grigni
While browsing this in a colleague's office, I legit teared up. It is a wonderful book to introduce kids to the wide range of gender identities that exist. The illustrations are exceptionally diverse showing various ethnicity, body types, and abilities. A truly wonderful expression of diversity and exclusivity.