Staff profiles tell the story of an organization. Here at the University of Alberta Libraries, this is ours…
Meet Bernard!
Bernard Offengeden is a Public Services Assistant at Rutherford Library.
As a Public Service Assistant, what have you been working on this summer at Rutherford Library?
I was working on Hebrew and Slavic titles, I am supposed to check if we have specific titles in our collection. I was also working on re-imaging of Laptops for the Equipment Lending Program at the Rutherford and Law libraries.
Your office is located in Rutherford Library South but you are often at the Service Desk at Rutherford North, how often do you stare up at that beautiful galleria ceiling as you cross it?
It's funny, but pretty much every day when I am coming from Rutherford North to Rutherford South I look at the galleria ceiling, I don't know why.
What is your favourite part of the Rutherford Library?
We have a wellness corner with a massage chair and coffee pot that my colleagues kindly arranged. I am still waiting for cookies that they promised.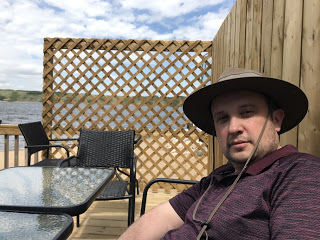 What was your least favourite food as a child? Do you still hate it or do you love it now?
Porridge and I still despise it.
Scroll through our staff directory to learn more About Us.
The French version of this article is available here: https://uabsj.blogspot.com/2019/08/laissez-nous-vous-presenter-bernard.html