This post was a written in consultation with Librarian Allison Sivak.
Friday, September 30 marks National Day for Truth and Reconciliation (TRC). On that day classes are cancelled and campus services, including the Library, will close to allow students and staff to contemplate the repercussions of the Canadian residential school system. To support this reflection the Library invites students and staff to take part in the following activities.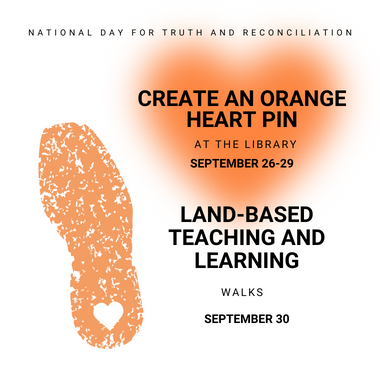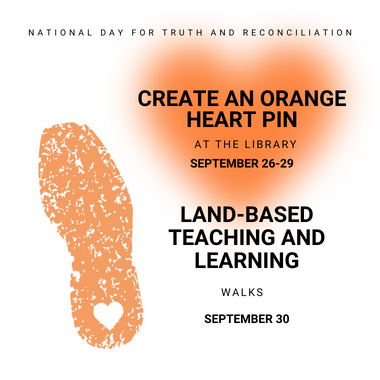 Orange Shirt Beaded Pin Activity
Orange shirt pins are symbols which mark the impacts of residential schools on Indigenous peoples in Canada. The National Day for Truth and Reconciliation is also known as Orange Shirt Day. The symbolism of the orange shirt comes from the story of Phyllis (Jack) Webstad, a Northern Secwépemc (Shuswap) woman from the Stswecem'c Xgat'tem First Nation (Canoe Creek Indian Band). Phyllis was forced to attend residential school, as were over 150,000 Indigenous children over more than a century,
"At six years old, Phyllis attended her first day of school at the St. Joseph's Mission Residential School wearing her shiny new orange shirt, a gift from her grandmother (Kyé7e [QUE-A-AH]). It was taken away and never returned."

(Orange Shirt Society. n.d.)
During the week leading up to the National Day for Truth and Reconciliation the Library invites you to create an orange shirt pin using beads. You can spend time in the Library, creating a pin and reflecting upon the ongoing impacts of Canadian residential schools on Indigenous peoples. To remember is to ensure that we work to end colonization, and that non-Indigenous Canadians do not perpetrate cultural genocide upon Indigenous peoples ever again.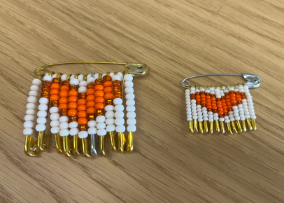 As you sit to make your pin, you can talk with other creators, read the resources we have on the residential schools at the table, or quietly reflect upon your role in ensuring Canada meets the 94 Calls to Action from the Truth and Reconciliation Commission of Canada.
The designs were created by Felice Gladue, who has permitted us to share the design and materials with you. Materials can be found at Rutherford, Cameron, Scott, Campus Saint-Jean and Augustana libraries between September 26-29.
Land-Based Teaching and Learning Walks
Please join us for reflective land-based teaching and learning on September 30, 2022. Two walks are planned for this day, each considering the histories of these lands and its peoples from different vantage points.
Guided by Knowledge Keepers, local historians and community members, we will hear an array of stories that stand on their own and also intertwine.
We will reflect on how narratives work to remember or erase individuals, communities, and sacred spaces.
We will consider the past, the present and better ways forward together.
MORNING WALK:
9 – 11am, September 30, 2022
ᐄᓃᐤ (ÎNÎW) River Lot 11∞ Indigenous Art Park (10380 Queen Elizabeth Park Road) to the Rossdale Burial Ground (10419 95 Avenue NW)
AFTERNOON WALK:
1-3pm, September 30, 2022
MacEwan Treaty 6 Marker outside kihêw waciston, Allard Hall (11110 104 Ave NW) to the Twin Graveyards: Edmonton Municipal (11820 107 Avenue NW) and Saint Joachim (10500 117 Street NW)
Register to attend one or both (morning and afternoon) walks here!
References:

Orange Shirt Society. "Orange Shirt Society Resources" n.d. https://www.orangeshirtday.org/resources.html