Transcender le passé, le présent et l'avenir
Grace Dillon a créé l'expression "Futurisme autochtone", un clin d'œil à l'afrofuturisme, pour décrire des œuvres centrées sur les peuples autochtones et présentant leurs connaissances ancestrales dans un cadre futuriste.
"Tous les types de futurismes autochtones sont des récits de biskaabiiyang, un mot anishinaabemowin  faisant référence au processus du 'retour à nous-mêmes', qui implique de découvrir à quel point on est personnellement affecté par la colonisation, de se défaire du bagage émotionnel et psychologique porté qu'elle a causés et de retrouver les traditions ancestrales afin de s'adapter dans notre monde post-apocalyptique autochtone."

Grace Dillon, Walking the Clouds: an anthology of Indigenous Science Fiction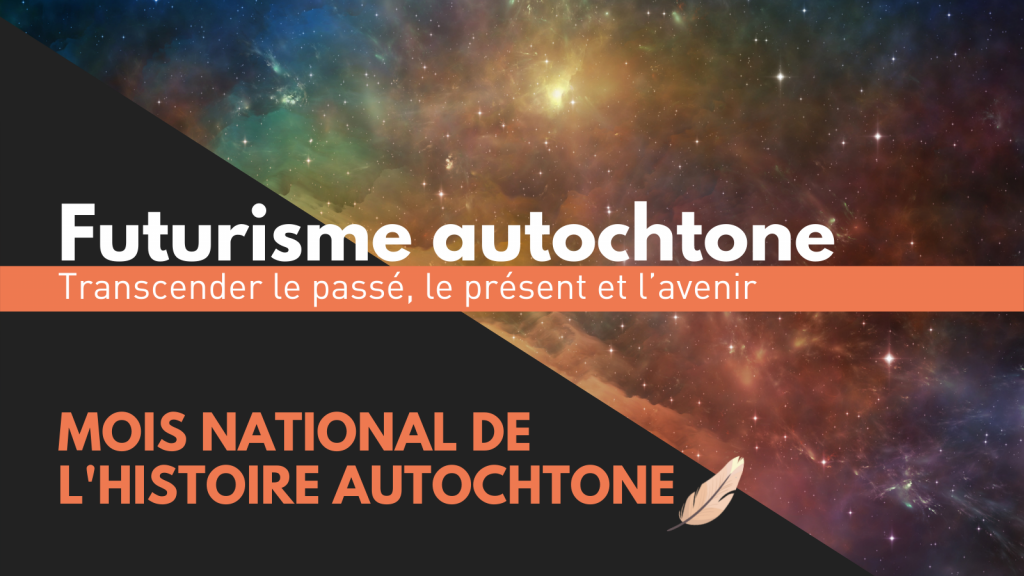 J'ai hâte de me lancer dans la lecture d'une œuvre futuriste autochtone, parce qu'elle envisage l'avenir et propose un moyen d'aller de l'avant en dépit d'un passé colonialiste. 
"Les peuples autochtones ont déjà survécu à une apocalypse", dit Grâce Dillon. Je trouve cette déclaration très poignante alors que nous réfléchissons à la confirmation des tombes sans épitaphe dans les anciens pensionnats à travers le pays.
Nous apprendrons tous énormément en écoutant les perspectives et les connaissances des autochtones lorsque nous planifions l'avenir. Essayons de penser aux générations à venir, comme les cultures des Premières Nations le font depuis toujours. Le futurisme autochtone peut nous aider à nous concentrer sur ce que nous pouvons accomplir, la justice, la joie et la résilience.
Certains des chercheurs de l'Université de l'Alberta sont de grands penseurs sur la scène du futurisme autochtone.
Chelsea Vowel –
Kim TallBear nous a inspirés, à l'Université de l'Alberta et ailleurs, par sa sagesse, ses recherches et ses idées avant-gardistes. Elle enseigne un cours que l'on peut considérer comme du futurisme autochtone :
Pour en savoir plus sur Grace Dillon, Voici quelques entrevues audio :
Et pour finir, les livres sur ma table de chevet :
Cherie Dimaline
Trail of Lightning par Rebecca Roanhouse (EPL link)
Trickster Trilogy par Eden Robinson (EPL link)
Il y a tant de ressources à découvrir et celles-ci ne sont qu'un échantillon basé sur mes propres intérêts et goûts littéraires. Découvrez où vous vous situez dans ce grand canon littéraire de la connaissance et emportez-le avec vous, avec l'espoir et le changement positif.
Nous vous invitons à vous abonner à notre blogue : https://news.library.ualberta.ca/newsletter-signup/ (Choisissez votre langue de préférence)
Vous nous aimez sur le blogue ? Alors vous nous aimerez sur les médias sociaux ! Découvrez-nous @uofalibrary sur Instagram, & Twitter !
La version originale de ce texte peut se lire ici: https://news.library.ualberta.ca
Traduit par Elisabet