Grace Dillon coined the term, Indigenous Futurism, a nod to Afrofuturism, to describe work that is centred around Indigenous people and features their ancient knowledge in a futuristic setting.
"All forms of Indigenous futurisms are narratives of biskaabiiyang, an Anishinaabemowin word connoting the process of 'returning to ourselves,' which involves discovering how personally one is affected by colonization, discarding the emotional and psychological baggage carried from its impact, and recovering ancestral traditions in order to adapt in our post-Native Apocalypse world."

-Grace Dillon, Walking the Clouds: an anthology of Indigenous Science Fiction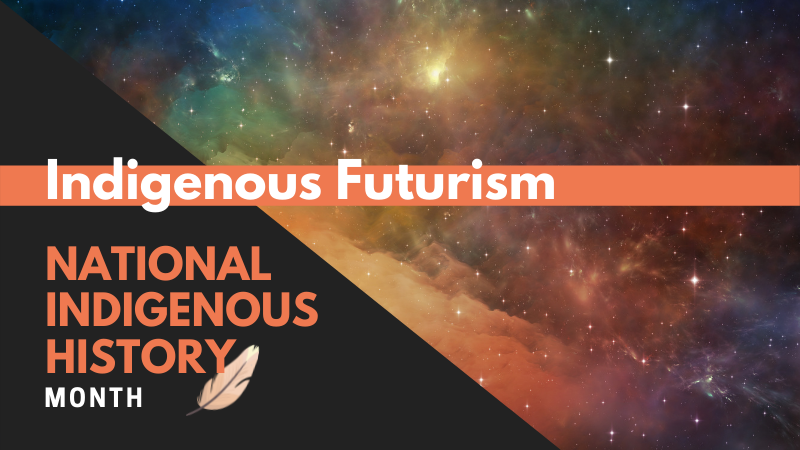 Why I'm eager to jump into reading Indigenous Futurism is that it looks at the future and imagines a way forward from colonialism.
"Indigenous people have already survived an apocalypse", says Grace Dillon and this is a statement I find very poignant as we reflect on the on the confirmation of unmarked graves at former residential schools across the country.
We all will learn tremendously by listening to Indigenous perspectives and knowledge as we plan for the future. Let's aim to think generations ahead as Indigenous cultures have been doing all along. Indigenous Futurism can help us focus on possibility, justice, joy, and resilience.
Some of UAlberta's own scholars are big thinkers in the scene of Indigenous Futurism.
Chelsea Vowel – ERA paper and her podcast Metis in Space
Kim TallBear has been inspiring us at UAlberta and beyond with her wisdom, research, and forward-thinking. She's teaching a class that I think can be considered Indigenous Futurism:
For more Grace Dillon, there are a few audio interviews to enjoy:
And to finish off, the books on my nightstand:
There is SO MUCH out there and this is just a sampling based on my own interests and literary taste. Discover where you fit in this great literary canon of knowledge and take it with you, along with hope and positive change.