* Updated since provincial COVID restrictions announced on Dec 8, 2020 *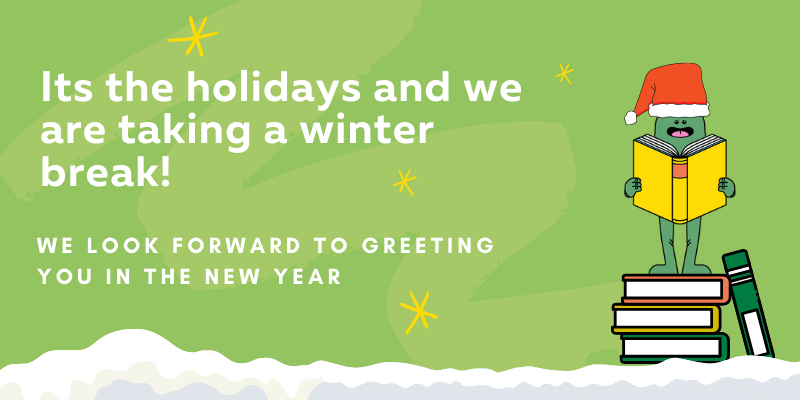 We are taking a winter break and looking forward to the end of 2020 (who isn't?) and a brighter New Year! With most University of Alberta classes starting January 11th, and with new Provincial restrictions in place, we too have adjusted our opening hours. These are the details!
Rutherford Curbside Pickup & Book Return:
NEW (Dec 10, 2020) – Curbside Pickup will be closed beginning December 12 with plans to reopen January 13, pending provincial guidelines.
Holds not picked up by December 12 will be held for pickup starting January 13, if restrictions are lifted.
Returns are closed as of December 12, 5pm with plans to reopen January 11, if restrictions are lifted.
Augustana Campus Curbside Pickup & Book Return:
NEW (Dec 10, 2020) – There are changes to library services due to the new provincial restrictions. Augustana Library Curbside Pickup Service has the following changes:

Last Pickups will be on December 11 until 5 PM. Any remaining items will be held by the library until the service reopens.
Augustana's book drops will close December 11 at 5 PM.
Curbside service and book returns plan to resume on January 11, 2021 subject to Provincial restrictions.
Cameron Library Study Space remains open. Seats need to be booked in advance. We are closed starting December 22 at 6 pm. Seat bookings plan to resume January 13, 2021.
We will be offline from December 24 at 1 pm until the New Year!
Our service resumes Monday, January 4, 2021 as follows:
January 4 – 8
Monday to Friday
8 am – 6 pm

January 9 – 10
Saturday & Sunday
11 am – 6 pm

January 11
Regular hours resume:
library.ualberta.ca/hours

We look forward to greeting you in the New Year!