This post was written by Access Services Coordinator, CJ de Jong
Check out the Library's Reading List Service and start your list in minutes!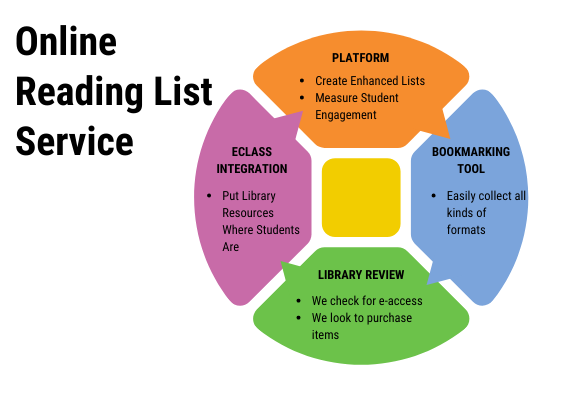 A carefully curated reading list aids your students accessing authoritative and useful information for your lectures. Now, create a list with books, articles, videos, webpages, and other online content that can easily integrate into your eClass course and connect to library resources where available.
These lists can:
measure student engagement with each item,
be quickly updated without delay,
ensure accessibility for blended learning,
and help students be prepared for discussions in class.
Need some inspiration? Have a look at these great lists:
MLCS 299 LEC-800: SPECIAL TOPICS by Oleksandr Pankieiev
EDPS 410 B06-LEC/251-LEC: Ethics and Law in Teaching by Jordan Long
Why start today? Getting your list in well before the Fall term gives us a chance to purchase course materials on your list and place them in our Course Materials (formerly Reserves) spaces. We'll also review your list to ensure links work and eBooks have sufficient e-access where possible.
Questions? Please contact coursemat@ualberta.ca.