By Amina Mohamed
Amina is a student assistant at the Digital Scholarship and an undergraduate student studying the History of Art and Visual Culture.
At the Digital Scholarship Centre, we often get asked: what is digital scholarship? This is a challenging question, as the definition of digital scholarship is a fluid, much-debated topic. We define Digital Scholarship as any type of research and academic learning that includes an aspect of technology. One area where scholarship intersects with technology a lot is research communication. Sharing research findings and new ideas is a big part of the academic cycle of work; this means creating media and helping our users create media. At the DSC, we have the tools, software, and spaces to help with all types of media production. In addition to tools, our everyday work involves helping researchers and students become more media-fluent in their work.  So what kind of tools and resources do we have?
The Recording Booth and Audio Production Equipment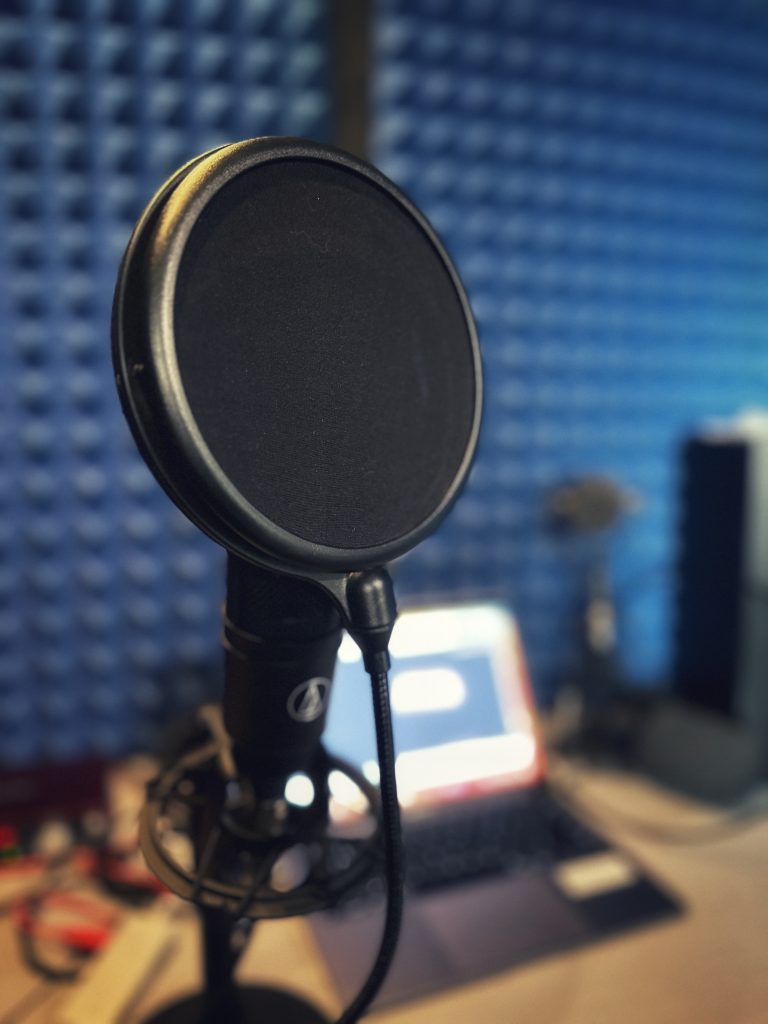 Nestled in the back corner of the DSC is our recording booth; it fits 2 people and features professional equipment to support high-quality sound capture.  If you are working on a podcast, doing a voice-over for a video, or even want to record music with a few instruments, the recording booth is worth checking out. The room is spacious enough for two people to sit comfortably and has a Macbook Air with Audacity, Garage Band, Reaper, and Ableton Intro Live installed. There are two microphones (condenser and dynamic), a pop shield, two speakers, a headphone set, and an audio interface.
Before using the booth, you must be certified and given a short orientation, afterwards you can make bookings to use the booth on the DSC Website. If you need to edit when you're done recording, our high-performance computers are just down the hall, and we provide access to audio editing software such as Adobe Audition, Hindenberg and Reaper. We also have an Ableton Push music-making instrument that can be used in the centre in conjunction with the Recording Booth.
In the near future, we plan on offering a mobile video kit (with a gimble and lavalier mic) and a portable podcasting kit for those needing portable sound capture tools.
Photo and Video Capture
The DSC also has some equipment that those working on media projects can use. We have a video production kit with a video-capable DSLR that includes a mic attachment and all the accessories to shoot still images and video footage. There's also a 360 Ricoh camera that can be used to create 360 images and video.
If learning to use tools and software is something you need, a number of our staff are available for consultations in media production.
VR Studio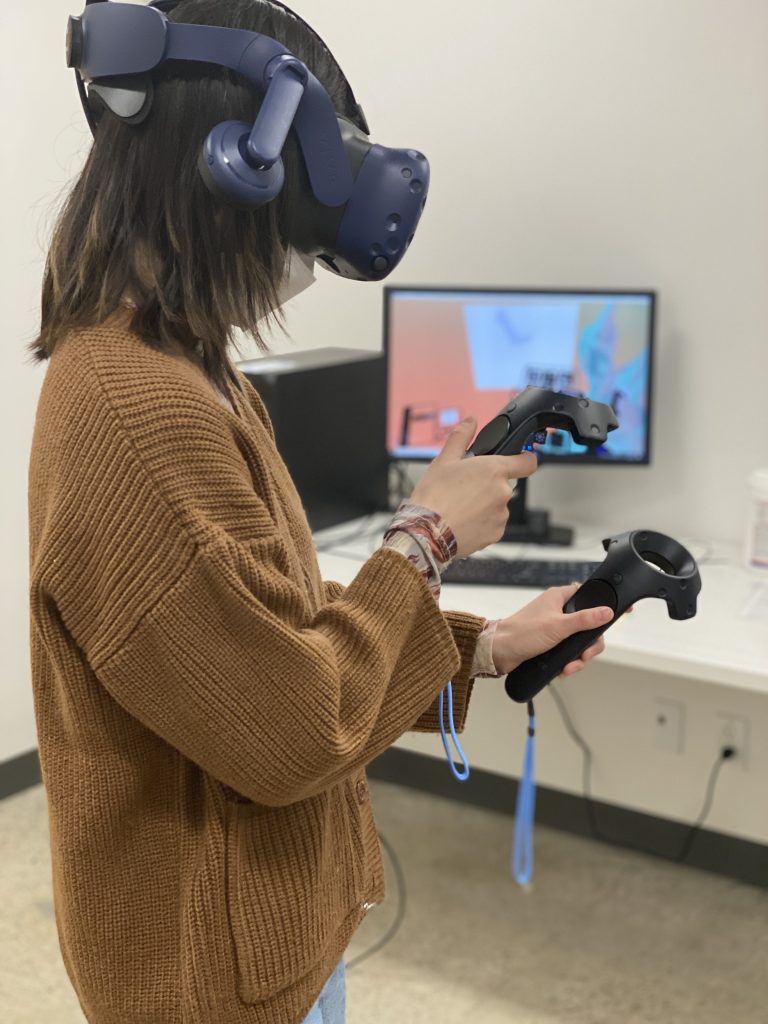 The DSC has a studio space dedicated to virtual reality, in our Makerspace. The room contains a computer workstation, an HTC Vive Pro VR headset, and necessary accessories. The computer in the studio can be used to test and try programs such as Google Earth, Google Tilt Brush, Anatomy and History programs and some VR games.
We also provide computer access to software such as Unity, Rhino 7, Adobe Dimension, and other 3D modelling programs that aid in the creation of 3D objects and virtual environments. The Ricoh 360 Camera can be borrowed by those who wish to learn to take 360 images of the outside world for use in their VR creations.  To use the VR studio, you need to book a time on the DSC Website. Staff will provide a short introduction to the studio and allow you to experiment and work as needed. 
High-Performance Computers (HPC)
We have already mentioned that DSC provides access to a variety of software. This software can be found on our High-Performance Computers. These eight computers have faster processors and high RAM capacity to enable data analysis, graphics and design, media production, or just provide the processing power necessary for larger projects. For these reasons, the HPCs are intended for project work and are not available for everyday use, such as homework or studying. Users can request time by emailing the DSC team. The HPCs can be used in-person or remotely and are available for long-term bookings, if users need more time or are working on thesis/dissertation work.
In the near future, we are excited to be working with our library digitization colleagues on providing a high-quality scanning station on one of the HPC terminals. It will enable users and organizations to complete small-scale digitization projects. The scanner is presently being deployed and will be able to scan photos, documents, slides and negatives into very high-resolution images. 
If you are working on a media project for class, using media in your research or are just interested in learning more, please feel free to reach out!  Keep an eye on the DSC website for all the new things and more information.