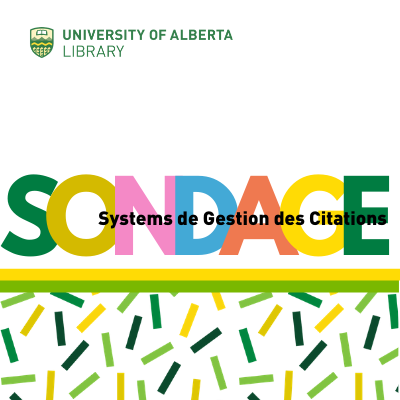 Qu'est-ce qu'un système de gestion des citations ? Pourquoi est-il important ? Que propose l'Université de l'Alberta ? Répond-il aux besoins de nos utilisateurs ? Pour le savoir, nous avons besoin de vos commentaires.
La gestion des citations est une composante essentielle de la communication universitaire et des processus de recherche. Ces processus sont en constante évolution en raison des changements constants des contextes disciplinaires, de la technologie, des normes et des meilleures pratiques, ainsi que des possibilités de financement. Les systèmes de gestion des citations ou de référence (RMS) sont les outils que les universitaires et les chercheurs utilisent pour collecter, stocker et gérer les documents qui servent à leurs travaux universitaires. Ils constituent une base de données de recherche personnelle, mais aussi une plate-forme de collaboration et de réseautage social entre les universitaires et les chercheurs.
RefWorks est le RMS que la bibliothèque de l'université d'Alberta met à la disposition de sa communauté depuis plusieurs années. Cependant, reconnaissant qu'il existe une vaste gamme d'options RMS, nous cherchons maintenant à évaluer le produit que nous proposons : RefWorks est-il le meilleur outil de gestion des citations pour répondre aux divers besoins des universitaires et des chercheurs de l'Université de l'Alberta ?

Un groupe de travail de la bibliothèque de l'Université de l'Alberta étudie actuellement RefWorks et d'autres outils de gestion des citations dans le contexte général de ce dont les étudiants, le personnel et les professeurs de l'Université de l'Alberta ont besoin maintenant et à l'avenir. Une analyse de l'environnement d'autres institutions, une revue des mesures détaillées d'utilisation de RefWorks et vos commentaires personnels via ce court sondage éclaireront la décision de renouveler l'abonnement de la bibliothèque de l'Université d'Alberta à RefWorks.
Nous vous remercions d'avance de prendre le temps de répondre à ce sondage avant le 31 octobre. Vos questions et commentaires peuvent être adressés à:
Connie Winther (on behalf of the Working Group)
Head, Faculty Engagement Health Sciences
University of Alberta Library
connie.winther@ualberta.ca
La version originale de ce texte peut ce lire ICI
Traduit par Linda G.